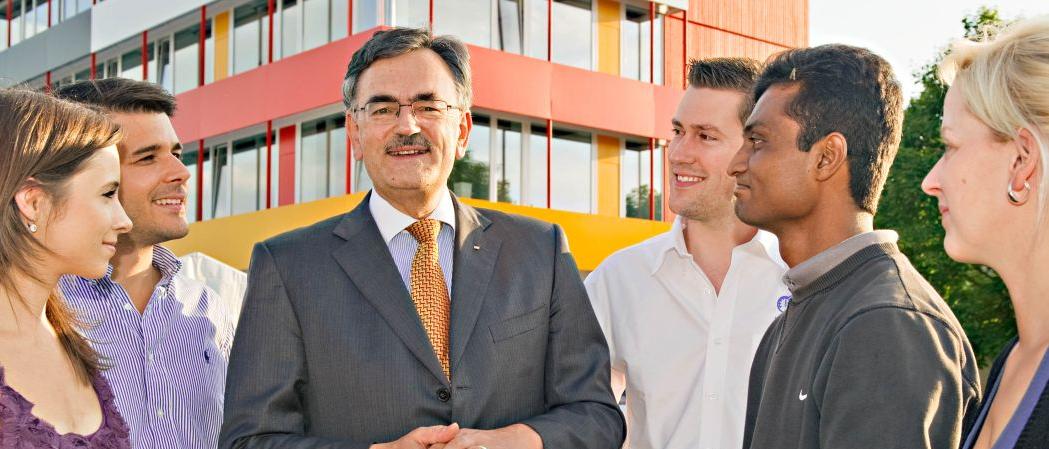 Scientific, international, entrepreneurial.
President Wolfgang A. Herrmann welcomes you to the Technical University of Munich (TUM).
Welcome to TUM! Our university goes back to the founding year of 1868, and the idea it embodies has proven its worth through the years: excellent education in the scientific and technical disciplines, energized by the allure and adventure of research, cultivating both personal character and a shared culture. Among those who have studied, taught, and done research here are distinguished figures of the historical past and the present day: Nobel Prize winners, inventive engineers, entrepreneurs, leading lights who have shaped the way we live. Countless alumni who got their education with us have, through their careers, advanced the development of a knowledge-based society.
41,375 young people, 29% percent of whom come from outside Germany, are studying in our 15 academic departments. It is that entrepreneurial spirit, in its liberal and competitive expression, that brings our three major objectives to fruition: scientific scholarship, internationality, and entrepreneurship.
And what has enabled the university to step up to a respected position on the world stage is a strong sense of community that promotes talents and performance and does not recognize generational boundaries. One visible proof of the TUM family's solidarity is our reconstruction out of the ruins of a World War that had destroyed up to 70 percent of the university. Today TUM has over four hundred buildings at its disposal on our Munich, Garching, and Freising-Weihenstephan sites.
The Technische Universität München understands itself to be the servant of a society that continually faces new challenges arising from the progress of globalization. This calls for technically competent young professionals from many disciplines who are attuned, in an interdisciplinary way, to major issues of the century: health and nutrition; energy, climate, and environment; natural resources; mobility and infrastructure; communication and information. We have adopted these "century themes" as our own, and they determine our research objectives.
The institutional strategy developed for the German Excellence Initiative in 2006 — "TUM. The Entrepreneurial University" — opened new paths toward becoming a boldly competitive university of international stature. The TUM Graduate School embodies the progressive format of a structured doctoral education. It enables young scientists and engineers to develop both their disciplinary profiles and broader, transdisciplinary horizons. In the TUM Institute for Advanced Study, excellent talents find creative research possibilities as well as room for interdisciplinary discourse. With our new career system, the TUM Faculty Tenure Track (2012), we have introduced a paradigm shift in the German university system.
Those who study at TUM today have many options. We not only offer a first-class disciplinary education, but also promote community-building activities beyond everyday student life. We introduce our students to scientific research at an early stage. We guide them into a constant striving for the new and the undiscovered. We invest time, energy, and resources in the talented young people whom we cultivate and challenge. We want to make them, as far as possible, "weatherproof" for all that they may encounter in their professional future.
Our home page aims to inform you comprehensively about the Technische Universität München, while at the same time imparting a sense of who we are as a community. TUM: that means all of us! Our doors stand open to you.

Professor Wolfgang A. Herrmann
President