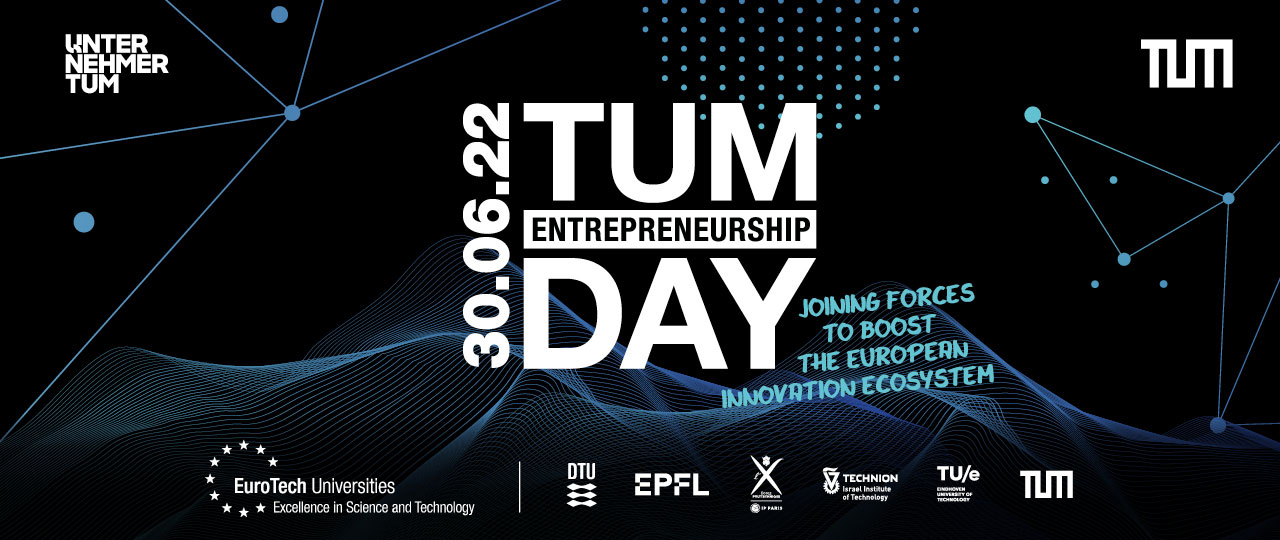 TUM Entrepreneurship Day 2022
Thursday, 30 June 2022 under the motto: JOINING FORCES TO BOOST THE EUROPEAN INNOVATION ECOSYSTEM
Alliances are the hot topic of the season. This will also be the case at this year's TUM Entrepreneurship Day. For the first time, TU Munich and UnternehmerTUM are presenting the Entrepreneurship Day together with the partners of the EuroTech Universities Alliance, a strategic partnership of leading European universities of science and technology joining forces to build a strong, sustainable, sovereign, and resilient Europe.
*Please Note: The event will be held in English. Only registered guests will have access to the digital event and on-site stage program.
Live & Digital
TUM Entrepreneurship Day will become a fully hybrid event in 2022: on our virtual event platform, you will have access to a broad variety of virtual workshops, get to know startups and entrepreneurship offerings from TUM, UnternehmerTUM and all EuroTech University partners, and follow the main stage program live via stream, no matter from where in the world you are joining.
Additionaly, after a long Covid break, we are finally able to offer our guest an on site experience again. Take the opportunity to get a taste of event flair and be there live in the Audimax of the TU Munich*. This way, you can join in the excitement of the start-up pitches on site and get to know our speakers up close and network face to face.
*Please Note: due to limited seating, the number of live tickets is limited. Therefore, we recommend securing a ticket quickly. We will inform all guests of the ticket category "Digital&Live" shortly before the event if and which Corona regulations apply for the admission to the TUM Audimax on the day of the event.
Colorful diversity
Together with the EuroTech partners from the Technical University of Denmark (DTU), École polytechnique fédérale de Lausanne (EPFL), École Polytechnique, Eindhoven University of Technology (TUe) and Technion Israel Institute of Technology (Technion), TUM and UnternehmerTUM present a full-day program that is more colorful and diverse than ever before. The TUM Entrepreneurship Day 2022 consists of different elements.
Please note: ONLY the mainstage program will be available on site at Audimax. All other offers are solely digital offers on our event platform.
Throughout the morning, we will offer you a variety of digital workshops that will allow you to delve deeper into the burning issues and problems in the start-up process and learn about new programs, research approaches and techniques. Our start-up experts from TUM, UnternehmerTUM and the partners of the EuroTech Universities Alliance are looking forward to sharing their know-how with you. Whether you are a student, scientist, founder or corporate, there is something for everyone in our diverse workshop program, both with and without prior knowledge. All guests are welcome to join the discussion and ask their questions.
Detailed workshop offer at TUM Entrepreneurship Day 2022
*Please Note: due to the limited number of people per workshop and to ensure a smooth process, workshop participation is only possible with prior workshop registration. If you have an event ticket, you will be informed by email as soon as you can register for the workshops.
On the main stage, starting at 2 p.m., we will present a colorful potpourri of everything the entrepreneurship ecosystem of TUM, UnternehmerTUM and the EuroTech Universities Alliance has to offer: look forward to exciting discussion rounds, diverse start-up pitches, inspiring keynotes and a colorful supporting program. This year, in addition to contributions from local speakers and start-ups, our guests can also look forward to international contributions from the EuroTech partners. All in the spirit of joining forces to strengthen the European innovation ecosystem.
You can see the detailed stage program here.
And meet our mainstage speakers here.
Our exhibitor area on our event platform offers you the opportunity to get to know the variety of start-ups and start-up offers from the ecosystem of TUM, UnternehmerTUM and the university partners of the EuroTech Alliance.
In the start-up hall of the Exhibition Area you will meet young start-ups as well as old hands in the start-up business, both from the TU Munich and from the partners of DTU, EPFL, TUe, Ecole Polytechnique and Technion. Already from June 29, we offer you the opportunity to inform yourself about a variety of exhibited start-ups and to network for three days. Use the opportunity to get to know the services and products of the individual teams better, to find out about job and internship opportunities, or to generally get into conversation with the start-ups.
In addition, the service hall of the Exhibition Area offers you the possibility to inform yourself about all entrepreneurship offers of TUM and UnternehmerTUM, which are available to you free of charge on your way to your own start-up as a TUM member.
Furthermore, this year you will also find a lot of information about the start-up offers of the university partners of the EuroTech Alliance and their diverse entrepreneurship ecosystems.
Are you a TUM founder yourself and would like to place your start-up in the exhibitor area free of charge? If so, please apply by May 5, 2022 by sending the application form to entrepreneurship.day(at)tum.de
As part of Pitch Perfect - the pitch competition of the TUM Entrepreneurship Day, the top founding teams of TUM compete against each other to prove their pitch qualities. Which pitch convinced you the most? Vote for your favorite among the multitude of submissions on the platform and get to know the wide range of technologies and products of the participating teams. In addition to the public vote, a final selection of teams will also pitch live on the main stage in front of a jury of experts and have the chance to win 5,000 euros in prize money.
For more information on how to actively participate in the Pitch Competition, please click here.
Get connected
Innovation thrives, among other things, from dialog and knowledge transfer. That's why we place special emphasis on joint exchange during the event every year. Under this year's theme of European Alliances and Joint Forces, we would like our guests to get into conversation on a transnational level. For this purpose, we offer the possibility on our event platform already from Wednesday, June 29, 2022: as a guest, you can already log in with your individualized user profile on the day before the event, click through other guest profiles and exchange with contacts relevant for you via chat and arrange appointments for talks. To make networking even more convenient for you, our additional event app also offers digital communication with other guests on the go via their smartphone.
Past years
Do you have any further questions?
Have a look at our FAQ section or contact our employees personally.
TUMentrepreneurship – TUM ForTe - Forschungsförderung & Technologietransfer
Technical University of Munich, Arcisstr. 21, 80333 Munich, Germany – Phone +49 (0)89-289-25236