English Writing Center at the Technical University of Munich:
A critical read-through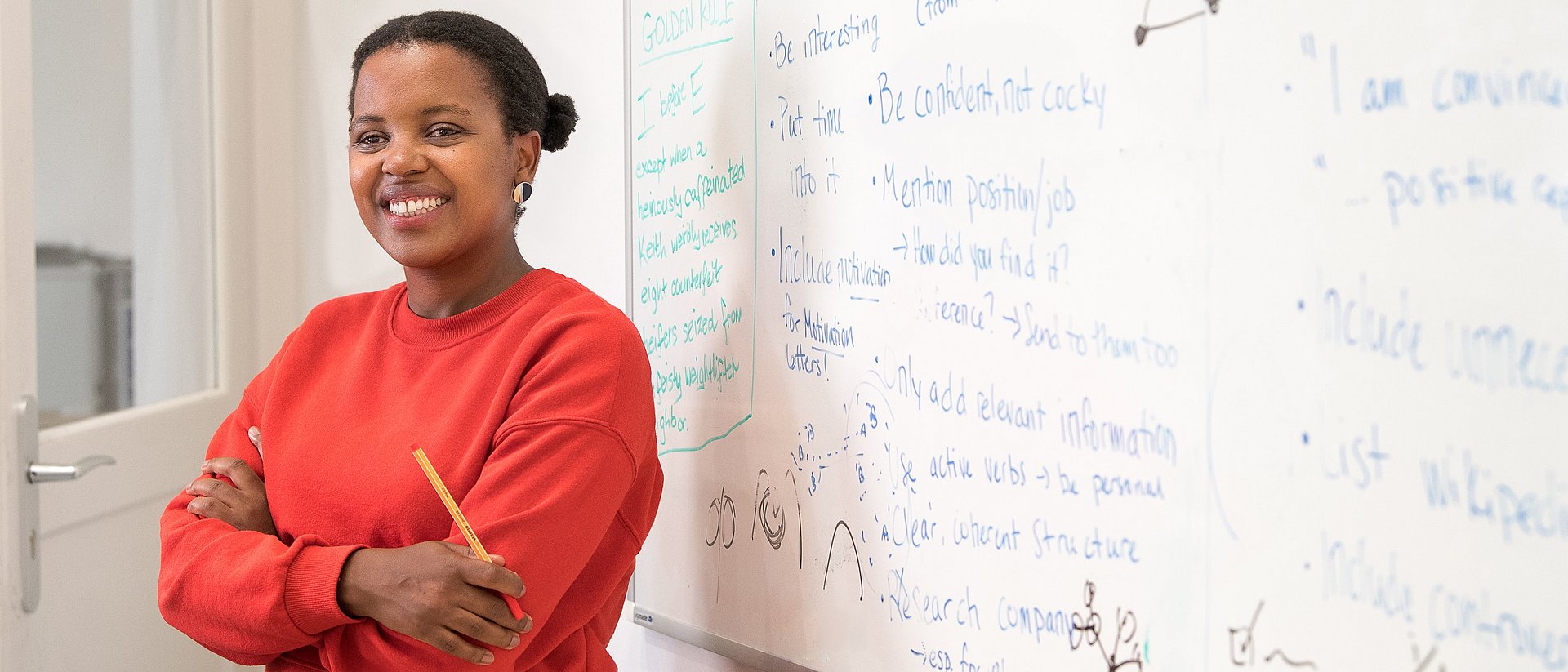 Before the pandemic, students would meet a writing support consultant in Munich, Garching or Weihenstephan to work on the text side by side. Since the 2020 summer semester, meetings have been offered exclusively via Zoom.
"I miss that atmosphere and the impromptu discussions," says EWC coordinator and consultant, Natasha Msibi. "We could just ask: Hey Keith, what's that synonym for …? Or: Madeleine, what's wrong with this sentence? I can't figure it out..." These very fruitful conversations are now taking place via Rocket.Chat, explains Msibi (34), who hails from South Africa.
Helping students help themselves
Those using the service for the first time often arrive with false expectations – despite the information provided on the website. The EWC is not a proofreading service. The 4 professional language instructors and student writing fellows, many of them bilingual, are there to help students help themselves:
The 45-minute session leaves enough time to sit down with the student and go through two or three pages of their English text and discuss areas of improvement and errors. When they realize this, those facing tight deadlines sometimes start to panic.
But not for long, promises Msibi: "We all take a highly solution-driven approach, choosing our words carefully and helping to overcome fears and frustration. We support the students with questions like: What is this text supposed to do? What is its goal and purpose? We let the students guide us."
More self-confidence and autonomy
Three quarters of an hour is enough time to gain important insights. Native speakers of German often need to untangle long, complex sentences and delete numerous commas in their English texts. Russians speak a language without articles, while students from Asian cultures are often more familiar than others with grammar terms.
Meanwhile, those who learned their English in German schools tend to need more examples and explanations in context, says Natasha Msibi. Laughing, she says: "Gamers have a clear advantage. I see that in my husband, too. He's German, loves video games and speaks excellent English although he hasn't spent much time abroad."
After the session, we advise the students to apply what they've learned. For those unsure about their ability to correct their own work, this step is a big confidence booster. Their notes and corrections can be discussed at the next session.
They can book up to three meetings per week and 12 per semester. "We teach them to adopt the reader's perspective when reading their own texts, to do their own editing and not to focus only on grammatical errors and punctuation." It's about what the text is saying, the structure and clarity, she adds. These things are easier to find with someone who understands the need for a text to be concise and coherent.
"Our long-term goal is for students to actively adopt a reader's perspective of their text and to eliminate possible weaknesses – or at least to be able to say what they are," explains the English lecturer.
The service is not only for those writing a thesis: Class assignments, essays and applications are also welcome (doctoral candidates are generally referred to the English Coaching Program, which is tailored to their needs). The EWC team has been providing advice since the 2012/2013 winter semester, starting out with just 390 appointments, and consulting in about 2750 appointments in the most recent semester.
Natasha Msibi remembers some students years later: "There was a biomedical engineering student who was part of a three-person startup. They had developed a wristwatch for elderly people that detected sudden changes in position and automatically reported a fall to first responders. At every session, my jaw was constantly on the floor. I was so impressed."
And then there was an architecture student from Seoul who was frustrated with the obsession with profit in her field and was determined to study finance management as well. "She wanted to build sustainable and affordable housing and was so ambitious and driven by this idea that I was caught up in her excitement."
Natasha Msibi's passion for languages and their complexity came about by accident. After applying for work at a language school in Cape Town, she started out with a 14-day course in "Travel English", teaching teenagers from the island of La Réunion. Then it was one course after another. She came to Munich seven years ago after completing her bachelor's degree in psychology and linguistics at the University of South Africa.
While studying for a master's in Research on Teaching and Learning, she worked at the EWC and as a freelance instructor at the Language Center. Natasha Msibi has been coordinating the activities of the EWC with Rose Jacobs since 2019 – and she loves her job. "The only terrible thing is assigning grades. I don't like that at all. I try to be as fair and logical as possible."
Further information and links
Technical University of Munich
Corporate Communications Center
Contacts to this article: