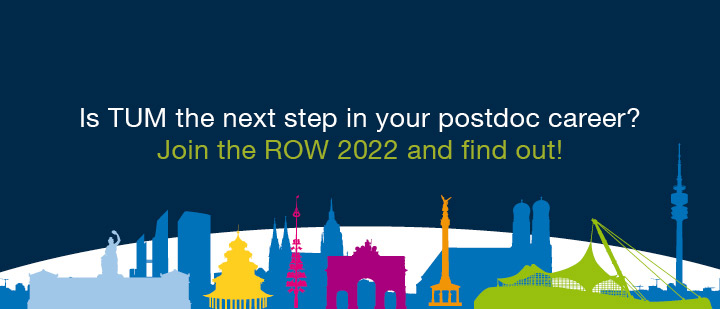 13th Research Opportunities Week for Postdocs at Technical University of Munich
Date: October 10–14, 2022
Applications for the Research Opportunities Week (ROW) at TUM in October 2022 are not possible any more!
The Technical University of Munich regularly invites young researchers from all over the world to the five-day Research Opportunities Week to inform them about opportunities for postdocs. During this week, participants have the opportunity to interact with TUM professors and researchers and learn more about the career system and funding opportunities in Germany.
ROW 2022 offers 50 international young scientists the opportunity to get to know TUM and its research environment. The program includes visits to research institutions at TUM, networking events with TUM professors, and information sessions on funding opportunities for postdocs in Germany.
Travel expenses and accommodation are covered.
To stay up to date, follow us on Twitter (@tumpostdoc) and Linkedin.
Apply via our online portal: https://tum.gomovein.com
The TUM Global Postdoc Fellowship
After the ROW, participants have the opportunity to apply for the prestigious 2-year TUM Global Postdoc Fellowship. After the end of the fellowship, the TUM Talent Factory supports the fellows in applying for further national and international funding.
Learn more about the current TUM Global Postdoc Fellows on our website.
Postdoc Fellowship at TUM
The Research Opportunities Week is the first part of a two-step-program organized by the TUM Talent Factory. Participants have the opportunity to apply for a new 2-year fellowship program shortly after the ROW. Details about the new fellowship program can be found here.
Applicants who have already submitted their application can access the Application Portal via the link. However, it is not possible to make any changes or additions after the deadline.