General Student Advising
The TUM General Student Advising supports prospective students in determining the course of study best suited to their needs and wishes. In addition, we support current students in dealing with the various challenges of their study.
Event Note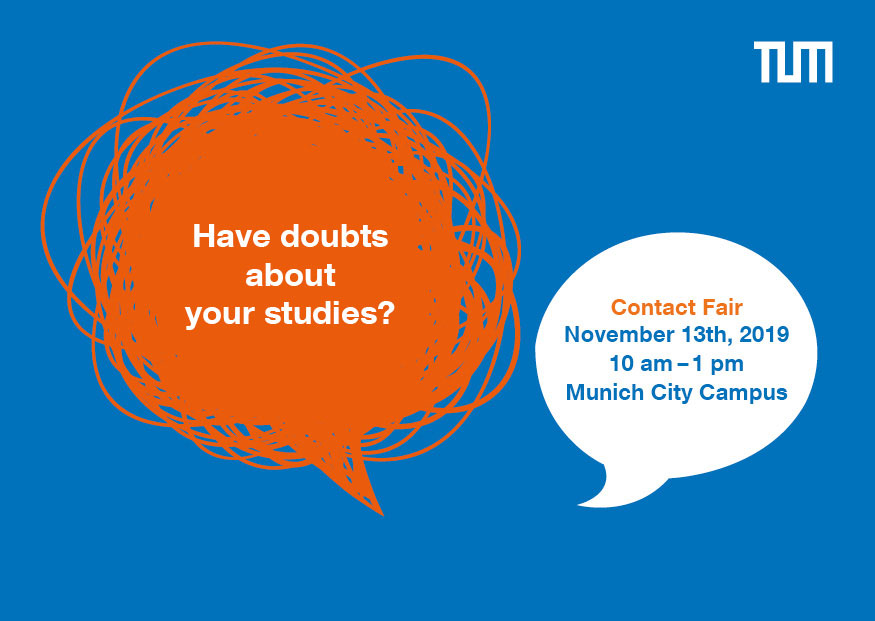 Do you worry about whether you are in the right study program?
Are you feeling overwhelmed in your studies or even in danger of being exmatriculated and wondering what to do?
Our Contact Fair offers you an opportunity to talk about it - whatever it is that worries you!
Meet advisors from various service institutions for students and learn how we can support you during difficult times in your studies.
Come to our Contact Fair in Munich on November 13th from 10 am to 1 pm Immatriculation Hall Munich City Campus, Arcisstr. 21!
Contact:
If you have any questions regarding the contact fair, please contact studium@tum.de and mention "Student Advising and change of studies".
Talking helps! We advise and provide options!
During a personal advising session, we take time to examine your individual situation. Working together, we develop options to motivate you to take decisions. In this process, we focus on your needs, experiences and skills.
Are you interested in studying at TUM?
Reasons for seeking advice can be (but are not limited to):
How can I make my way through all this information? How can I get an overview?
Which course of study is best suited to my needs and interests?
Do I fulfill the requirements for studying at TUM? What might be an alternative to studying?
How do I decide what to do?
Are you already studying at TUM?
Reasons for seeking advice can be (but are not limited to):
Am I (still) in the appropriate course of study?
I am in danger of being exmatriculated – what does it mean and what should I do?
I am (almost) finished with my Bachelor's – which Master's programs does TUM have for me?
Our advising service is voluntary, free of charge, confidential and neutral.
Helpful information: