Virtual Services of the TUM General Student Advising
You will find an overview of the virtual services of the TUM General Student Advising here.
Dear current students and prospective students,
We are still there for you! Given the current situation, we would like to offer any support you may need.
Do you need support in determining the course of study best suited to your interests and wishes? Do you have questions about a degree program or would you like to get an overview of all of our course offerings? Do you have doubts whether you are still in the right course of study and would you like to talk about other options? Or do you have any other questions or reasons for seeking advice? Then make use of the virtual services of General Student Advising.
We look forward to hearing from you!
Your General Student Advising Team
Personal advising sessions - via video chat or telephone
As an alternative to a personal consultation, we are currently offering our advising services via video chat or telephone.
You can arrange an appointment with us by using this request form.
We will then contact you by e-mail with the relevant contact details.
Upcoming events
The TUM Student Advising team offers online events for prospective students and current students. You can find more information on the current dates here:
Online event: study doubts and potential reorientation
Am I still in the appropriate course of study?
Do you have doubts about your choice of study? Are you thinking about making a change? We offer webinars in which we address the following questions:
How to deal with difficult situations / Where do I find support for difficult situations (e.g. general learning difficulties, feelings of self-doubt, lack of motivation)?
Being exmatriculated – What does it mean?
What options do I have after a forced or voluntary termination of my studies?
You will also have the opportunity to ask your own questions.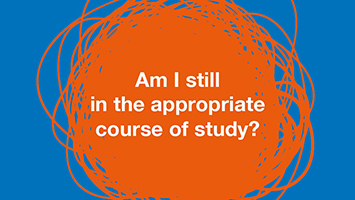 Tutorials and Videos
Prospective students and current students can get information about various aspects of their studies in short videos in English and German at our Youtube-channel TUM StudentInfo.
Topics including:
- Admission to TUM
- Admission procedures
- Deadlines and application periods
- Language requirements and certificates