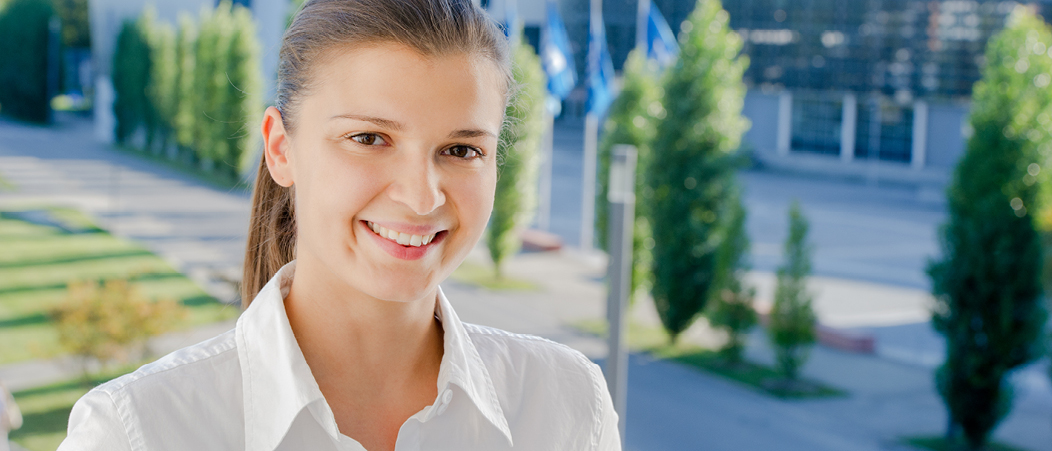 Bianca Monzer: Opportunities
Bianca Monzer left her homeland in Romania aged sixteen, to seek a better future with her mother, far away from home. It was a success. In this interview, she talks about her first experiences in Germany and how she succeeded on the path to university.

Why did your mother immigrate to Germany with you?

Bianca Monzer: We left Romania primarily for financial reasons. When I was ten years old, my father passed away. For my mother, it was then difficult to care for my older sister and me alone. If you live in a country like Romania, it's tough to remain hopeful – you can quickly become disillusioned. It's not enough to give your all and to do your utmost to secure your children a secure future through education. It usually doesn't work like that – and you already realize this as a child. When I was sixteen, my mother found a job in Germany. Thanks to her decision to emigrate, we were given a real opportunity – the deck had been reshuffled.

How did you feel about her decision in the beginning?

Bianca Monzer: I had no idea what would happen to me. But I felt that the future was in my own hands, and that new doors had opened up. To this day, I'm so grateful to my mother that she ventured into the unknown.

Could you speak German when you arrived?

Bianca Monzer: No. I couldn't understand a word of German. It was a huge hurdle to overcome, because I wanted to go to school and study. In the beginning I was in 9th grade at high school, and instead of the regular German class, I took a German course for foreigners. That helped a lot, but after just one year, I had to take the regular German class.

And you probably had homesickness too...?

Bianca Monzer: It was tough. I was sixteen and didn't understand the others in my class. We lived in a small village near Traunstein, where everyone knows everyone else. New people stand out. The locals were never unfriendly, but they were very curious. At the same time, the language barrier made it difficult to establish contacts. Moreover, many customs were new to me. For example, I didn't understand why we had to wear slippers in school. It started with such small things, and it took a while to adapt. And the fact that I was in a new class each year meant it was difficult to find good friends. But it all worked out.

You were at a high school at first, what happened thereafter?

Bianca Monzer: I was lucky: From the very beginning, I had a teacher who supported me. I worked hard and had always demonstrated my eagerness to learn. And thus, after receiving my Certificate of Secondary Education, I went straight to 10th grade and took my school-leaver's certificate. Thereafter, I went to technical college, where I could take my university-entrance diploma. I pretty much took all school certificates that the German education system has to offer – and I'm very grateful to my teachers for supporting me along the way.

How did you hear about the Deutschlandstipendium?

Bianca Monzer: I researched several funding programs on the internet and landed on the TUM website regarding the Deutschlandstipendium. The criteria for the program seemed to fit well with me – or maybe I fit well with the program. I thought I had a good chance and simply applied.

What was it about the program that appealed to you?

Bianca Monzer: The combination of selection criteria – grades, circumstances, social engagement. It resonated with me. From the first semester, I was semester spokeswoman, and my life hadn't been very straightforward. I think the criteria and selection process at TUM is evidence of the university's contemporary and balanced attitude.

You're studying general engineering at TUM. Why did you decide to choose this subject?

Bianca Monzer: I think the course is modern and realistic. The interdisciplinary skills allow me to see problems from different perspectives and to learn about different ways of thinking and different strategies. Many lectures are in English, and I like the international aspect of it. I also wanted to study at TUM primarily because of its excellent reputation. Another university never came into question. The course isn't easy, but I am stubborn and defiant – I want to show the world what I'm capable of. When something appears to be difficult, I want to try it out, to see if I can do it. Challenges appeal to me. And this is why I find the course a lot of fun.

How do you finance your studies?

Bianca Monzer: Luckily, I receive BAföG (Germany's student loan program) – and before I received the scholarship, I worked part-time in market research. Thanks to the scholarship funding, I can properly focus on the challenging program of study. I have some catching up to do – for example, the last time I studied physics was in 6th grade in Romania. The Germans are ahead of me and I have to slog away, but I'm ambitious.

What does the Deutschlandstipendium mean to you?

Bianca Monzer: I'm so proud to be able to study at this fantastic university. And that I am being supported with a scholarship, and my path in life and my dedication have helped to facilitate the scholarship is also fantastic. Of course, intitially I was most pleased with the financial relief, the money's a huge help. But one of the nicest things is the feeling that my sponsors accompany me along my way, and through their support there are opportunities to pursue new goals – and time for voluntary work. I don't have to work part-time any more, and I can increase my efforts as semester spokeswoman for my fellow students. In addition, we scholarship students also have a direct contact to industry.

How were you put in touch with contacts from industry?

Bianca Monzer: I'm supported by Professor Hoffmann, a private sponsor, and in the beginning I wasn't aware what this meant: To have no company in the background as with other scholarship students. In the meantime, I know that both have their advantages. I didn't immediately have a direct contact to industry, but instead a personal mentor. And I was allowed to take part in many excursions to sponsor companies. On one excursion to the sponsor Giesecke & Devrient, I spoke with a department manager and asked him directly if an internship would be possible – because I was very interested in his field – and it worked! Without the scholarship program and this informal meeting, I would never have had such a chance so quickly and easily.

Do you have anything else to say to the sponsors?

Bianca Monzer: Yes, and not only to the sponsors. I'd like to say a thank you to both the sponsors and to the Deutschlandstipendium's program at TUM. Because it has been recognized that it would be wholly insufficient to define achievements solely through grades. That it was recognized that voluntary work should also be appreciated. And above all, that it has been recognized that the handling of personal circumstances is also an achievement. As such: Thank you. I am sure that you have inspired some of us to become a sponsor one day – in any case, you've definitely inspired me!