Offers for refugees
The TUM supports refugees with information and counseling services to find their way into the German education system. On this page you will find an overview of all offers for refugees.
When you become a student, the Job Center doesn't provide financial assistance anymore. You can find the information about ways to finance your studies below:
1. Bafög
BAföG is the abbreviation of Bundesausbildungsförderungsgesetz. This law regulates the awarding of financial support to students at school and during studies. If students or their parents or spouses are unable to support themselves and pay the cost of education, the state will provide financial assistance. Refugees can receive BAföG if they have a residence permit or Duldung. For more information, visit the Student Union website.
The Student Union also provides advising.
2. Scholarships
You can find more scholarships at the links below:
TUM does not offer language courses for refugees or applicants.
If you are interested in taking German language courses, you can find out about German courses at the LMU. These courses are subject to fees.
NUR - Neue UfeR
Caritas offers psychological counseling and crisis intervention for both refugees and their companions and supporters.
Auditor Program For Refugees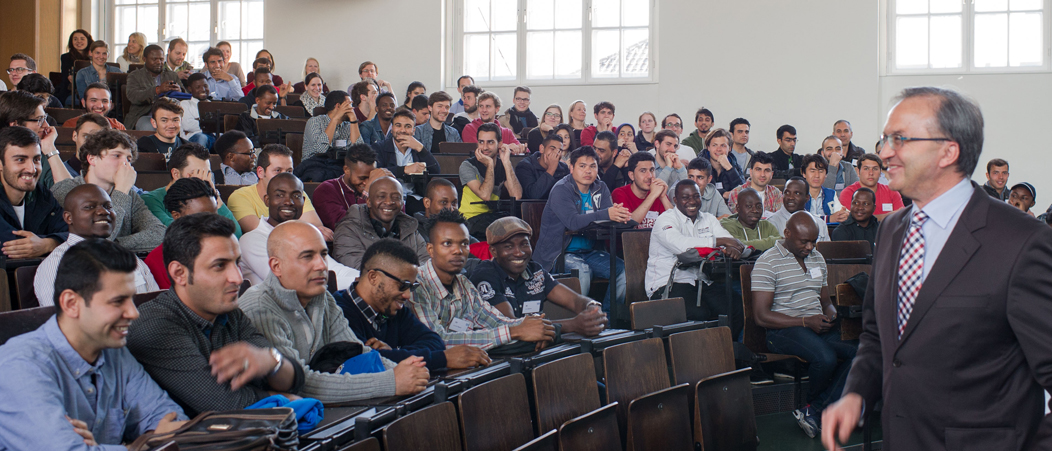 From 2015-2018, the Technische Universität München (TUM) offered a guest program for refugees, who were deprived of the opportunity to study or continue their studies in their home country. As guest auditors, they were able to attend German or English-language course modules free of charge and use the information and counseling services provided by TUM to find their way into the German education system. They were individually supported by student mentors (buddies).
The Auditor program for refugees has ended. It was offered for the last time in summer semester 2018. Plans for the development of more individualized study are underway, which will include students with migration background. General academic advising through the Student Service Center continues to be available to all refugees interested in studying at TUM.
More projects at TUM

­The Clinic for Psychosomatic Medicine and Psycho­thera­­py and the Chair for Social Pediatrics have launched a co­operation project, which is intended to offer a dia­gnos­tic and advisory consultation in primary care facilities for children and adolescents with war and cessation.

The pictures and pictograms of Picturise facilitate access to important topics from everyday life in Germany. In this way, all active persons in the work with refugees help to address individual topics in concrete terms.

Students and staff at TUM have developed a free app that provides key information about medical care and language courses. The app is available in five languages ​​and works offline after downloading for the first time.

Together with the TUM School of Social Sciences and Technology, the program introduces young refugees to the German language, as well as to the MINT subjects (mathematics, computer science, natural sciences and technology).
"Timely help is doubly effective. Therefore we are opening our winter semester offerings to can­di­dates who can be expected to succeed in their studies. They will be supported by student men­tors who will receive special training.", says TUM President Wolfgang A. Herrmann in the press release on the immediate action program from 18 September, 2015.
The current refugee situation in Germany is an issue that also concerns the TU9 universities: "Humanitarian aid is the first priority for people fleeing to Germany from war and violence. The TU9 universities naturally also support the academic integration of those refugees who are capable of studying, are to remain in Germany and wish to study here," says Prof. Dr. Hans Jürgen Prömel, TU9 President and President of TU Darmstadt. "To this end, the TU9 universities have set up numerous projects and programmes." (press release of 25.10.2015)