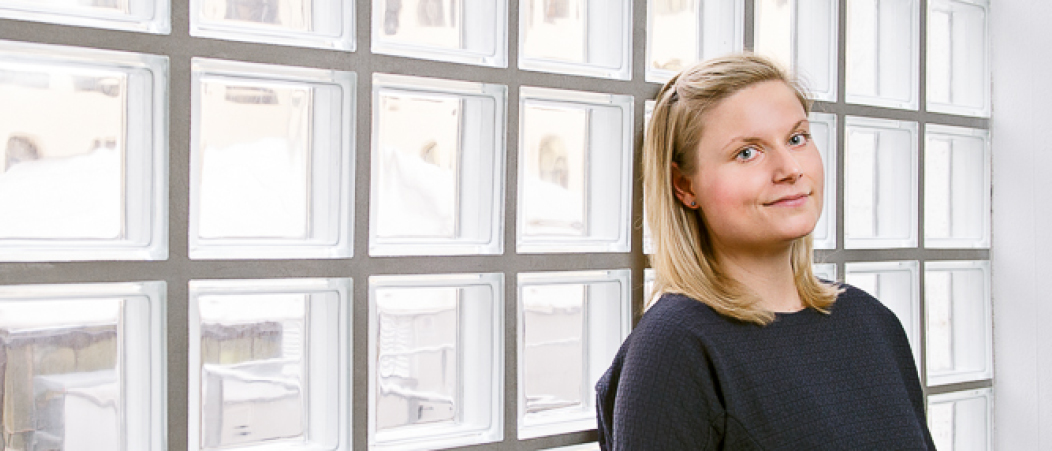 Barbara Peutler: "Expanding horizons"
Barbara Peutler is studying for her Master's in Mathematics at the TUM. In this interview, the Passau-born student tells of her voluntary work with IAESTE – and finds at least four good reasons as to why to get involved in voluntary work.
Why did you decide upon a course at the TUM? And why mathematics?
Barbara Peutler: On the one hand, I selected the TUM because of its good reputation and because of the range of courses on offer in the field of applied mathe­matics. And on the other hand, the number of TUM partner univer­sities abroad impressed me. Mathe­matics was always my favorite subject at school – you can describe complex relation­ships with such simple formulas. Mathe­matics is important in every area of life – in biology, for example, and the analysis of social pheno­mena. Math is everywhere – and that's exactly what I find exciting and fascinating.
How do you finance your studies?
Barbara Peutler: My parents pay my rent. And I've always worked to pay my way. Thanks to the Deutschland­stipendium I'm able to reduce the number of hours I work, and spend more time focusing on my Master's and my voluntary work. Where do you do voluntary work? I'm involved with IAESTE – which stands for the Exchange of Students for Technical Experience. IAESTE is an inter­national, inde­pendent organi­zation that organizes and arranges intern­ships for students in the fields of engi­neering and natural sciences. There are IAESTE offices in over 80 countries across the world, and the local committees are made up of volunteer students. Initially, I made use of the IAESTE program and through them, completed an internship in Ukraine. Afterwards, I wanted to help, in order to enable others to enjoy such great experiences. The work is a lot of fun, and I can whole­heartedly recommend checking us out – at our weekly Stammtisch, for instance.
What do you do exactly at IAESTE?
Barbara Peutler: We arrange intern­ships abroad for students at the TUM, and we also take care of the other IAESTE interns, who come to Munich from across the world. Thus, we advertise intern­ship place­ments for incoming students, and look after all interns during their stay here. Besides that, we process incoming applica­tions from TUM students for intern­ships abroad, and distribute the place­ments. In this way, we manage the recruiting for the companies who offer internship placements via IAESTE. We also put on an annual international Online Career Fair and organize company shuttle buses for TUM students.
What advice would you give to your fellow students – should everyone get involved in voluntary work?
Barbara Peutler: Yes, definitely! In my opinion, there are at least four good reasons to get involved: Firstly, it's a chance to broaden your horizons and meet students from other courses – which leads to a wide, colorful circle of friends. Secondly, you acquire soft skills, for instance time mana­gement, communi­­cation skills, presen­tation compe­tences and so on. Thirdly, it's sure to prove an advantage when starting your career – when you're able to demon­strate your passion for something and show your commit­ment. I've noticed that I'm much more confi­dent in job interviews, as soon as I can discuss my work at IAESTE. And fourthly – the network surrounding the voluntary work. I've made friends and acquain­tances from all over the world thanks to IAESTE – which is fabulous. All of this helps later on in life: Expanding horizons, fostering a network, learning soft skills and convincing potential employers of your skills with genuine enthu­siasm. It's an asset in every way! Voluntary work shows commit­ment and enthusiasm, a sense of responsibility, teamwork and communication skills. I can only see advantages – for the students them­selves, and for their sponsors and future employers.
How has the contact with your sponsors been so far?
Barbara Peutler: When asked about my preferen­ces, I specified the Allianz from the beginning. The company fits perfectly to my course. At an event, I met our contact person and have been in regular contact with her since then. The company offers us regular work­shops and seminars, which are very valuable. I can see the Allianz being a very good employer.