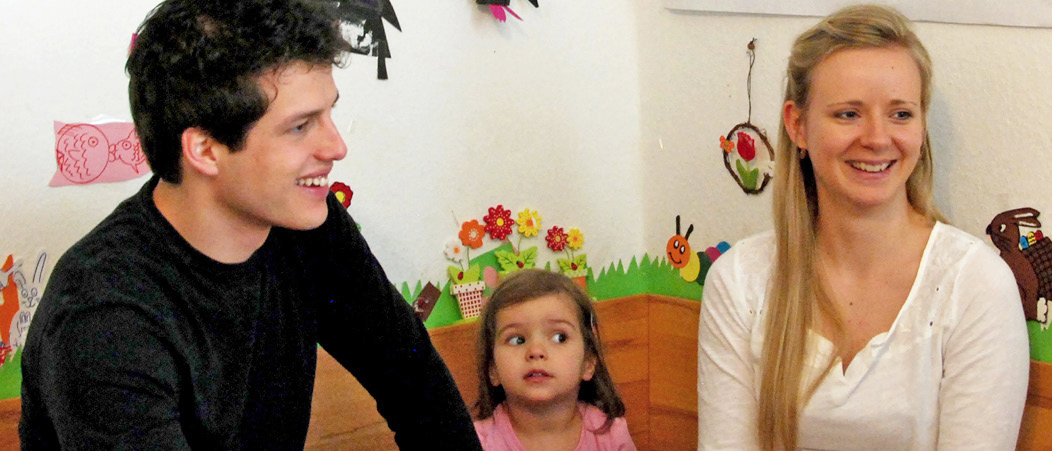 "We feel supported as a family"
Christian Führmann and his wife Karoline are regular students – and parents of a little daughter. In the interview, the young father explains how they manage to reconcile family life with their studies and still find time for voluntary engagement.
Why did you opt for doing your studies at the TUM?

Christian Führmann: The interdisciplinary orientation of the Sports Science study program combined with additional central TUM offers, such as the Carl von Linde-Akademie or the UnternehmerTUM (EntrepreneurTUM), was the main reason for my deciding to study here.

How did you find out about the National Scholarship Program?

Christian Führmann: I heard about it two years ago for the first time when I participated in the TUM-Mentoring Program. I then got more information from the homepage.

Did it meet your expectations?

Christian Führmann:The interconnectedness with other subject areas is great. It is important to think outside of the box. My expectations were also fully met with respect to contact with sponsors: I am regularly in dialogue with the Bosch Security Systems Germany scholarship representatives and am currently planning further collaborative work with them after graduation.

How do you finance your studies and your family?

Christian Führmann: My wife Karoline and I are both grant recipients (BAföG) and also receive child-care allowance for our daughter Emma, but it is not sufficient. Therefore, before getting the scholarship grant I constantly had several side jobs ─ which sure wore me out! Now I am only working as a student assistant at the university and as a swimming and fitness trainer.

Does the Deutschlandstipendium scholarship also have an immaterial value?

Christian Führmann: My whole family feels supported by the Deutschlandstipendium program! The compatibility of work and family is facilitated by the scholarship and therefore valued. In addition to the financial relief, contact with my supporter, Bosch, is a valuable opportunity towards the planning of my future. And naturally, besides my academic achievements, I am glad to also be distinguished for my family commitment and social involvement.

Are you involved in other activities outside of school and family? Which ones?

Christian Führmann: I am a student representative in our rooming house and was very active in past semesters. Additionally, I am actively engaged in support centres for disadvantaged children and teenagers. Work in the social field is a lot of fun for me. I can directly implement professional course knowledge and coordinate and initiate projects on my own. At the moment, I am planning aquatic exercise courses, in collaboration with the city of Munich, for mentally and physically disabled children, teenagers and adults.

How do you manage all of that time-wise?

Christian Führmann: It would be a lie to say that it is easy. But we managed it quite well so far.

Karoline Führmann: We have an extremely structured daily routine. There is a schedule that clearly identifies who does what on which day, what courses we have and so on.

Christian Führmann: That was also the greatest adjustment, the fact that we had established logistics just like one that could be used by a whole battalion.

Karoline Führmann: We are both still studying and at the beginning we often brought Emma to our lectures. At the university many professors are open to children. Sometimes Christian also takes the little one with him to the training centre.

Could you imagine getting involved in this program or in another one later on as an alumnus?

Christian Führmann: Yes, of course, I find it justified this way. I come from a non-academic family environment. The chance to follow through with my education helped me to advance personally. There should be a give and take – and in this case I would definitely like to give something back in the future.