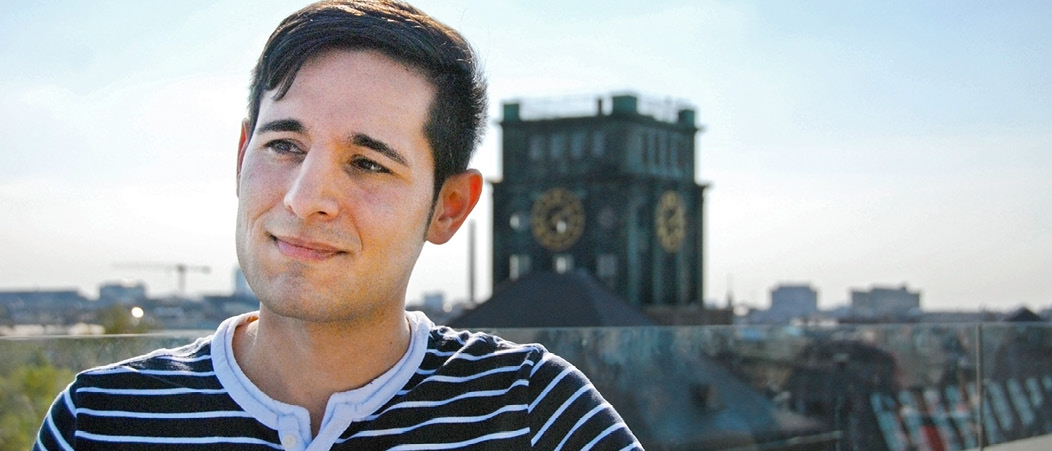 "Make something out of it!"
Eser Aytekin is studying Technology and Management-Oriented Business Administration. He has been sponsored since the fall of 2012. In the interview he tells us about receiving his secondary school certificate, completing an apprenticeship and how he made up for his Abitur and came to study at the TUM. He also explains what the Deutschlandstipendium personally means to him.
What led you to the TUM?

Eser Aytekin: My path to the TUM wasn't exactly conventional. My parents came as workers from Turkey through Austria and then to Munich. I was born in Munich and grew up in the district of Neuperlach. At first, I went to secondary school there as did all of my friends. After graduation I immediately began to work, as earning money was my first priority.

When did your mindset change?

Eser Aytekin:When I turned 18 it finally became clear to me that I wanted to achieve more, that this can't be everything. I told myself: You have the potential, make something out of it. From that point on, I stepped on the gas, threw myself into it and consistently worked hard. I got an training position at a tax consultancy association where I completed an apprenticeship to become an office administrator and simultaneously made up for and completed my secondary school level I certificate. The work was really interesting. I learned many new things quickly and had nice colleagues and a boss who motivated us. That was the best thing that could have happened to me at the time!

And then the decision to do your university-entrance diploma (Abitur).

Eser Aytekin: After my apprenticeship I felt that I still had more potential. So I set everything in motion in order to also complete my high school diploma and finally my university-entrance diploma. I am really proud to have achieved this on my own.

What impacts did this path have on your academic studies?

Eser Aytekin: My history gives me special incentive with respect to my academic studies: I now know what I want and know how to achieve my goals even when obstacles are in my path. For this reason, I was especially excited about the National Scholarship Program Deutschlandstipendium. Having been selected to be a scholarship student personally means a lot to me. It is an acknowledgment of my achievements to date and motivates me to continue working hard.

And why business studies at the TUM?

Eser Aytekin: The program Technology and Management-Oriented Business Administration sparked a variety of my interests: Studying the program's technology-oriented minor subject interdisciplinarily and exploring non-conventional avenues – all this served to convince me.

How are you financing your studies presently?

Eser Aytekin: I am the recipient of a student grant (BAföG). Support from the National Scholarship Program will not be deducted and this is my great fortune because I would definitely have to work more while studying if it were otherwise. Thanks to the Deutschlandstipendium, I can focus much better on my studies now.

Do you have any other wishes regarding the National Scholarship Program?

Eser Aytekin: In the winter I met a contact from my support company Wipro Technologies at the ceremonial kick-off event at the TUM. A visit has already been planned which I am very excited about. There may also be a possibility for me to do an internship in India − now that would be fascinating!

Could you imagine becoming involved in this program, or in a similar one, as an alumnus later on?

Eser Aytekin: My younger brother is also currently making up for his Abitur. Our parents never went to university and now they are very proud of us. I believe that many people do not know how to appreciate the wonderful opportunities available in the German education system: One can still pursue an academic career via some detours. For this reason, if my financial situation allows for it, I would be glad to help support the National Scholarship Program as an Alumnus later on− as a way of giving back the kind of support that I received in the past.