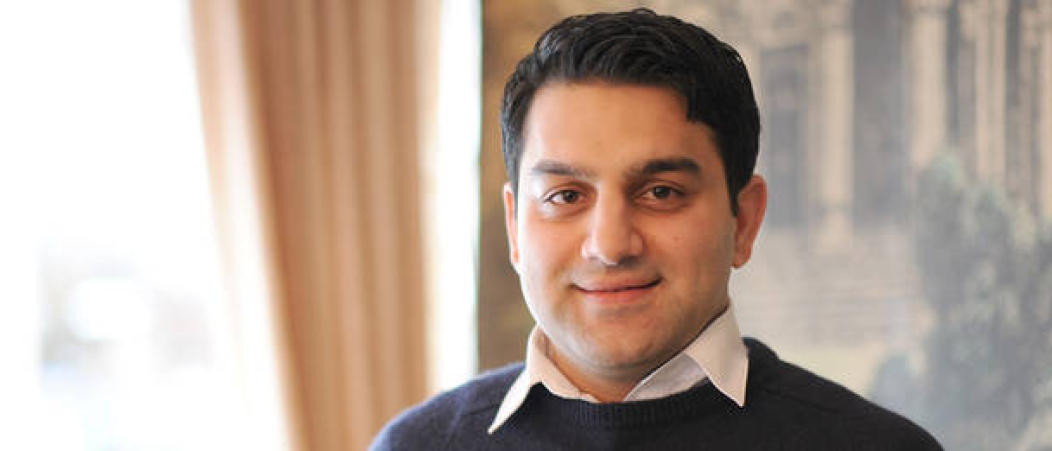 Wiyar Sharif: Pursueing a goal
Wiyar Sharif fled Afghanistan to Germany with his family in 1994. In this interview, he explains how he's gone on to study civil engineering at the TUM and how his sponsor has helped motivate and inspire him.
Wiyar, in 1994 your parents fled from Afghanistan to Germany, with you and your four siblings. Can you describe the situation back then?
Wiyar Sharif: Back then, we lived in the capital Kabul. My mother was a gynecologist in a hospital and my father was a civil servant. Even then, there was political unrest in Afghanistan. It was particularly bad in Kabul, where chaos and anarchy prevailed. The city was often hit by bombing raids. My parents decided that it was too dangerous for our family to stay. In 1993, we fled to neighboring Pakistan, and, in a roundabout way, we ended up in Müncheberg in Brandenburg.
You were very small back then. Can you still remember all of these experiences?
Wiyar Sharif: Yes, I can still remember it all very well, including leaving Kabul. It was awful – we didn't know if we'd all stay together. In Müncheberg, we lived in a home for asylum seekers, until our application was approved. My older brothers went to school, and my sister, my younger brother and I went to kindergarten, where we learned German very quickly. It was important for my parents that we received a good formal education.
Your family received a temporary residence permit. What happened after that?
Wiyar Sharif: In 1995, we moved to Munich, and with the help of various jobs and as well as he could, my father tried to feed our family of seven. In the two years previously, we'd unfortunately spent our entire savings. Since our arrival in Germany, my mother devoted herself to our family, and dedicated her time to ensuring the education of her children. I am eternally grateful to my parents for everything they did for us and enabled us to achieve. While my older brothers completed their vocational training, my older sister, my younger brother and I studied at high school and attained our higher education entrance qualification.
Now you're studying civil engineering at the TUM. Why did you decide on this course?
Wiyar Sharif: Significant and famous buildings such as the Olympic Tower or the Allianz Arena have always fascinated me. In particular, I was passionate about the engineering that's behind such constructions and the art of realizing such complex building projects – and how best to realize these projects with regard to deadlines, finances and ensuring quality. I wanted to learn more about this field. In addition, it was always a dream of mine – and something that's always been at the back of my mind – to do something that can be linked to the reconstruction of Afghanistan. And what could be better than to use my knowledge from my civil engineering studies for this, with the support of German companies and on behalf of Germany.
How did you finance your studies before the Deutschlandstipendium?
Wiyar Sharif: My parents had good jobs in Afghanistan, but in Germany we always had a bad income situation – right from the start our financial situation was pretty precarious, and we had to grow up in structurally weak areas. Nevertheless, I really wanted to study, so I had the BaföG student loan to pay for my livelihood from the start. I earned a little extra money by working some jobs on the side. I spent some time working in a grocery store, before I passed the exam to become a taxi driver, and then, when I needed to and when I had the time to, I worked nights and weekends as a taxi driver.
How did you hear about the Deutschlandstipendium?
Wiyar Sharif: My sister already knew about the Deutschlandstipendium from her university – she told me about it and encouraged me to apply for it. At first, I was uncertain as to whether I fulfilled the prerequisites for the scholarship. In retrospect however, the positive response to my application settled all of my doubts. I also want to thank Mrs. Gerhard of the KHG who also was great support at that time.
What does the Deutschlandstipendium mean to you?
Wiyar Sharif: The Deutschlandstipendium means a lot to me. I now have a lot more time for the important things, because I don't have to drive a taxi in addition to studying, and I can fully concentrate on my studies. I also see the Deutschlandstipendium as a recognition of my achievements. The moral support is also important to me – the direct contact I have with my sponsors and commerce. I had the good fortune to visit one of my sponsors, Professor Gallus Rehm, in his institute. He made a name for himself by taking part in famous projects such as the construction of the Olympic Stadium in Munich. There, I was able to receive very valuable and helpful advice for my future plans and goals. We've already planned a next meeting, and I hope that we can stay in touch for a long time, and that I can continue to profit from his huge wealth of knowledge. Moreover, the scholarship has also allowed me to come into contact with many other students – the other scholarship holders are all very nice and open-minded, and it's a great network where I feel that I'm in good hands.
What do you like about the Deutschlandstipendium?
Wiyar Sharif: I think it's great that the selection of scholarship holders include a variety of factors. Not just my academic performance was taken into account, but my family background too. I also really like the project "Talente Spenden" (Donate skills), that scholarship holders launched, and where I'm really happy to be involved. As the financial situation of the students is known to be very modest, we can help those in need with our talents and skills, instead of with money. One of the projects is a mentoring program, whereby scholarship holders give minors and unaccompanied refugees lessons in German and other subjects, or accompany them on excursions. As a former refugee, it's a labor of love, and something very special to me. I can empathize with them very well, and hopefully encourage them that it's possible to achieve something in Germany with an immigrant background. I'd like to continue to be involved with "Talente Spenden" in the future.
Do you have something to say to your sponsor?
Wiyar Sharif: I'd like to tell him that I'm very grateful to have met him, and that I find it very impressive to see how he works for society and young people. But I'd also like to express my thanks to Germany. This country has allowed my family and me to start a new life and with a will to succeed, hard work and great determination, has allowed us to overcome difficult conditions. I'm very proud and grateful to have received so many chances, support and recognition in my life. And finally, I want to thank the TUM for the chance to pass on my experiences and insights as a student with an immigrant background and a past as a refugee to upcoming generations. I hope that my personal experiences can serve as motivation and incentive for them to move forward with their own studies.