Quantum light sources pave the way for optical circuits
Light in the nanoworld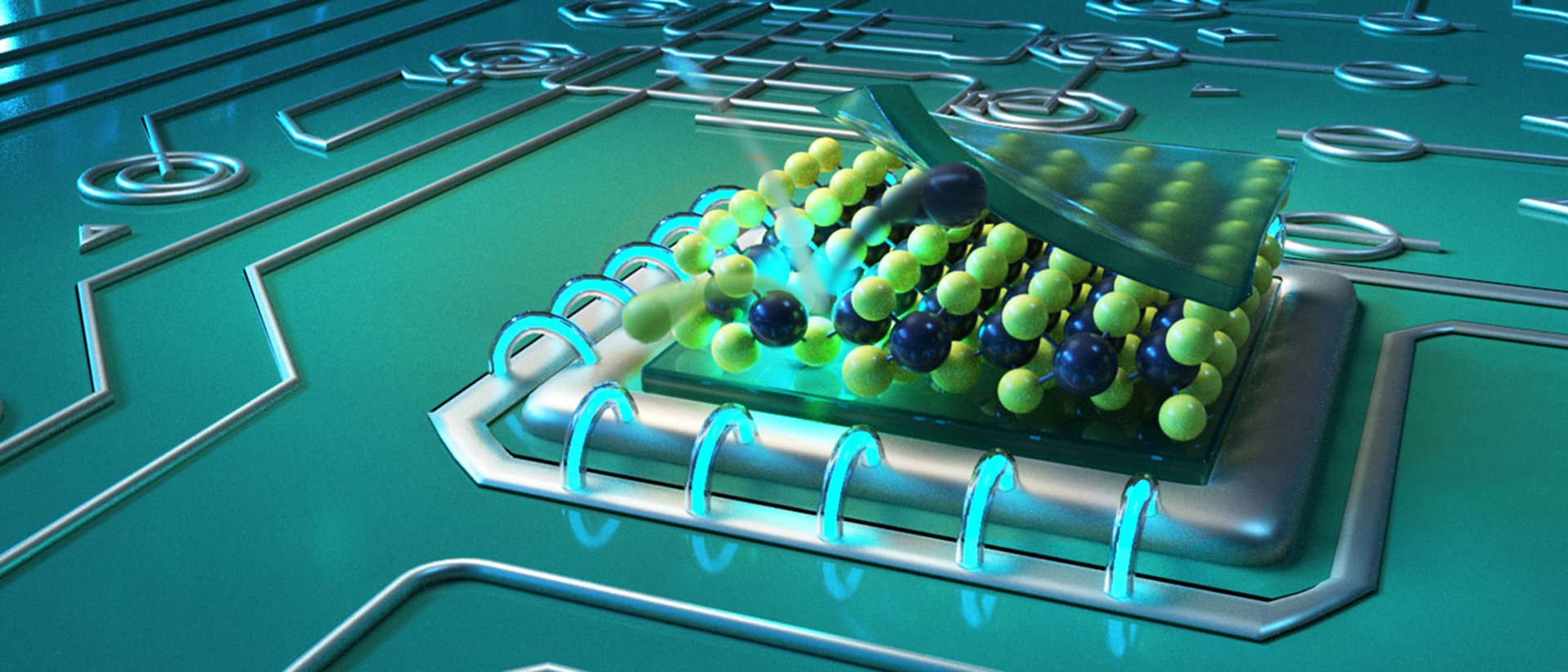 Previous circuits on chips rely on electrons as the information carriers. In the future, photons which transmit information at the speed of light will be able to take on this task in optical circuits. Quantum light sources, which are then connected with quantum fiber optic cables and detectors are needed as basic building blocks for such new chips.
An international team headed up by TUM physicists Alexander Holleitner and Jonathan Finley has now succeeded in creating such quantum light sources in atomically thin material layers and placing them with nanometer accuracy.
Site-selectively generated photon emitters in monolayer MoS2 via local helium ion irradiation
J. Klein, M. Lorke, M. Florian, F. Sigger, L. Sigl, S. Rey, J. Wierzbowski, J. Cerne, K. Müller, E. Mitterreiter, P. Zimmermann, T. Taniguchi, K. Watanabe , U. Wurstbauer, M. Kaniber, M. Knap, R. Schmidt, J.J. Finley & A.W. Holleitner
Nature Communications, 10, 2755 (2019) – DOI: 10.1038/s41467-019-10632-z
Further information and links
The work was supported by the Deutsche Forschungsgemeinschaft (DFG, German Research Foundation), by the TUM International Graduate School of Science and Engineering (IGSSE), by the clusters of excellence "Nanosystems Initiative Munich" (NIM), "Munich Center for Quantum Science and Technology" (MCQST) and "e-conversion", the TUM Institute for Advanced Study, the ExQM doctoral program of the Bavarian Elite Network, by the European Union in the context of Horizon 2020, the Photonics Research Germany funding program, and the Bavarian Academy of Sciences and Humanities.
Alongside scientists from the Technical University of Munich, researchers of the Max Planck Institute for Quantum Optics (Garching), the University of Bremen, The State University of New York (Buffalo, USA) and the National Institute for Materials Science (Tsukuba, Japan) were also involved.
Technical University of Munich
Corporate Communications Center
Contacts to this article: