TUM Student Clubs
Students at our university are getting involved in various causes and projects they are passionate about. Actively shape your time at TUM, explore your interests, discover your talents and achieve great things together.
TUM Student Club Fair
October 25, Campus Garching
Are you passionate about a particular topic, want to become part of a TUM Student Club or pursue your own project or idea together with others? Visit the TUM Student Club Fair, experience the diversity of student involvement at TUM and get to know our student clubs in a relaxed atmosphere.
About 100 student clubs and TUM partners will present their projects and activities to the TUM community at this year's TUM Student Club Fair at Campus Garching.
Registration is not required - just drop by, take a look around, meet like-minded people and get inspired.
When: Wednesday, October 25, 2023 | 10:00 a.m. - 5 p.m.
Where: Magistrale Mechanical Engineering, Garching Campus
Here you'll find the booth plan with participating clubs & partners. (PDF, 147 KB)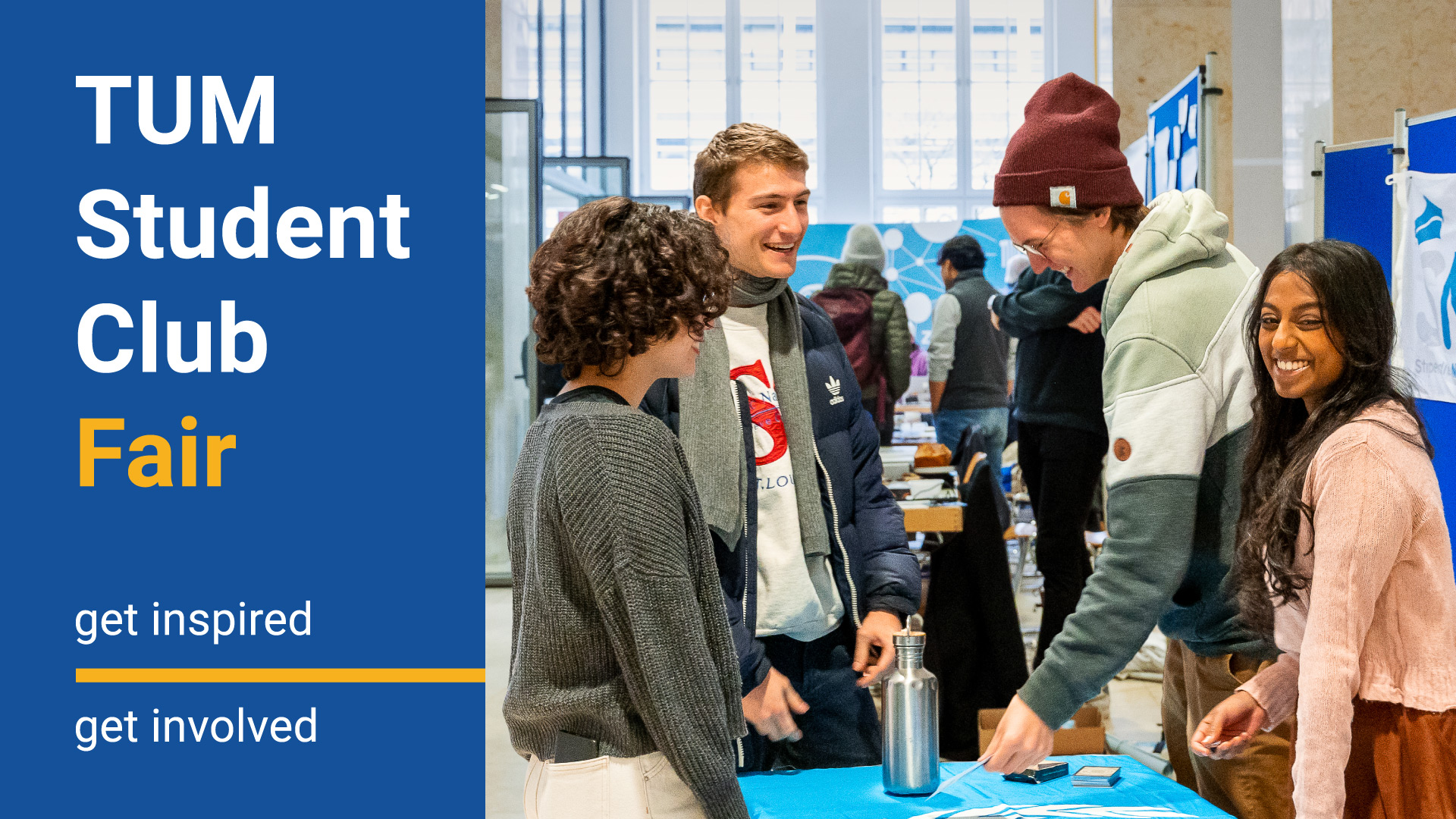 Would you like to get involved in a student initiative at TUM and are looking for inspiration – or would you like to know which groups share your passion?
Take a look at our TUM Student Clubs:
You want to start your own TUM Student Club? No matter if you have an idea or an entire project group – here's some tips to get started.
And if you have any questions, please don't hesitate to contact us.
All students at TUM can establish a TUM Student Club at any time.
There are practically no limits or restrictions to establishing a TUM Student Club, provided its activities and purpose do not contravene Germany's liberal democratic basic order or safety and order at TUM.
Take a look at the TUM Student Clubs on our website - maybe you already find an initiative that matches your interests? On the websites of the respective student clubs you will then find the contact details as well as helpful information on how to join the student group.
Talk to other students to find out if they are interested in joining your student initiative. Post on social media, also discuss your initiative with scientists in you TUM department/school, you will be surprised how many people share your interests.
Choose a name for your TUM Student Club. Check whether the name already exists, whether the activity and purpose of the group are clear, and whether the name appeals to the desired target group.
If you would like the name to include "TUM", or "at TUM" it is neccessary for the TUM Center of Study and Teaching to review the status of the group and approve its name. Please contact studentclubsspam prevention@tum.de in this matter.
Create an own website or social media account for your TUM Student Club so that interested students can find out about your acitivities. If you send a completed self-declaration to studentclubs(at)tum.de, we will also present your initiative on our TUM Student Clubs website.
Once your Student Club counts as least 5 members, you can apply for accreditation by the TUM Student Council and receive further support.
In our "TUM Student Clubs" guide (PDF, 4,3 MB) you will find this and other useful information at a glance.
Your question has not been answered yet? Feel free to contact us by e-mail to studentclubsspam prevention@tum.de. Your TUM Student Club Coordinator will be happy to help you or to put you in touch with the right person.