The Student Information is your first point of contact for any questions about studying at TUM.
We are happy to help you with questions regarding application, enrollment, as well as other central processes at TUM. We will search for information or the departments and contact persons that can best help you with your request. We are available for you in German or English.
Our team will be happy to help you with information and contacts. Get in touch with us!
In person:
At our Service Desk at the Munich Campus (Arcisstr. 21, opposite of the Immatrikulationshalle)
Mondays, Wednesdays and Fridays, 9:00 a.m. – 12:00 p.m.
By e-mail:
studium@tum.de

We read all e-mails, answer questions and forward difficult cases to the responsible contact persons.

Please observe our e-mail etiquette and always state your student number oder applicant number when writing us.
By phone:
Mondays to Fridays, 9:00 a.m. – 12:00 p.m.
No availability by phone on October 10, 2023
Please note: Due to an event, the Student Information will not be available by phone on October 10, 2023. Thank you for your understanding.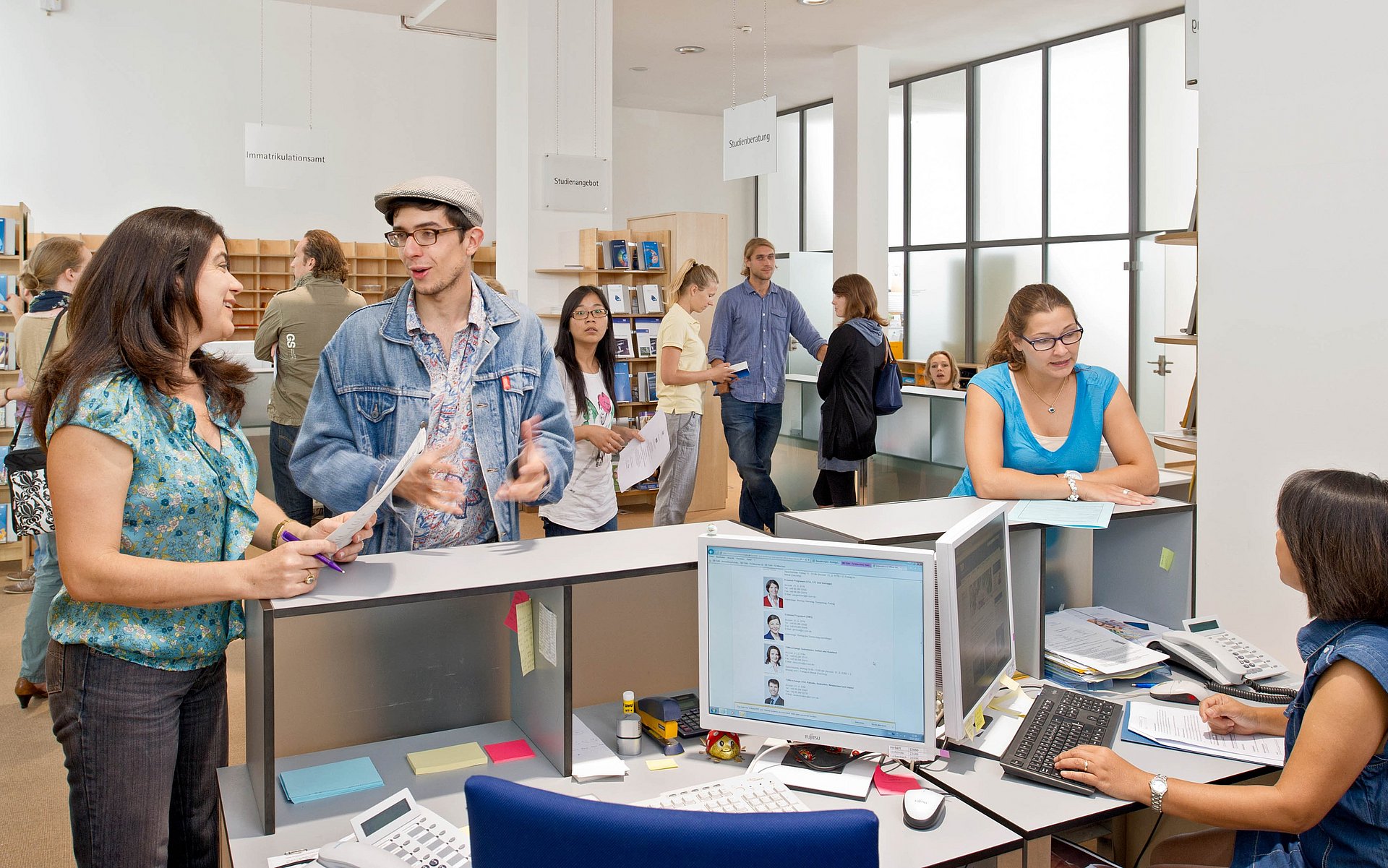 We are happy to support you with:
Information and help on all topics of study
Instructions and assistance on the application and enrollment process
Information on TUM's degree programs: application deadlines, documents, language requirements
Help with difficulties in understanding and using TUMonline
Information and support also for international prospective students
Information on finding accommodation and on the apartment listings platform TUM Living
Looking up the right contact persons at the TUM Center for Study and Teaching as well as at the schools and departments
Arranging appointments with TUM's General Student Advising
Information on further support services, such as Academic Coaching, ExploreTUM, or Student Advising: Studying with Special Needs
Online info sessions on important topics such as application, enrollment, or finding a place to live
Mediation and forwarding of inquiries to the relevant service units, schools, and departments
Student Advising and Information Services
+ 49 89 289 22245
studiumspam prevention@tum.de
Please note: On October 10, 2023, the Student Information will not be available by phone.
Please observe the e-mail etiquette.
Personal advising sessions with General Student Advising by appointment
Campus Munich
Arcisstraße 21, Room 0144
80333 München
Monday, 9 a.m. – 12 p.m.
Wednesday, 9 a.m. – 12 p.m.
Friday, 9 a.m. – 12 p.m.