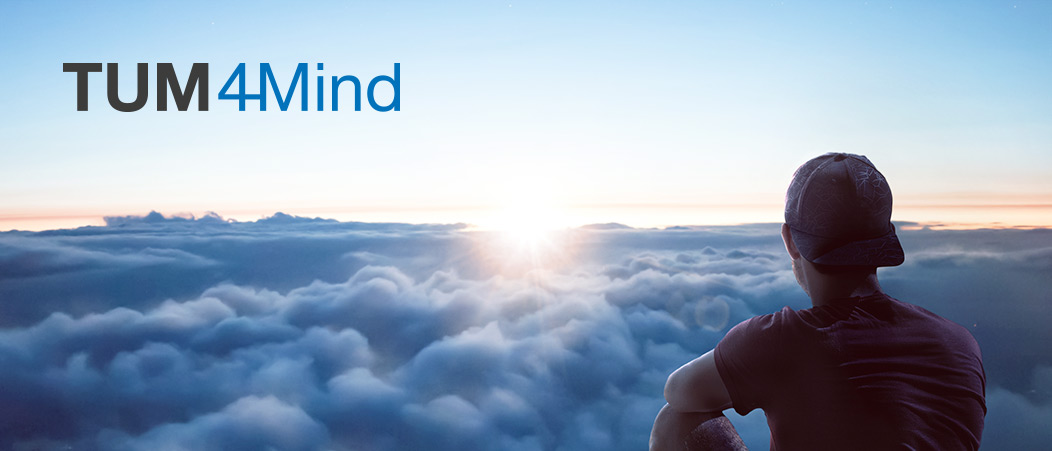 TUM4Mind
At TUM4Mind it is all about your mental health during your studies. A conscious approach to one's own psyche and mental health is a cornerstone for a high-performance and successful course of study and a sustainable lifestyle.
Upcoming events in the summer semester 2022
The topic of mental health is relevant for all students, especially in times of corona. Therefore we will offer online courses and discussion forums throughout the summer semester in addition to the digital Mental Health Awareness Week from May 9 to 13.

Newsletter: We are also happy to put you on our mailing list to inform you about upcoming events.
This was the Mental Health Awareness Week from May 9th - 13th
With the offers of TUM4Mind we want to create awareness for the topic of mental health. With our impulse workshops, we provide insights into the respective topics, encourage reflection and provide helpful first steps. In addition, we point to different advice and support offers inside and outside of TUM.
Our workshops are designed to be very interactive. An open exchange and plenty of space for personal questions are important to us. Feel free to raise your questions and look forward to talking to our speakers and each other.
The virtual formats will take place via Zoom. You will find the link for registration in the respective event description. Please note: Registration is only possible for TUM Bachelor and Master students with the TUM Login ID (ab12cde) and works best via the Confluence app or the desktop version.
Presentation language: English
Breathing techniques have been an integral part of the traditional knowledge of yoga. Various yoga based breathing techniques have also been shown by research to help relax the mind, so we can find calm even amidst the chaos that surrounds us from time to time. In the current turbulent times, having a ready-to-use toolkit of simple, yet effective, breathing techniques can be like a life-jacket. In this one-hour session, we will learn a few simple breathing techniques that help relax and focus the mind to find our calm and "flow". We will also look briefly at the science of breath – how/why various breathing techniques work according to the latest scientific research.

Speaker:
Prof. Dr. Mrinalini Kochupillai is a guest professor of ethics at the TU Munich and a certified practitioner and trainer for the "Art of Living Happiness Programs" (that teach evidence-based SKY Breath Meditation for stress management and positive mental health). Her current research seeks to understand, inter alia, how positive mental health and human values education help in ethical decision making and support the accomplishment of various UN Sustainable Development Goals. She has taught SKY for over 15 years in India, USA and Germany as a volunteer of the Art of Living Foundation, and is a certified Hatha-Yoga teacher.
Presentation language: German
You know exactly what and why you should be studying right now - but you just do not get started? Or you find it difficult to keep focused on your topic? Are these signs or symptoms of ADHD? In this interactive seminar, we will present the definition and the boundaries. Join us also in the country of concentration and find out about some basic as well as concrete tools and strategies for a more focused approach to studying. Take the opportunity to reflect on your own behavior and test one or more tools. The goal is to make learning easier for yourself.
Speaker:
Ursula Wendeberg, educator, political scientist, historian M.A. is a freelance trainer and coach with a focus on life and career planning, team development and ADHD. Since 2003, she has been in charge of ADHD counseling in Regensburg. She is noticing more and more that concentration and focused studying is increasingly a challenge, even for people who are not affected by ADHD.
Presentation language: German
Mindfulness is the ability to focus on the present moment. In everyday life there are always small moments in which we are mindful, i.e. immerse ourselves completely in this moment. Most of the time, however, we are already thinking about tomorrow's meeting / seminar, the to-do list or the the next vacation. We subconsciously act in autopilot mode without noticing what we are actually doing. Using various meditation methods, we practice consciously perceiving the moment, which can have far-reaching positive effects on our everyday life.
After a theoretical introduction to the methods and effects, we will actively practice MBSR techniques. You can exercise either sitting, standing or lying down. Afterwards, there is time to share the experience and ask questions.
Speaker:
Verena Grundner works as a mindfulness and relaxation teacher. She has her own practice in Munich. After graduating in education and health management, she completed numerous training courses on various stress management measures, such as MBSR (mindfulness-based stress reduction), yoga and autogenic training. Her programs are designed for people who are interested in improving their health and well-being through scientifically recognized methods.
Presentation language: German
How do I position myself when I think about the next steps in my life? How do I know that I am on my way? – Where can I find my answers? How do I measure my consent?
The workshop will focus on the topics meaning and value. What is the meaning of my life right now? How can I discover it? Have there been periods in my life, where I have felt that my life was meaningless? How did I get out of there? I personally found my answers through intensive study of the logotherapy of the Austrian medical philosopher Viktor E. Frankl. His meaning philosophy will provide the framework of the workshop.

Speaker:
After an apprenticeship as a brewer and maltster, Karl Fordemann completed his studies as a brewery engineer in Weihenstephan and postgraduate studies as an industrial engineer at TUM. For 25 years he worked as a managing director of technology at the Herford brewery. He then trained as a logotherapeutic counsellor and has been the managing director of the Hohenbrunner Academy in Munich since 2009. Here he holds multi-day group training courses for personal development with a focus on logotherapy.
Presentation language: English
Permanent stress is a risk factor for our mental health. But how does stress arise and how does it happen that the supposedly same situation leads to different feelings of stress? Using the Transactional Stress Model according to Lazarus, we will take a closer look at how stress arises. Subsequently, we will look at the patterns of thinking and behavior that shape the way we deal with difficult situations. The online workshop contains several elements that encourage you to reflect on your own patterns as well as a questionnaire to identify personal stress enhancing thoughts.

Speaker:
Dr. Sonja Kugler is a Learning & Development Expert at the TUM Institute for LifeLong Learning. During her doctoral studies, she focused on personal resources in the workplace. She is also a certified trainer and systemic consultant and offers workshops in the fields of positive psychology, mental health and communication.
New Date: This workshop will take place on Wednesday, May 18 from 6 p.m to 7.30 p.m. via Zoom. If you are already registered the Zoom login data stays the same.
Presentation language: German
How can you cultivate, maintain and strengthen your personal well-being in daily (student) life even in difficult times? Based on the concept of Salutogenesis (Aaron Antonovsky, 1979) we will jointly explore this question and discover personal health resources. We will deal with an overview of the four main pillars of psychosocial health: self-care, social support, self-efficacy and meaningfulness (Kaluza, 2020). We will look at tools that help to discover these treasures, expand them and use them in a targeted manner.

Speaker:
Dr. Mirjam Uchronski has a degree in psychology and has been supporting students in the general student advisory service at the Technical University of Munich for over 10 years. Promoting the mental health of students is an important concern of hers. In 2021, she completed her training in health coaching and health training at the GKM Institute for Health Psychology.
Presentation language: English
According to contemplative neuroscience people could be happier if they gained more control over their minds. In this context four components are important for a healthy mind: first, the basic recognition of awareness; second, connection – for example to be able to experience emotions such as compassion, kindness, gratitude and thus to relate to one's environment; third, having insight into one's own self; and finally, to recognize one's own destiny in life and to be able to orient one's own behavior towards it.
That mindfulness and meditation practices can make a significant contribution here, will be explained in the lecture using theoretical modules as well as a variety of practical exercises.

Speaker:
Professor Andreas de Bruin's principal area of research and teaching is mindfulness and meditation, and in particular the effects of these practices on physical, emotional, cognitive and social levels. He also teaches conscious awareness in painting and classical music, giftedness and creativity in general. Andreas de Bruin is the founder and head of the Munich Model "Mindfulness and Meditation in a University Context".
Presentation language: German
Two years of the pandemic left marks on all of us. Many students only know university life under the conditions of the pandemic. Going back to or starting university under "normal" conditions can evoke insecurity and anxiety. You may find it hard to get in touch with others offline, be with many people in a classroom, speak in front of others and get used to a life with offline-classes. This workshop focuses on your own needs and emotions to find out what you need for a good start under these new circumstances.

Speaker:
Marie Bartholomäus is a psychological psychotherapist for cognitive-behavioral therapy and works in the Kirinus day clinic Munich Nymphenburg. She mainly treats patients with burnout, depression, fears and borderline personality disorders. Other areas of interest include autism spectrum disorders and psychosomatic complaints. In March 2020, she published a behavioral therapy program together with Prof. Leonhard Schilbach to maintain mental health during the corona pandemic, which can be used at home.
Presentation language: German
Yoga is taught with a holistic approach as a path to physical, mental and spiritual health: the goal is a healthy body, balanced mind and peace of mind. Yoga can release blockages and helps to achieve more serenity and inner strength to master the challenges of hectic everyday life in our modern world. This morning session includes various breathing exercises and yoga postures and provides deep relaxation. No prior knowledge of yoga is required.

Speaker:
Sivanda Yoga Vedanta Zentrum e.V., Munich. Courses in German and English are available in downtown Munich close to TUM Campus and online.
Further offers to support you during your studies
TUM4Mind and TUM: Junge Akademie

TUM4Mind originated as an initiative of the TUM: Junge Akademie.