Technical University of Munich (TUM) and Oerlikon agree on research partnership
Institute for additive manufacturing planned in Garching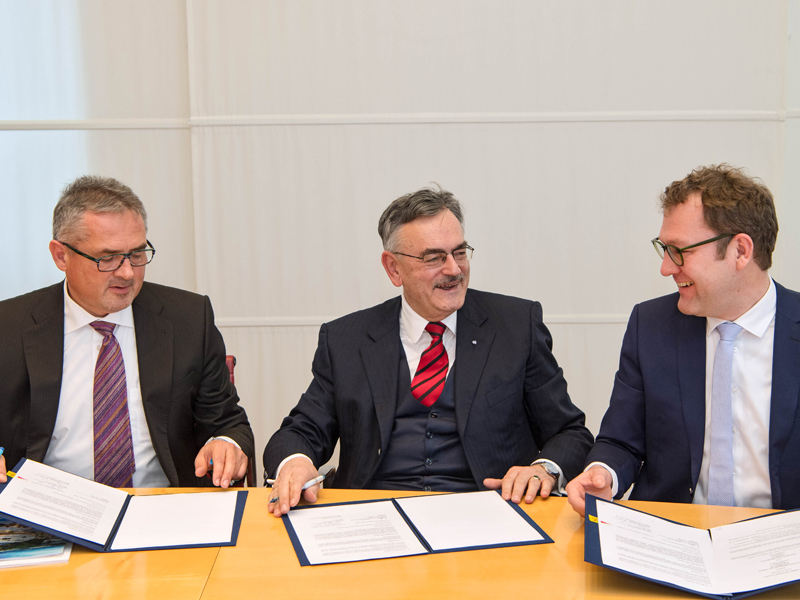 Parts for airplanes and automobiles, individual custom medical products and even entire houses: According to experts, additive manufacturing methods, including 3D printing, will revolutionize manufacturing technologies. At present these technologies are not yet ready for mass production.

Engineering sciences at the TUM incorporate a robust body of expertise which is now to be expanded and enhanced in collaboration with the firm Oerlikon. Activities will focus on intelligent materials and components with integrated functionalities. The intent has been documented in an agreement signed Monday by TUM President Prof. Wolfgang A. Herrmann and Dr. Roland Fischer, CEO of Oerlikon. In the future the two partners plan to work together at a planned new "Institute for Additive Manufacturing", located in Garching, on new materials, processes and digitalization concepts while at the same time training qualified young staff.

Bavaria's Minister of Economics Ilse Aigner has lent her support to the partnership: "Bavaria is one of the most dynamic high-tech regions in all of Europe. To make sure this remains the case in the future, the Bavarian State government is accompanying the joint efforts of Oerlikon and the Technical University of Munich in constructing a center of excellence for additive manufacturing. I am convinced that all partners involved in such a project will benefit greatly and that the result will be another significant boost for Bavaria as a location for innovation."

President Herrmann stated: "There are countless facets to additive manufacturing. Concentration of research activities makes particularly good sense here. With Oerlikon we have gained a highly distinguished business partner who will help us further expand our Industry-on-Campus initiative and at the same time will strengthen our expertise in manufacturing technologies."

"Oerlikon is very much looking forward to the research partnership with the Technical University of Munich. We're convinced that the TUM is the right partner for us when it comes to putting additive manufacturing into industrial application," Dr. Roland Fischer, CEO, OC Oerlikon Management AG, emphasized.

As early as twelve years ago the worldwide General Electric corporate group decided to establish its European research center at the TUM Garching Campus. Siemens AG also plans to build new research facilities at the Campus: The company intends for as many as 300 of its researchers to work side by side with the TUM in the future. The most important focus areas of the partnership are robotics/autonomous systems and IT security. The new structures will be located buildings directly next to the site of the buildings for the Department of Electrical and Computer Engineering.

The central platform for networking science and business in the area of digitalization is the Bavarian State Government's center for digitalization "Zentrum Digitalisierung.Bayern" (ZD.B), which coordinates research and development activities throughout Bavaria from its headquarters at the Garching research campus. Additive manufacturing technologies require a high level of expertise in engineering sciences as well as in information technologies of just the sort found at TUM´s campus in Garching.
Today well over 15,000 TUM students are already being trained at the Garching Campus, making it the university's largest contiguous site. At the end of 2017 the central "Neue Mitte GALILEO" will be completed at the campus, featuring an auditorium, a campus hotel, shopping and restaurant facilities as well as office space. Other companies such as the automobile component supplier Dräxlmaier will also be establishing a basis for collaboration and partnership there.
Technical University of Munich
Corporate Communications Center