TUM Entrepreneurship Day 2015
START-UP FAIR 2015
More than 25 exhibitors took part in Entrepreneurship Day on October 19, 2015 at the TUM Entrepreneurship Center in Garching. Anyone interested in starting a business was given the opportunity to engage in discussion with these exhibitors and present their businesses.
2015 PANEL DISCUSSION, "START-UPS AT TUM"
The participants used the panel discussion to present what the university can offer in this regard and shared their experiences with those in attendance. Speakers included Dr. Georg Schroth (spin-off, NavVis), Romano Wolf (spin-off, evalu), Bülent Altan (TechFounders, UnternehmerTUM), Prof. Dr. Holger Patzelt (TUM Entrepreneurship Education), Dr. Alexandros Papaderos (TUM Patents and Licenses) and Alexander Meyer-Scharenberg (TUM Start-up Advising).
Presidential Entrepreneurship Award Ceremony 2015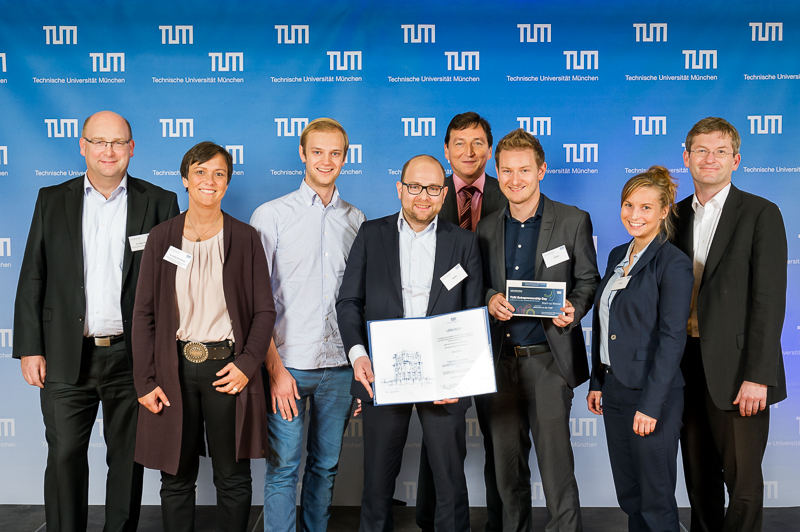 The 2015 award went to TUM spin-off Celonis, which developed a unique process mining technology that allows business processes to be visualized, analyzed and optimized in real time. Dr. Evelyn Ehrenberger, Vice President of Entrepreneurship and Intellectual Property, conferred the award on behalf of Prof. Dr. Herrmann, President of TUM. The award comes with a 10,000-euro prize and is endowed by the Bund der Freunde.
Video: Presentation of the nominated companies
Teams that had already secured an initial funding round and whose business models could expect high potential for growth were nominated for the TUM Presidential Entrepreneurship Award. Other nominees included Magazino, which develops and builds robots for the logistics industry, as well as ImevaX, which develops highly-targeted vaccines against chronic infectious disease-related pathogens and hospital illnesses.