EVA: Official test drive in Singapore
The first electric taxi for tropical megacities is ready for the road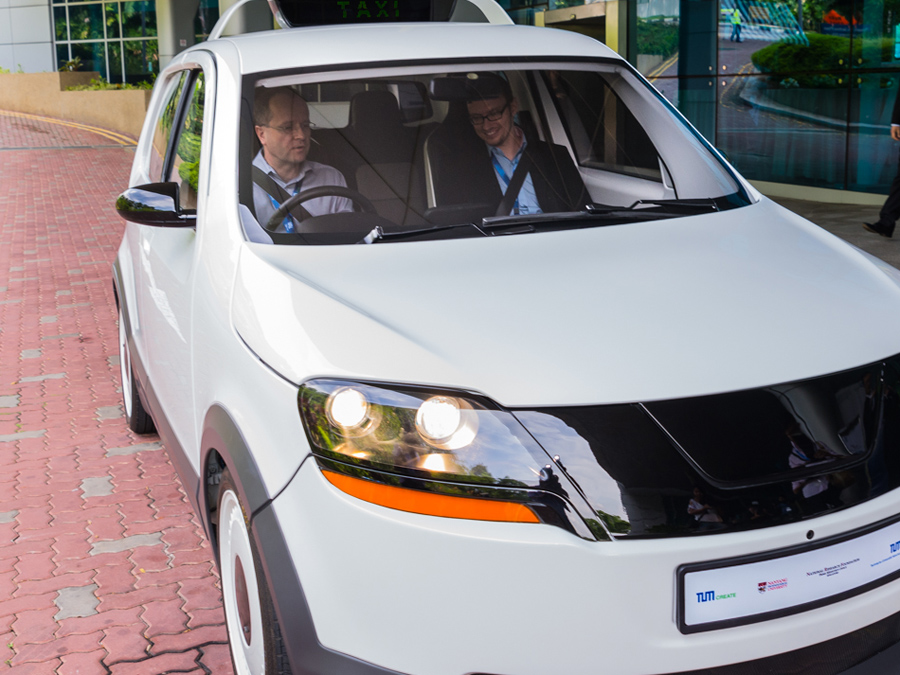 The roads in Singapore are generally overcrowded and heavy traffic results in high air pollution and a great deal of noise. Electric cars would be one solution for easing these problems. However, due to the high costs involved, only a few people in the city own their own car.
That is why researchers at TU Munich and Nanyang Technological University (NTU) in Singapore have been working on a taxi powered by an electric engine since 2011. "EVA" is specially tailored to the requirements of the tropical city. In 2013, the project team presented a prototype at the 43rd Tokyo Motor Show. Now the first official test drive has taken place at NTU Singapore.
For the roughly 30 research assistants and experts as well as 40 students working on the project, the major challenges centered on the range of the vehicle and how rapidly it can recharge. The taxi battery can be charged up within 15 minutes. This energy is sufficient to cover a distance of at least 200 kilometers.
The vehicle is 4.32 meters long, 1.68 meters in height from floor to roof and 1.79 meters wide (without side-view mirrors). In order to save weight, the passenger compartment is almost completely made of plastic reinforced with carbon fiber. The so-called multi-zone air conditioning is also energy efficient, as each seat within the vehicle has its own zone in which the air conditioning can be individually set.
About the project:
TUM CREATE is a joint research project between TU Munich and Nanyang Technological University (NTU) which is being funded by the National Research Foundation in Singapore. The project is also part of the "Campus for Research Excellence And Technological Enterprise" (CREATE) program.
Contact:
Technische Universität München
Corporate Communications Center
Stefanie Reiffert
+49 (0) 8928910519
stefanie.reiffert@tum.de
More Information:
Project EVA (Englisch)

TUM CREATE-Website (Englisch)
EVA_Brochure_EN_web_01.pdf(2.3 Mbyte)
Technical University of Munich
Corporate Communications Center