Bavarian Minister President Söder honors outstanding achievements
Maximilian Order for Professor Ingrid Kögel-Knabner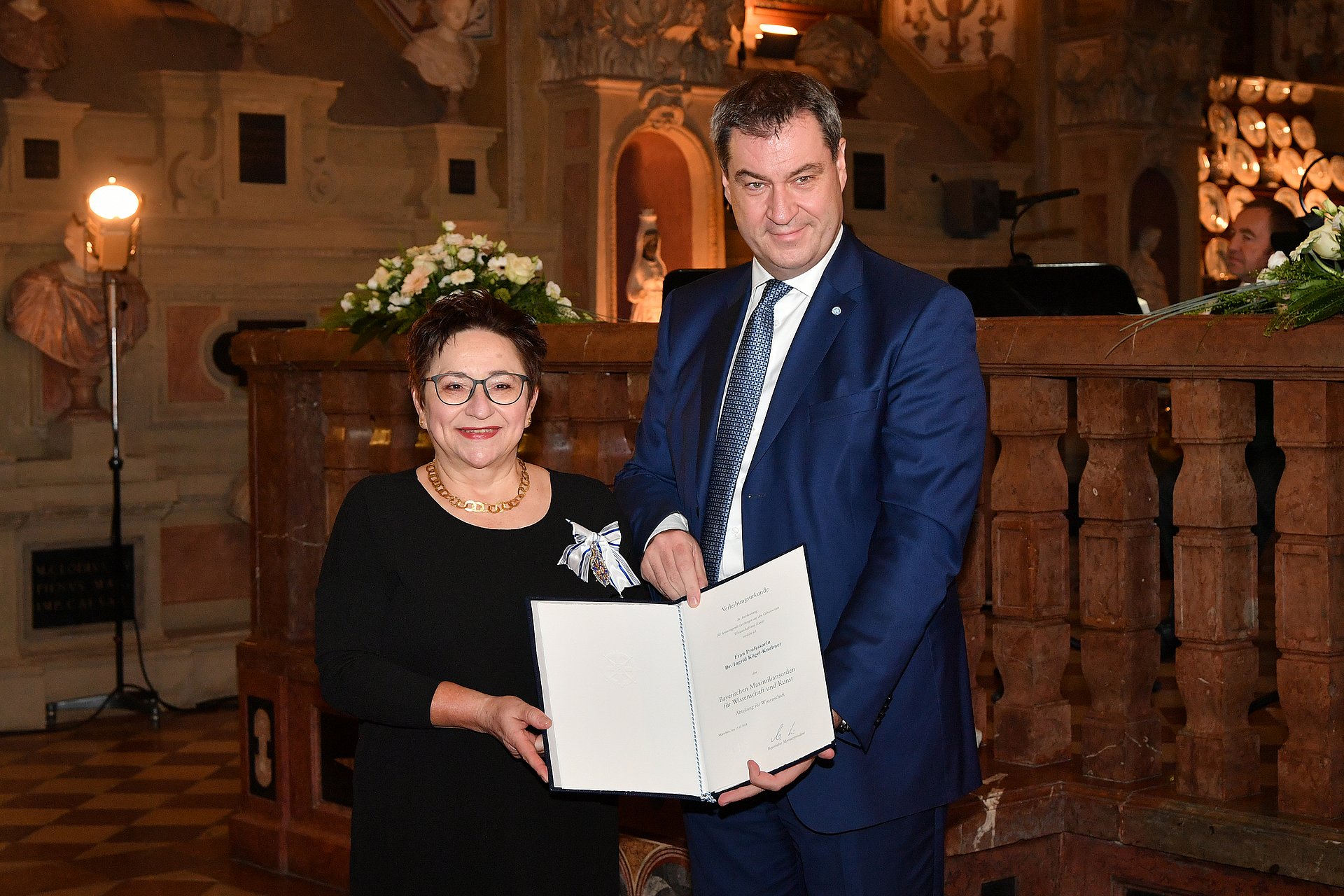 Professor Ingrid Kögel-Knabner has held the Chair of Soil Science at the TUM School of Life Sciences Weihenstephan since 1995. She is regarded as a pioneer in the transdisciplinary approach to soil science.
Soils: Nutritional basis and climate factor
Her research focuses in particular on the composition and formation of organic matter in the soil. In recent years, new digital technologies have provided soil science with new ways to study these processes at the micro level.
Kögel-Knabner researches fundamental pedological questions of global relevance. Since many of the most fertile soils are at the limits of their resilience, her findings will contribute to securing the world's food supply. In addition, Kögel-Knabner has raised awareness over the past few years of the fact that soils, as vast reservoirs of carbon, have an important influence on climate.
One of the world's most influential researchers
In 2015, 2016 and 2017, the award-winning scientist was honored as a "highly cited researcher" by the media group Clarivate Analytics. In 2015, the "International Year of Soils," she received the Philippe Duchaufour Medal from the European Geosciences Union — the highest award in the field of soil science.
The geoscientist was thus honored for her groundbreaking work on organic matter in the soil and for her contribution to a better understanding of soil processes. It was also a recognition of Kögel-Knabner's commitment to stemming the progression of climate change.
Outstanding scientific achievements
Ingrid Kögel-Knabner has been a member of several academies, including the Bavarian Academy of Sciences and Humanities since 2017. She is also a member of the Bioeconomy Council of the German Federal Government.
On December 17, 2018, Minister President Söder presented her with the Bavarian Maximilian Order for Science and Art in the Hall of Antiques at the Munich Residenz in recognition of her outstanding scientific achievements.
Maximilian Order for Professor Petra Schwille
Professor Petra Schwille was also awarded the Maximilian Order. She is the Director of the Max Planck Institute of Biochemistry in Martinsried. Petra Schwille is a member of the TUM Appointment and Tenure Board, which makes decisions about appointments and tenure track assignments at TUM.
30 TUM laureates
The Bavarian Maximilian Order was initiated by King Maximilian I in 1853. With this award, the Bavarian Minister of State honors outstanding achievements in the fields of science and art. The Maximilian Order has been awarded to 222 personalities to date, including a total of 30 members of the Technical University of Munich.
More information
Technical University of Munich
Corporate Communications Center