Chemical Kitchen for elite degree program Biomedical Neurosciences
Space for creativity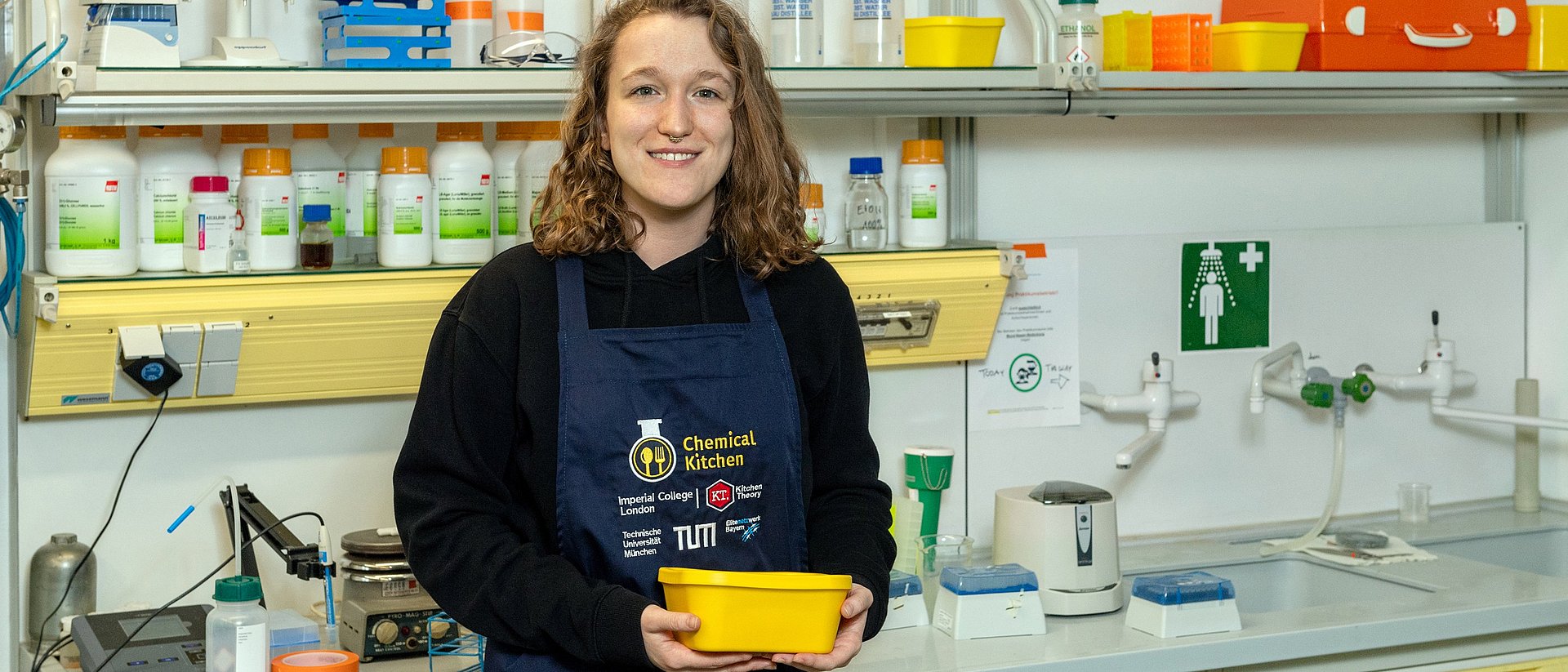 Polina Pelkonen (23) is one of the 11 neuroscientists who started out in the master's program in the 2021/22 winter semester. She has already earned a bachelor's degree in molecular biotechnology.
After completing a research internship and a thesis in neurobiology, she realized that her questions "kept taking her back to the brain." The Chemical Kitchen, she recalls, was part of the orientation events in the first week of the semester. "The workshop was a chance for us to get acquainted and was also a no-pressure way to take our first independent steps in the world of experimentation."
Role model: Imperial College London
The Chemical Kitchen concept originated at Imperial College in London, which partners closely with TUM on various levels. It was created through a collaboration between the professor of medicine Roger Kneebone, chemist Prof. Alan Spivey and chef Jozef Youssef, and put into life by Dr Luke Delmas, a chemist, and Dr Jakub Radzikowski.
"The creative process is very similar in the kitchen and the lab," Radzikowski explains in a YouTube video. "You need creativity, but also certain practical skills and techniques." Just like in cooking, he adds, in the lab you also weigh and measure your ingredients and test out different combinations in various processes. The work has to be documented and in the end you always evaluate what you have made.
Research as a creative activity
In London the Chemical Kitchen is used to provide first-semester students with a comfortable setting to overcome their anxieties about lab work. Although Polina was familiar with the lab after her undergraduate degree, she still benefited from the event.
"We all had lab experience, but it varied quite a bit," she explained. "The workshop took what we knew as a starting point, with a focus on the team building aspect." The course was especially helpful as a reminder that research is a creative activity – an insight often forgotten in routine lab operations.
Under pressure, the spirit of playfulness and freedom needed for any kind of creativity is soon lost. "Of course one must take a respectful and serious approach," Polina admits. "But we still have to safeguard the freedom just to try things out." After all, a scientist is also a kind of artist, in search of creative ways to answer questions.
Cheesecake with agarose spaghetti
That is exactly what the students were able to do in the Chemical Kitchen – offered as an in-person event at TUM for the first time this year. "This is definitely not a cooking course," says Michael Brunnhuber, the curriculum manager of the masters program, who worked with his London colleague Radzikowski to organize and run the event. "The focus is on techniques used in the lab and also on questions of workplace safety and the documentation of results."
The participants had a few hours in the kitchen to complete their projects in pairs. The result: a cheesecake in which they even made the cheese themselves using citric acid and milk. "We had the chance to try out all kinds of things. It was a lot of fun," says Polina. Special attention was paid to the decoration of the cake, as this involved the processing of agarose, which is also used in the lab.
For Polina, this is a direct link to her bachelor's thesis: "I embedded brains in agarose, with exactly the same techniques that we used in the kitchen." She adds that the cake was actually delicious and also looked great, decorated with agarose spaghetti and agarose droplets.
Kitchen for medical students, too
Brunnhuber is satisfied with the success of the Chemical Kitchen and hopes to expand the cooperation with Imperial College. "We're now developing a new concept geared more to medical students," he reveals.
Polina is now on her semester break, but the Chemical Kitchen is still on her mind. "Of course I wouldn't make that kind of effort when cooking at home. But the cream cheese tasted so good – maybe I'll follow the lab procedure and make it again."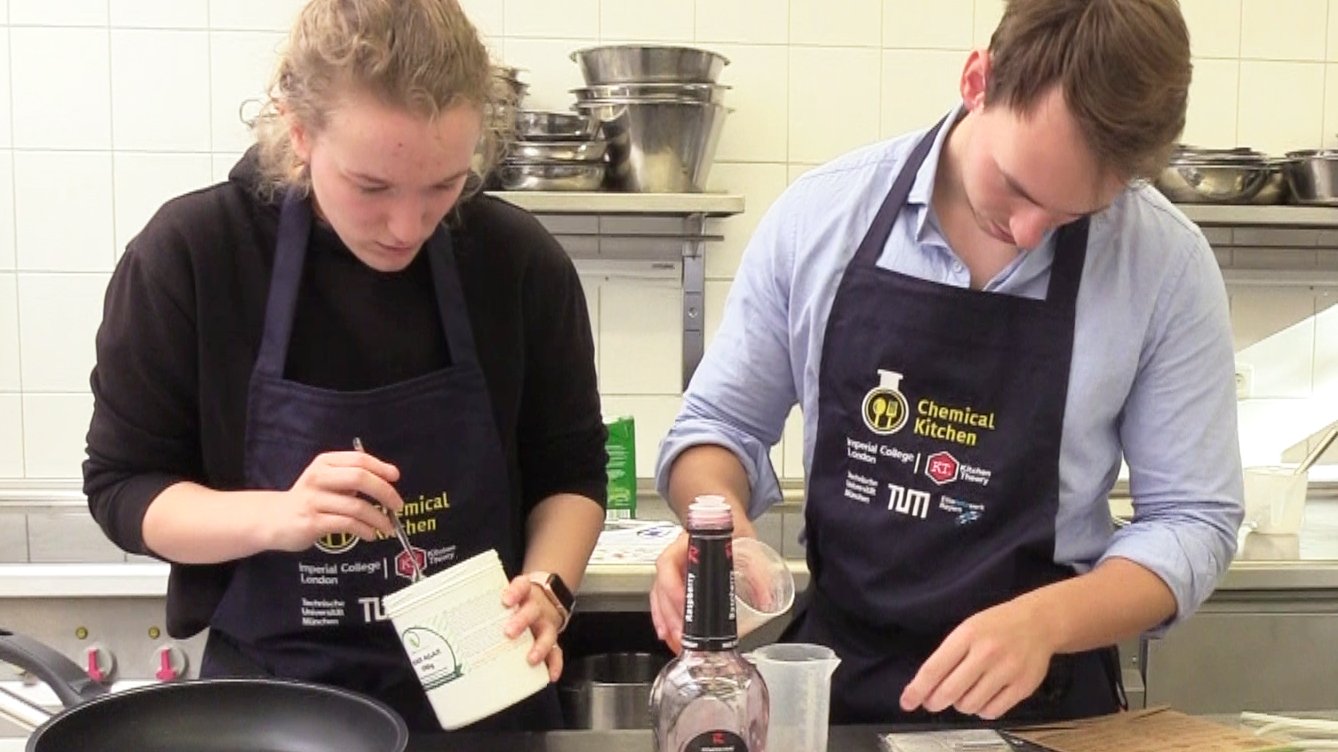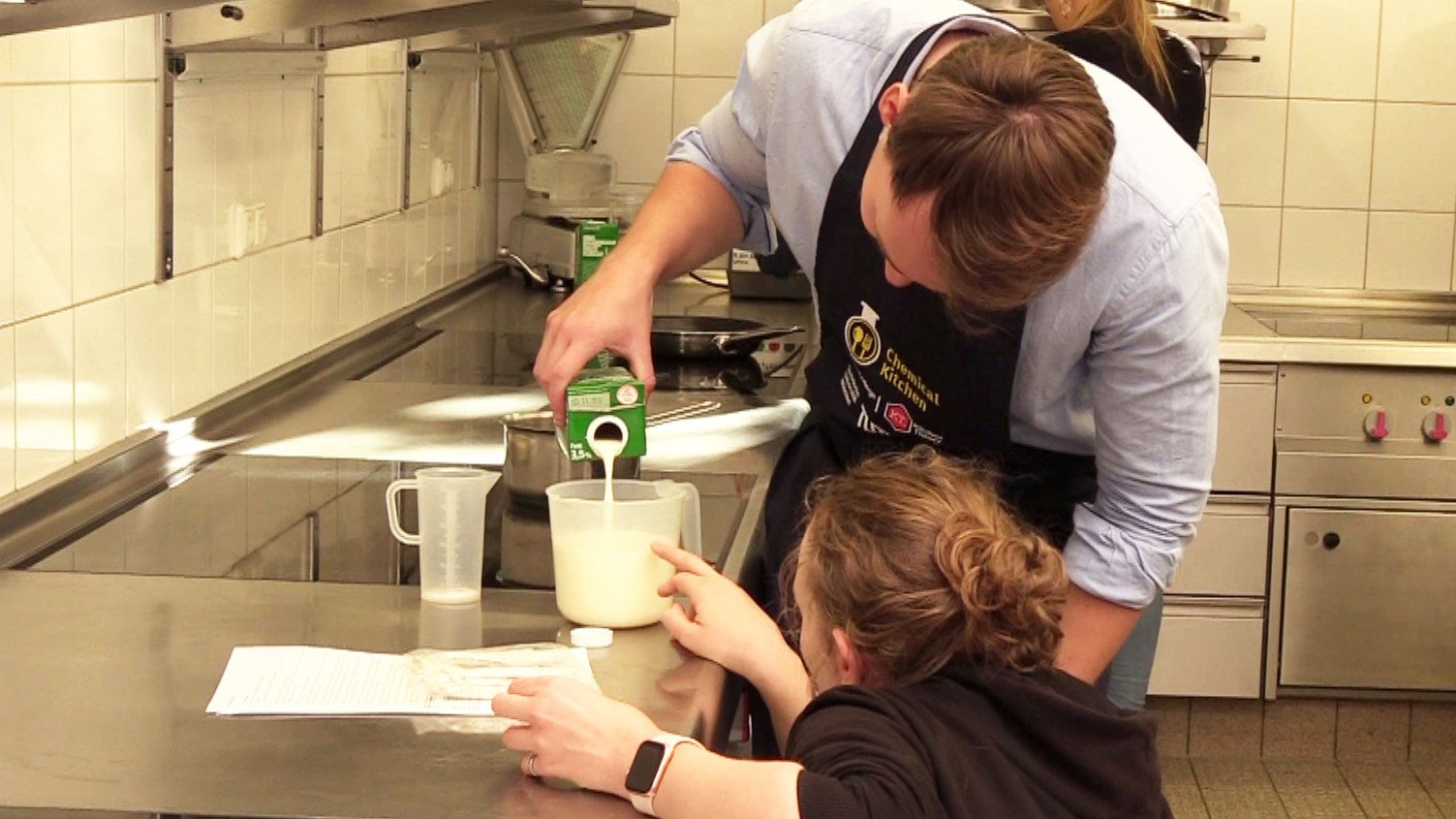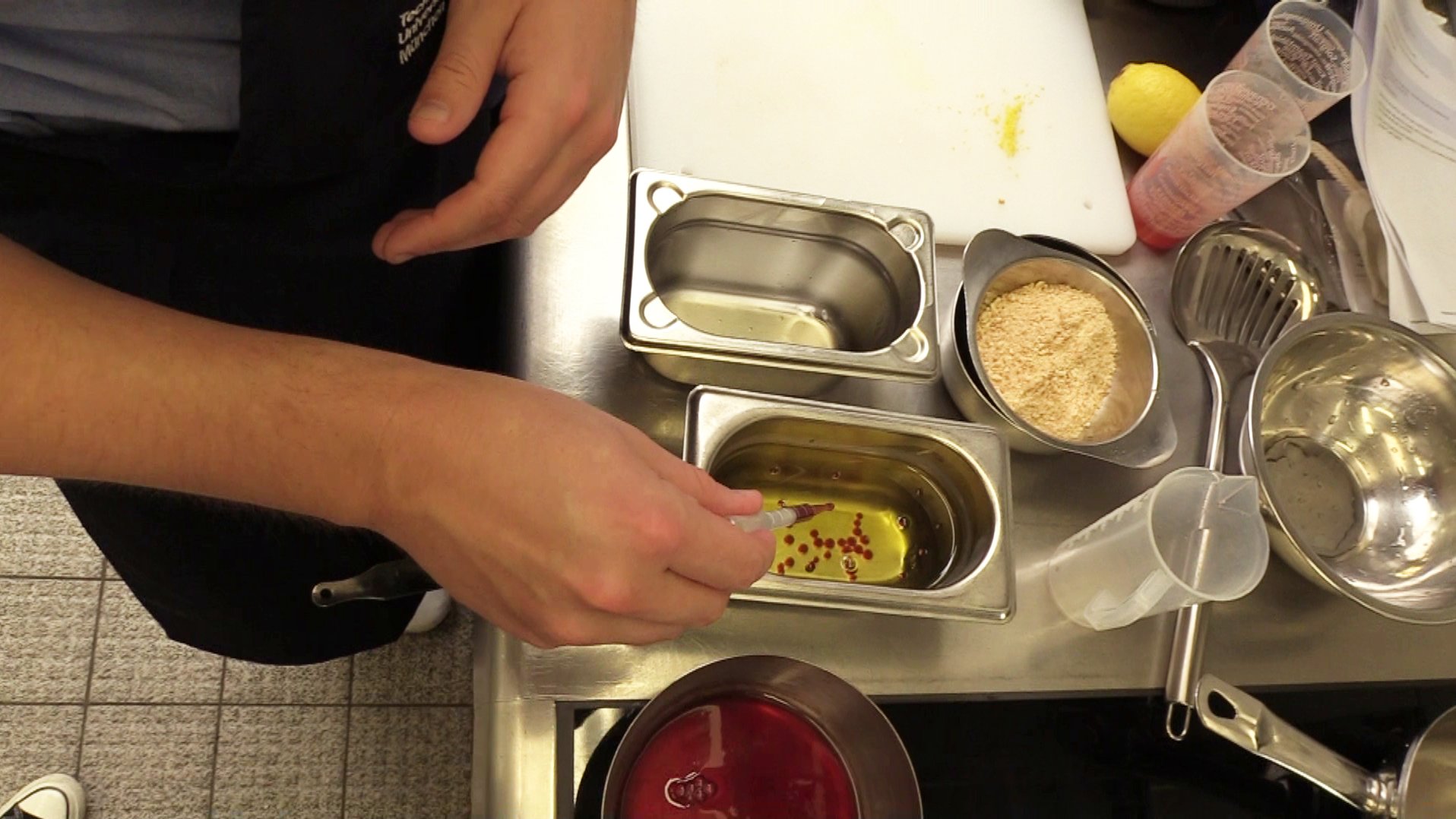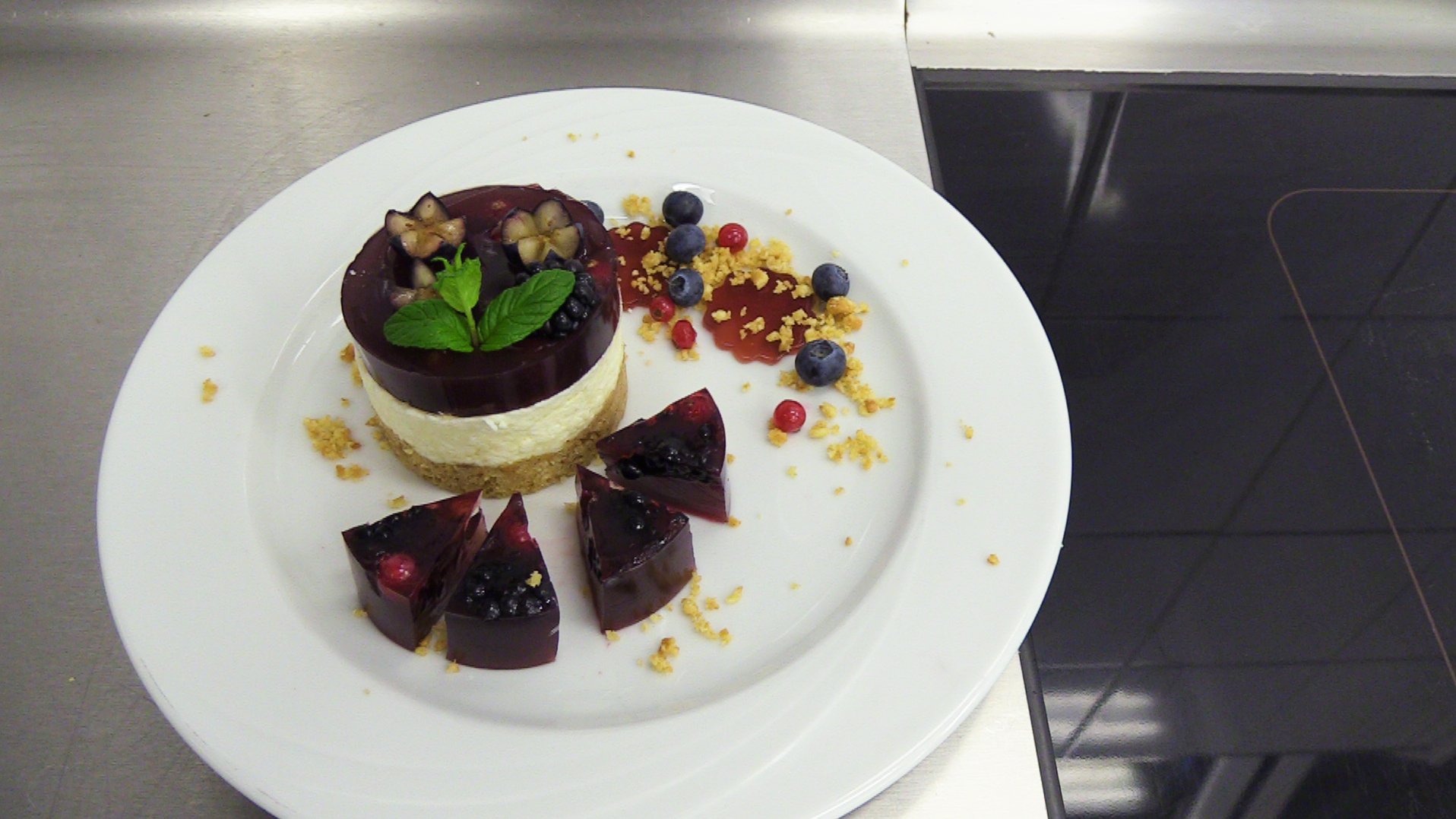 Further information and links
Polina Pelkonen loves baking in her spare time, too, and in younger years even considered an apprenticeship as a pastry chef. She even explored haute cuisine and molecular cooking. But in the end, science won out.
The masters program in Biomedical Neurosciences, funded by the Bavarian Elite Network, has existed since 2018. Up to 20 new students are admitted every winter semester.
Chemical Kitchen is an interdisciplinary didactic project created at Imperial College London as a collaboration between the professor of medicine Roger Kneebone, chemist Prof. Alan Spivey and chef Jozef Youssef.
Imperial College in London is one of the world's top universities. The cooperation with Prof. Roger Kneebone's team (Imperial) is part of a working relationship with the TUM Medical Education Center.
Technical University of Munich
Corporate Communications Center
Larissa Tetsch / Verena Meinecke

presse @tum.de
Contacts to this article: