Scientific support for recreational, amateur and competitive sports
TUM and BLSV enter cooperation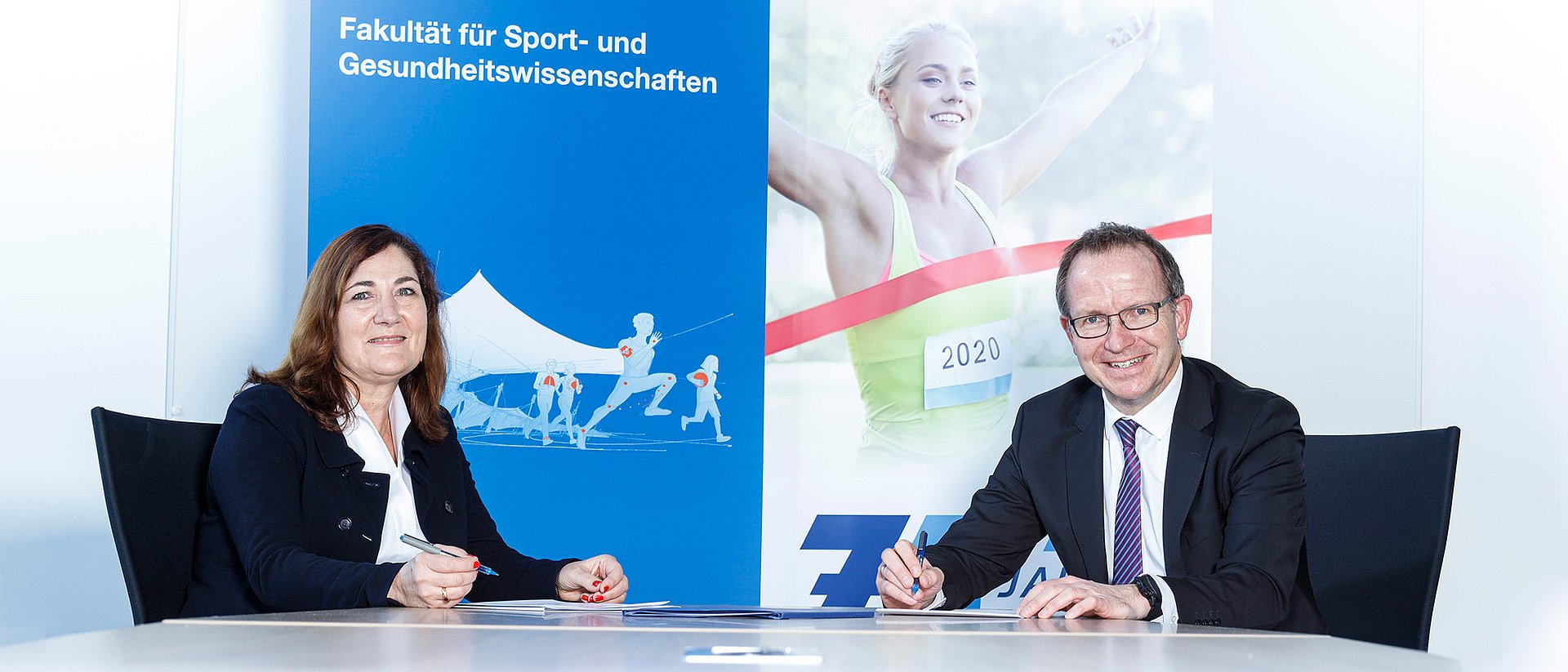 The aim of the cooperation is "to scientifically evaluate and improve health promotion and prevention through exercise and sport," according to the agreement signed by BLSV President Jörg Ammon and Prof. Renate Oberhoffer-Fritz, Dean of the Department of Sport and Health Sciences at TUM.
The main focus of the collaboration lies on the physical activity and nutritional behavior of recreational, competitive and amateur athletes. Fitness and health throughout life, as well as the establishment and promotion of comprehensive motor and cognitive diagnostics will also be investigated.
A further focus is the design and implementation of measures for promoting sport and exercise for children and adolescents in different environments, such as schools. Here, the emphasis is on sport and exercise for children and adolescents in child and youth care facilities, as well as in the promotion of young athletes in competitive sports.
As part of the collaboration between BLSV and TUM, measures and projects will be conceptualized, implemented and evaluated using scientific methodologies. In their various roles, both actors pursue the same goal: to further develop sports in the best possible way. The cooperation has been initially set to run until the end of 2025.
Positioning sports for the future with science
"TUM provides BLSV with the connection to science. In return, we obtain improved access to athletes, sports associations and clubs, for example. This will allow us to set up, investigate and design sport offerings for popular, children's and youth sports, as well as junior competitive sports in line with demand. In this way, we will contribute constructively to the further development of sport as a whole," explains the Dean, Prof. Renate Oberhoffer-Fritz. "We see manifold possibilities, approaches and, thus, great potential in our future cooperation with the BLSV. We want to fully exploit this."
"We hope to further advance the promotion of physical activity and competitive sports in our society," says Jörg Ammon. "With this cooperation, we are networking sports practice and sports theory. The BLSV, with around 4.5 million members organized in 12,000 sports clubs and 56 professional associations, as well as nearly 91,000 exercise instructors and 300,000 volunteers, forms a great potential for research on the one hand, and a great number of multipliers on the other. We are proud to have won over a partner as respected as the TUM. Science and practice complement each other for mutual and general benefit," the BLSV president is pleased to say.
Technical University of Munich
Corporate Communications Center
Contacts to this article:
Prof. Dr. Renate Oberhoffer-Fritz
Dean of the Department of Sport and Health Sciences
Georg-Brauchle-Ring 60/62, 80992 Munich, Germany
Tel.: +49 89 289 24570 - E-Mail: praeventive-paediatrie@tum.de