Bavarian Minister-President Söder opens new "Sustainable Chemistry" laboratory building
TUM Straubing campus continues to grow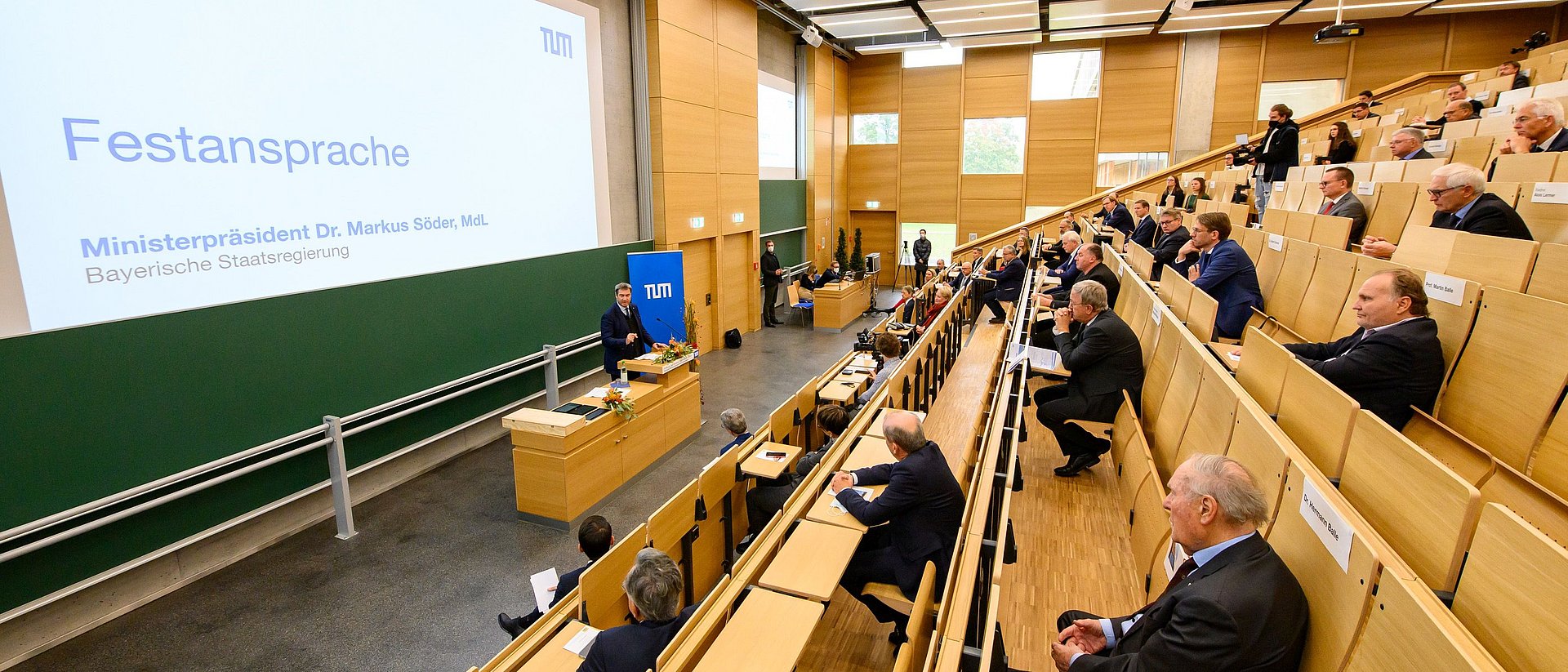 Minister-President Söder, Bavarian Minister of Science and the Arts Bernd Sibler, Bavarian State Minister for Housing, Construction and Transport Kerstin Schreyer, Bavarian State Parliament Budget Committee Chairman Josef Zellmeier and Straubing's mayor Markus Pannermayr were all joined by TUM President emeritus Prof. Wolfgang A. Herrmann at the opening ceremonies. Herrmann was a moving force in founding of the Straubing campus.

Minister-President Dr. Markus Söder said: "We are investing 56 million euros in another piece of the world-class Bavarian scientific mosaic. Science will shape the future: We will master the challenges of climate change with Cleantech!"

TUM President Prof. Thomas F. Hofmann said: "Sustainability is a task that involves disciplines ranging from physical and engineering sciences to bio-economy and management science. The unique TUM site in Straubing embodies this fact as no other place in Germany can. We are convinced that sustainability and excellence are mutually interdependent, especially for a technical university. We are promoting the heroes of socially compatible technological innovation in which economic, ecological and social benefits go hand in hand."

Science Minister Dr. Bernd Sibler observed: "The TUM Straubing campus is an exemplary institution and a lighthouse project in the Bavarian university landscape. Its broad interdisciplinary curriculum and research on the energy and material-technical utilization of renewable resources, on sustainability and on bio-economy orients the campus towards the decisive technologies of the future. This makes it a true magnet for clever minds from throughout the world. And these clever minds need room to thrive. The completion of the new 'Sustainable Chemistry' building is thus a true milestone for the campus, in which we continue to invest. In doing so we are creating space and excellent conditions for work on the important topics of the future."
Structural design stresses conservation of resources and sustainability
The new teaching and research building provides highly modern laboratory equipment and office space for both scientists and students. It also features a sub-dividable lecture hall with raised seating which holds up to 300 people, a cafeteria as well as practical exercise and training rooms with more than 100 workstations. The three-story building located in the flood plane of the Danube has external walls made of infra-light concrete, wood facades and a planted flat roof with photovoltaic elements. It stands on steel reinforced concrete pilings and is thus protected against a possible flood from the nearby Danube. Excellent insulation properties and a gas-fired Combined Heat and Power plant ensure outstanding energy efficiency. In order to accommodate persons with limited mobility or visibility, the new building features ramps and elevators as well as a tactile floor guidance system, making it barrier-free and completely accessible to all.

Since 2017 the Straubing campus for Biotechnology and Sustainability – a TUM integrative research center – has been one of six Technical University of Munich sites with the core task of shaping the post-fossil economy using transdisciplinary approaches in research and teaching relating to all aspects of renewable resources, biotechnology and bioeconomy.
Further information and links