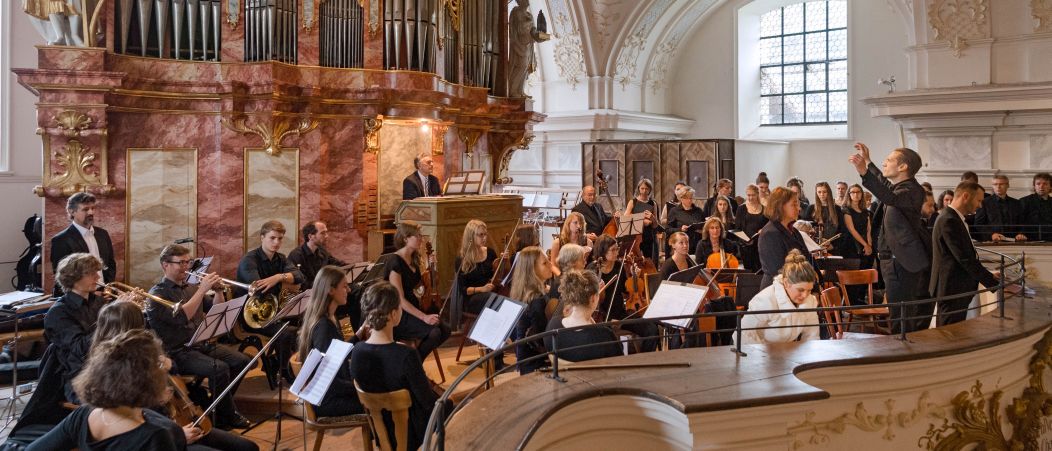 University Chamber Orchestra
We are the chamber orchestra of the Technical University of Munich (TUM) and perform at university celebrations and on international tours. All members of the university are welcome to join our ensemble.
Upcoming concerts
01.06.2019: Philharmonisches Fest für Alle, 5–7 p.m.
Winds of the TUM Chamber Orchestra together with the Munich Philharmonic.
Premiere "Atlas der bewegten Luft" by Georg Nussbaumer
7.9.2019: Festive concert Rittersaal Straubing, 7:30 p.m.
25th Bluval International Music Festival in Straubing. Together with Gerold Huber, piano and Ute Ziemer, soprano.
W. A. Mozart: Concert aria for soprano, piano and orchestra "Ch'io mi scordi di te? - Non temer, amato bene", KV 505
W. A. Mozart: Concerto for flute, harp and orchestra, KV 299
L. v. Beethoven: Concerto for Piano and Orchestra No. 3 C minor, op. 37
8.9.2019: Festive service Karmelitenkirche Straubing, 10 a.m.
25th Bluval International Music Festival in Straubing. Together with the President of the TUM, Prof. Dr. Dr. h.c. mult. Wolfgang A. Herrmann at the organ.
Rehearsals in the Great Hall of the KHG (Karlstr. 32) on July 6 and 7, 2019 and September 6, 2019
Play with us!
We are always happy to welcome musicians to help us with our next performance.
Are you willing to independently prepare pieces?
Do you have time to attend all (if at all possible) rehearsals?
Write our orchestra director Felix Mayer. He would be glad to set up an audition time with you.
Review: Past Concerts
September 2018: Charity concert Karmelitenkirche Straubing
October/November 2016: Orchestra Trip to China
- Shanghai Jiao Tong University (10/30)
- Wuhan University (11/2)
- Sichuan University (11/4)
- Southwest Jiaotong University (11/5)
2016: Opening of the TUM Science and Study Center at the former Raitenhaslach Monastery
2013: National University of Singapore (NUS) and Nanyang Technological University (NTU), Singapore
2012: King Abdullah University of Science and Technology (KAUST) in Dschidda, Saudi Arabia
More Music from the university (YouTube playlist)
Listen to concert recordings from our university orchestras, choirs and bands.