TUM IdeAward for transport elevator system, display technology and agricultural robots
Ideas honored for market potential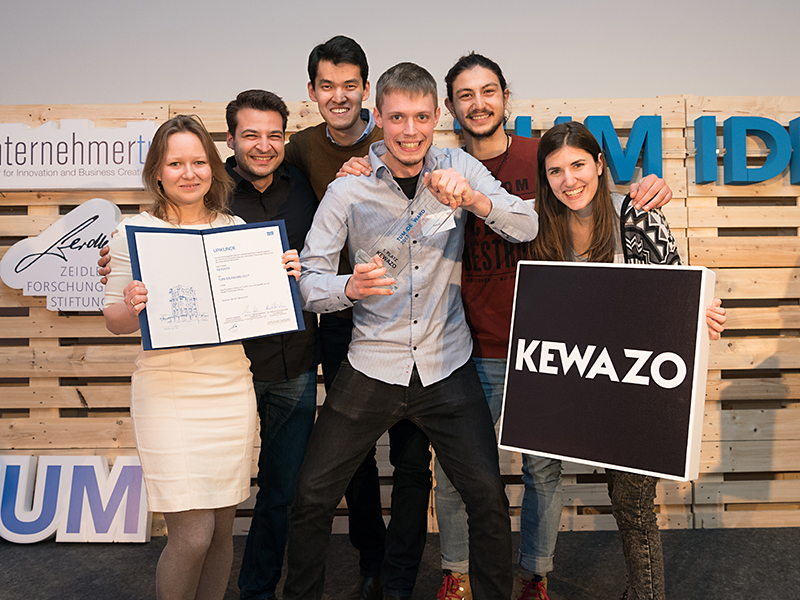 The IdeAward is intended to motivate scientists to develop their inventions and ideas into marketable products. The competition is run by the Technical University of Munich (TUM), the "UnternehmerTUM" Center for Innovation and Business Creation and the Zeidler Research Foundation. 33 teams submitted their ideas for the 2017 TUM IdeAward. Yesterday the winning teams received prize money totaling 37,500 Euros from the Zeidler Research Foundation, as well as coaching sessions with TUM start-up consultants and UnternehmerTUM.
1st place: KEWAZO
The KEWAZO team developed an intelligent transport system for the construction industry. It can be set up by only two people and uses a combination of vertical and horizontal transport to realize a more constant material flow than is possible with other methods. This makes it possible to automate dangerous logistics activities, saves installation costs and increases installation speed. Furthermore, the information gathered by the system facilitates ongoing monitoring and process optimization.
2nd place: APICBEAM
APICBEAM display technology creates images and videos freely suspended in open space for use in digital communications. In contrast to conventional technologies the image information is not depicted on a two-dimensional surface, but rather is coded in a thin line of light using optical dispersion. Here the image appears freely suspended like a hologram, can be viewed from all perspectives and continues to face the viewer at all times.
3rd place: Acrai
The Acrai team developed a system based on artificial intelligence for non-chemical weed removal. For the first time, these autonomous agricultural robots reliably distinguish between agricultural crops in all growth stages and weeds¬ and combine this ability with the automation of previously proven all-mechanical weed removal methods. This lets conventional agriculture do without herbicides and promises biological agriculture a fully-automated mechanical weed control system which is far more inexpensive and efficient than previously applied methods.
COMPREHENSIVE SUPPORT AT THE ENTREPRENEURSHIP CENTER
TUM and UnternehmerTUM support spin-offs at the research campus Garching's Entrepreneurship Center from the first idea to the IPO with a range of services unique in Europe. Here start-up teams find an extensive range of opportunities for support, personal exchange with entrepreneurship researchers and access to a robust network of technology and industry sector experts and investors. Office space and Europe's largest publically accessible high-tech prototype workshop, the UnternehmerTUM MakerSpace, round out the service range available to corporate founders.
Further Information
Technical University of Munich
Corporate Communications Center