Start-ups win Munich Business Plan Competition
TUM spin-offs take all three podium positions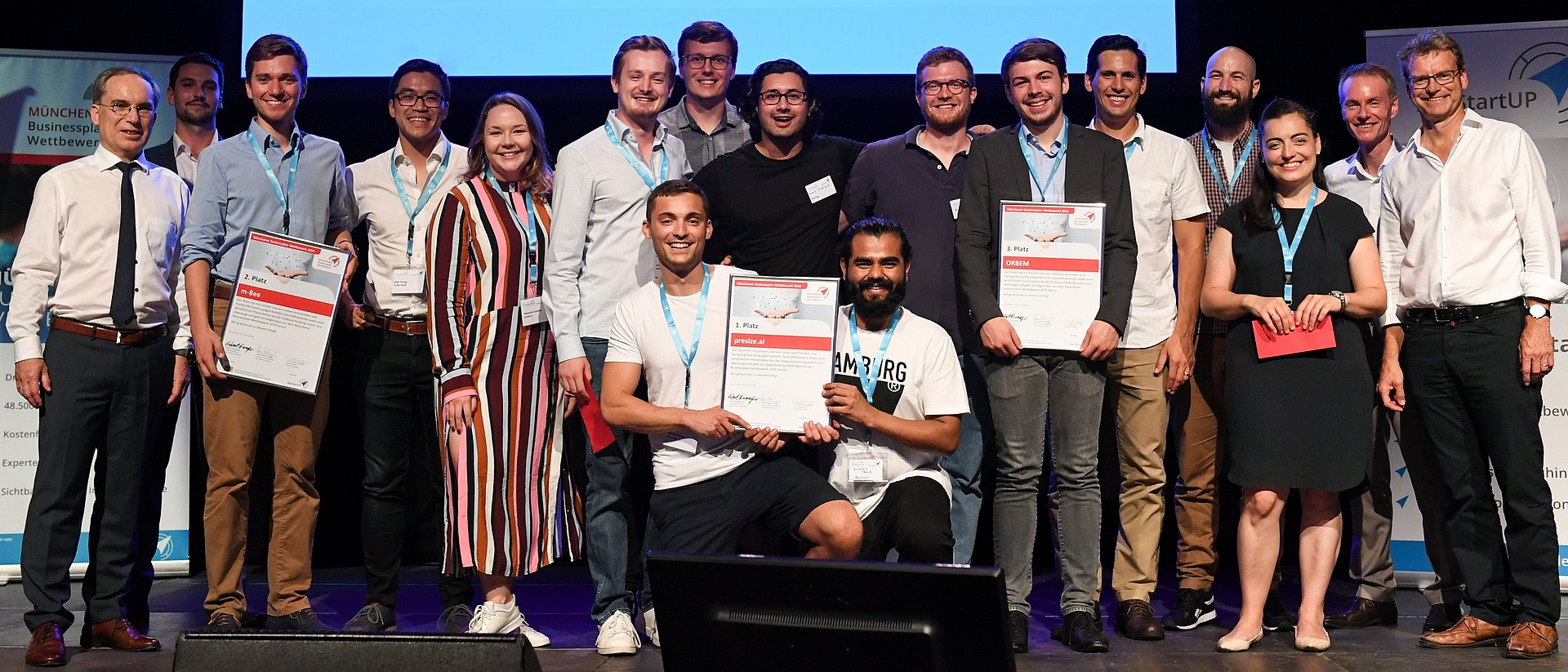 The Munich Business Plan Competition is among the most established German start-up contests of its kind. Organized by the Bavarian start-up network BayStartUP, the competition awards prizes totalling 30,000 euros to the three winners. This year all three of them are from TUM:
Many online shoppers end up returning clothing that does not fit. The start-up presize.ai has developed a scanning process that lets shoppers take their own measurements just by turning around in front of a simple smartphone camera. The software generates a 3D model using computer vision and deep learning methods. Existing processes were either less precise or required more sophisticated technologies than a smartphone.
Battery storage systems in common use today consist of a central inverter and a high-voltage battery with modules permanently connected to each other. If one component fails, the entire system becomes unstable. The electronic system designed by the start-up m-Bee replaces the central inverter with power management boards. These enable the other modules to keep working if one becomes unavailable. The technology also increases energy efficiency, reduces maintenance time and improves safety.
Every year poultry breeders kill millions of male chicks, for which they have no use, and destroy unfertilized eggs because they can't be identified. The start-up Orbem is marketing an imaging technology that provides a non-invasive method for detecting the fertilization status of eggs or the sex of the embryo inside. The process, which is based on magnetic resonance imaging (MRI technology), was developed at the Munich School of Bioengineering.
The three winning start-ups received support from the TUM start-up advising service and professors as mentors. The presize.ai team got together at the Center for Digital Technology and Management (CDTM). The center, which is jointly run by TUM and LMU Munich, offers a supplementary program where students design new technologies, use them to develop real products, and prepare to set up companies. The Orbem team took part in the Global Food Venture Program of EIT Food, an EU consortium headed by TUM. Orbem and m-Bee received the IdeAward from TUM in 2018, which recognizes excellent business ideas.
Further information and links
Every year more than 70 companies are established at TUM. TUM and UnternehmerTUM, the Center for Innovation and Business Creation, offer programs tailored to the various start-up phases – from creating the business model to management training, market launch or a possible IPO. According to the survey "Start-up Radar", it is the best program of its kind at a major German university.
Technical University of Munich
Corporate Communications Center