TUM spin-off awarded with President's Award
Celonis wins German Future Prize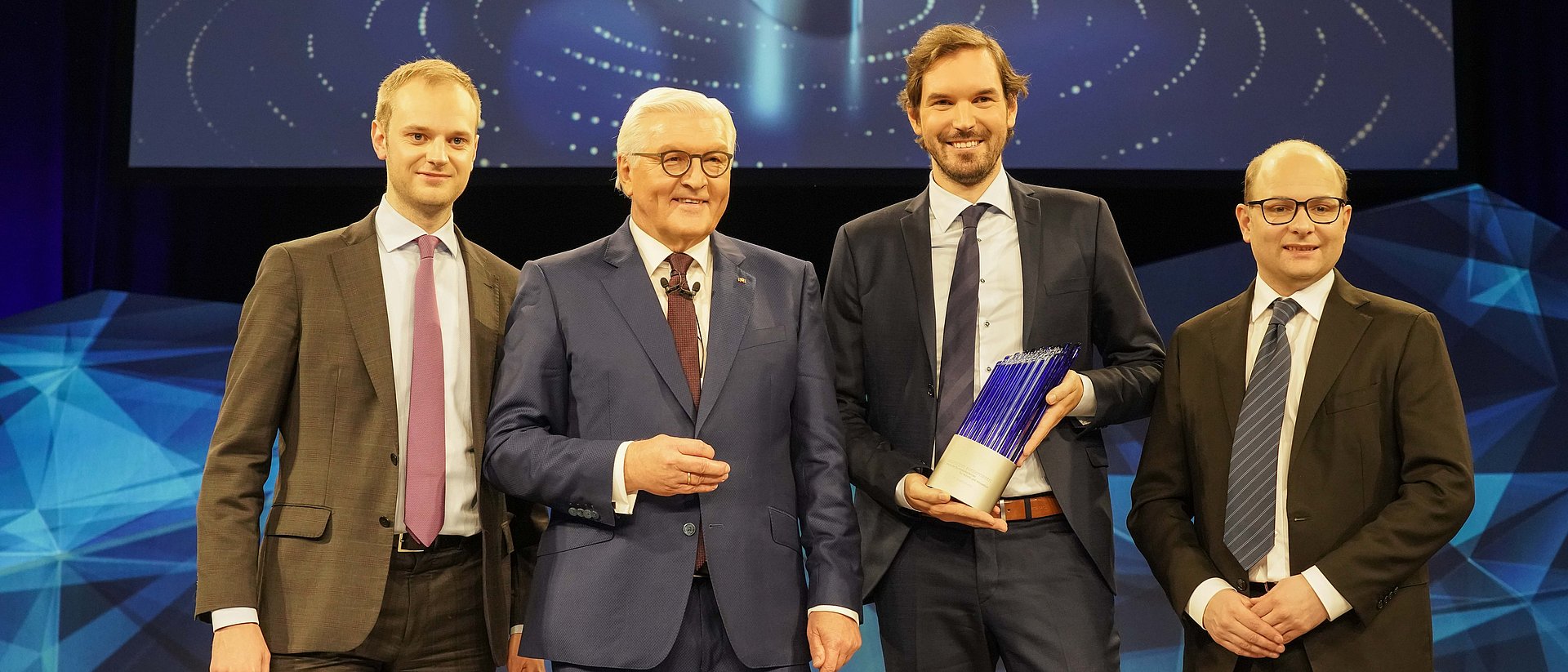 The Celonis founders Bastian Nominacher, Martin Klenk and Alexander Rinke developed a process mining software system while studying at TUM. It investigates the everyday processes in companies, presents the analysis in understandable graphics and suggests improvements. This automatic consulting can be applied to all kinds of processes that leave digital traces, whether they are part of a pharmaceutical company's manufacturing process or the logistics of a trading company. The jury called the AI-based process mining software "a new key technology for industry and organizations that can reduce costs while boosting productivity and security."
Following its launch in 2011, Celonis achieved rapid growth: It was already Germany's fastest-growing technology company in 2015. One year later the Munich-based company opened an office in New York. In 2018, the company was valued at 1 billion US dollars, thus taking its place among the small number of German "unicorns". The latest round of financing, completed just a few days ago, yielded a valuation of 2.5 billion dollars. Global players and mid-sized companies in 20 different industries are using the software, including one third of all companies listed in the German DAX index. This places Celonis among the global market leaders in process mining.
Ceremony of the German Future Prize 2019
"The Celonis founders are a shining example for the approximately 70 start-ups established at TUM every year – not only because of its enormous success, but also due to its entrepreneurial mindset and research-based development work," says TUM President Prof. Thomas F. Hofmann. "We wish to extend our sincere congratulations to Celonis and are delighted to see our overarching entrepreneurial strategy being met by success stories like this one."
The success of Celonis comes just two years after Prof. Sami Haddadin won the German President's Award in 2017 for developing assistance robots. Prof. Haddadin now conducts research as the Director of the Munich School of Robotics and Machine Intelligence at TUM.
Support from the business idea to the IPO
Every year more than 70 companies are founded at TUM. TUM and UnternehmerTUM, the Center for Innovation and Business Creation at TUM, offer programs tailored to the various phases of a start-up – from creating the business model to management training, market launch or a possible IPO. Up to 30 teams can use offices in the TUM Incubator to prepare the launch of their company. Every year TUM accompanies the most promising teams to Silicon Valley for two weeks. UnternehmerTUM maintains its own venture capital fund, which invests in high-potential technology companies and. With MakerSpace and Bio.Kitchen, it provides a 1500 square meter high-tech prototype workshop and a biotechnology lab. According to the survey "Start-up Radar", this support is unparalleled at Germany's major universities.
The German Future Prize is presented by Germany's Federal President in recognition of future-minded technologies. The main criteria for selecting the winners includes the level of scientific and technological innovation, market readiness, potential for job creation, and the contribution to a sustainable economy. The prize includes a 250,000 euros award.
Further information and links