TUM, IABG and Bavarian Ministry of Transport join forces
Bavarian test facility for intelligent mobility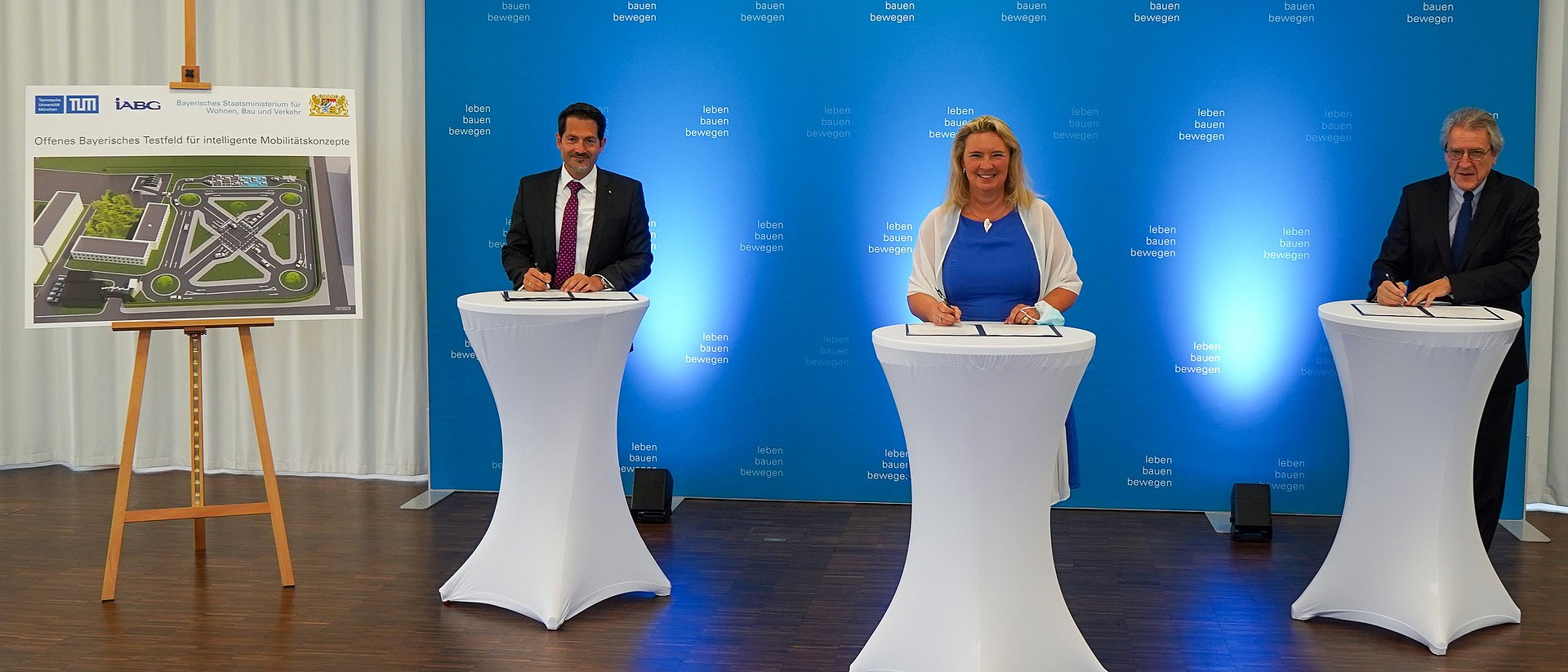 The Bavarian Minister of Transport Kerstin Schreyer, TUM President Prof. Dr. Thomas F. Hofmann, and IABG Managing Director Prof. Dr. Rudolf F. Schwarz signed an agreement for the construction of the test bed today. Construction will begin in Ottobrunn next year on the premises of IABG, an experienced provider of technical services. TUM will assume scientific responsibility, with research to be led by the Chair of Traffic Engineering and Control.
The partners plan to use the test bed to investigate how autonomous driving concepts can be put into practice, in particular with regard to the safe interaction of the various traffic participants and systems. A remarkable feature of the new facility: It will be open to all vehicle manufacturers and operators to conduct scientific investigations, test new technologies and their safe implementation, and develop common standards.
Augmented reality in high-risk situations
The focal point of the facility will be a configurable intersection system for the experimental investigation of many complex traffic scenarios involving autonomous and human-driven vehicles, bicycles and pedestrians. An important priority will be the safety of vulnerable road users such as pedestrians. To test hazardous situations in real time, simulations will use augmented reality to place test persons in the scenarios under study.
Other planned testing set-ups will include a park and charge lane and a multi-level car park where electric vehicles can be handed over, parked automatically, inductively charged and picked up ready to drive. With the latest sensor technology and 5G wireless communications, the partners will study the feasibility of networking vehicles and create recommendations for industry and policy makers. The safe interaction is regarded as crucial for the official approval and public acceptance of autonomous vehicles.
"Bringing together researchers, private-sector developers and policy planners"
Bavaria's transport minister Kerstin Schreyer says: "The mobility of the future has definitely arrived in Bavaria! Just last week I had the opportunity to see for myself at IAA Mobility how fundamentally autonomous driving will transform how we get from place to place – and improve it in many ways. But we also need to learn where stumbling blocks lie ahead and especially how we can protect more vulnerable traffic participants. That's why we at the Ministry of Transport are also supporting the setup of the test bed in Ottobrunn and helping with the funding."
"With this modern testing facility we are making an important contribution towards establishing the Munich metropolitan region as a world-class innovation hub for sustainable and intelligent mobility," says TUM President Thomas F. Hofmann. "TUM is pooling top-level research in the field, from the design of future-ready transport concepts to vehicle, sensor and communication technologies through to the societal implications of electrified autonomous mobility. In an integrated approach to innovation, bringing together the worlds of research, private-sector development and socially responsible policy making, we want to lead urban transportation towards a sustainable future."
Rudolf F. Schwarz says: "I'm delighted to be stepping up our cooperation with TUM and the Bavarian Ministry of Transport. To secure the AI algorithms controlling the interaction of autonomous vehicles, entirely new approaches are required. We need to calculate near-100% probabilities and verify them in the test intersection. Another priority of IABG is to achieve a breakthrough in touchless inductive charging of electric vehicles. The test bed will play a role in those efforts. Especially with driverless vehicles, people will rarely be close enough to connect the awkward power cables by hand."
Technical University of Munich
Corporate Communications Center
Contacts to this article: