Award for distinguished contributions to architecture
Prof. Francis Kéré receives prestigious Jefferson Medal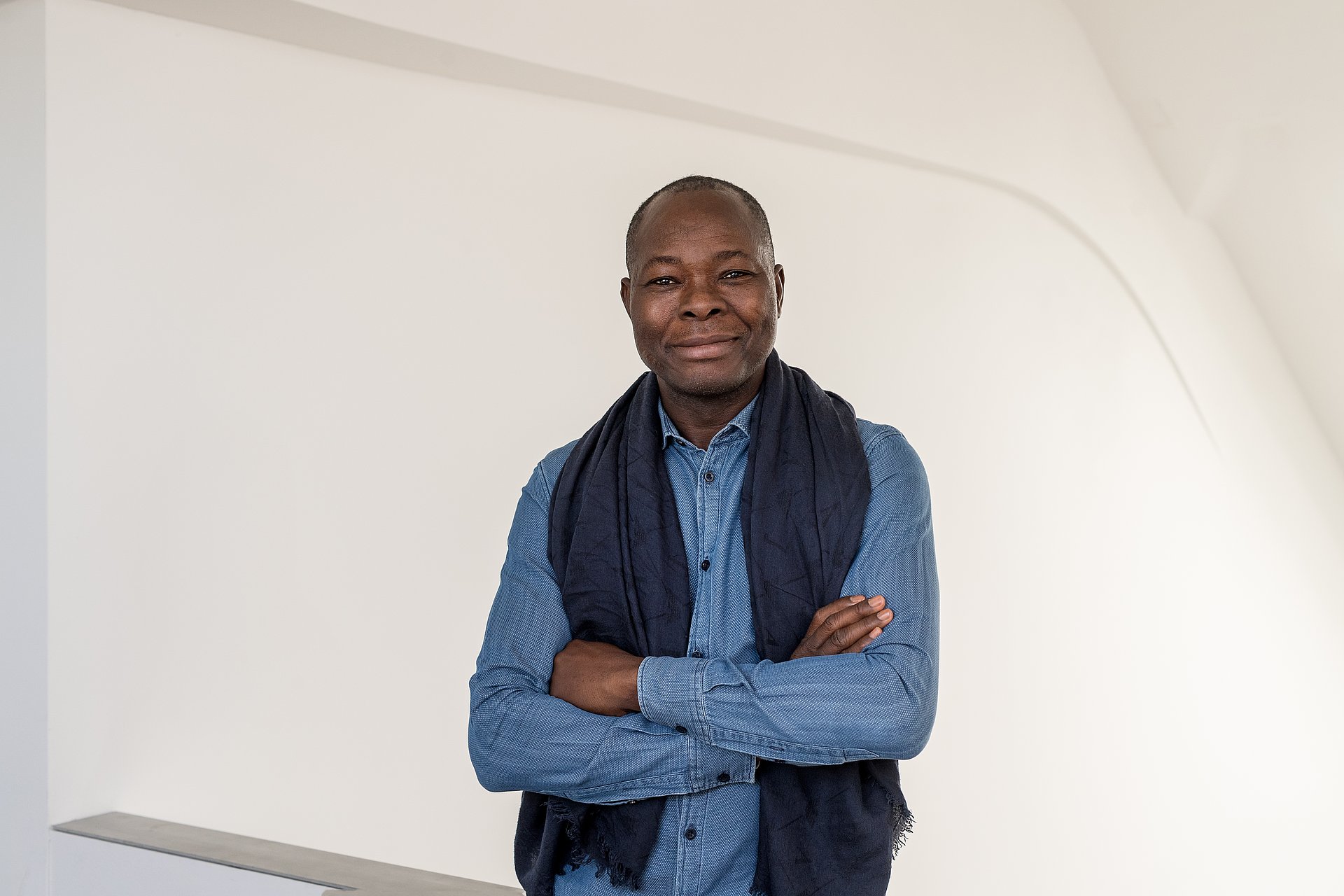 The Burkina Faso-born architect and TUM professor Francis Kéré is world-renowned for his innovative designs, which combine traditional materials with modern engineering. The remarkable architecture of his projects is complemented in equal measure by their social engagement. For his distinguished contributions to architecture and dedication to the common good, he has now been awarded the Jefferson Medal. Past winners of the highly respected prize – jointly awarded by the Thomas Jefferson Foundation and the University of Virginia since 1966 – have included Ludwig Mies van der Rohe, I. M. Pei, Frank O. Gehry, Zaha Hadid, Toyo Ito and David Adjaye. In Germany he is best known for his designs for the 'opera village' created for the theater director Christoph Schlingensief.
Germany as an intellectual homeland
Since October 2017, Francis Kéré has held the Chair of Architectural Design and Participation at TUM. "Germany is my intellectual home and I respect TUM as an institution that embodies this," said Prof. Kéré, commenting on his work at TUM. "More than anything, it is the practice-oriented openness here that enables me to create fantastic links through a piece of work and support interdisciplinary cooperation, including with partners on the African continent. This is also being promoted by the development of a TUM base in Africa, where I have the opportunity to contribute from an architectural standpoint."
TUM President Thomas F. Hofmann praised Prof. Kéré as a "highly respected international proponent of sustainable architecture." "We're proud to have such a highly accomplished and creative architect among us here at TUM," said Prof. Hofmann. "He shows exemplary dedication to the approach we live by at TUM, combining science and technology with social responsibility."
Prof. Kéré received the prestigious Aga Khan Award for Architecture for the first project of his career, an elementary school in Gando (Burkina Faso), constructed during his architectural studies in Berlin. To finance the school building, he established the non-profit "Schulbausteine für Gando e.V.", later renamed the Kéré Foundation e.V. After completing his studies, he established Kéré Architecture.
Numerous projects on multiple continents
Over nearly two decades, Francis Kéré has gained a reputation as one of the most important contemporary architects. His best-known works include his design for the Burkina Faso National Assembly, Ouagadougou, the Léo Surgical Clinic & Health Centre in Léo, Burkina Faso, the Serpentine Pavilion 2017 in London and a visitors pavilion for the Coachella Valley Music and Arts Festival (2018). In April 2021 the cornerstone was laid for the National Assembly in the West African nation of Benin, also designed by Kéré.
In 2013 he was appointed to the Accademia di Architettura di Mendrisio (Switzerland), after teaching at the University of Wisconsin-Milwaukee in the USA. He is also a guest professor at the Yale School of Architecture. In 2017 the TUM Architecture Museum exhibited the architect's first monographic presentation, which attracted over 50,000 visitors.
Further information and links
Technical University of Munich
Corporate Communications Center
Contacts to this article: