Subset of T cells crucial for immunotherapy
How immune cells overcome exhaustion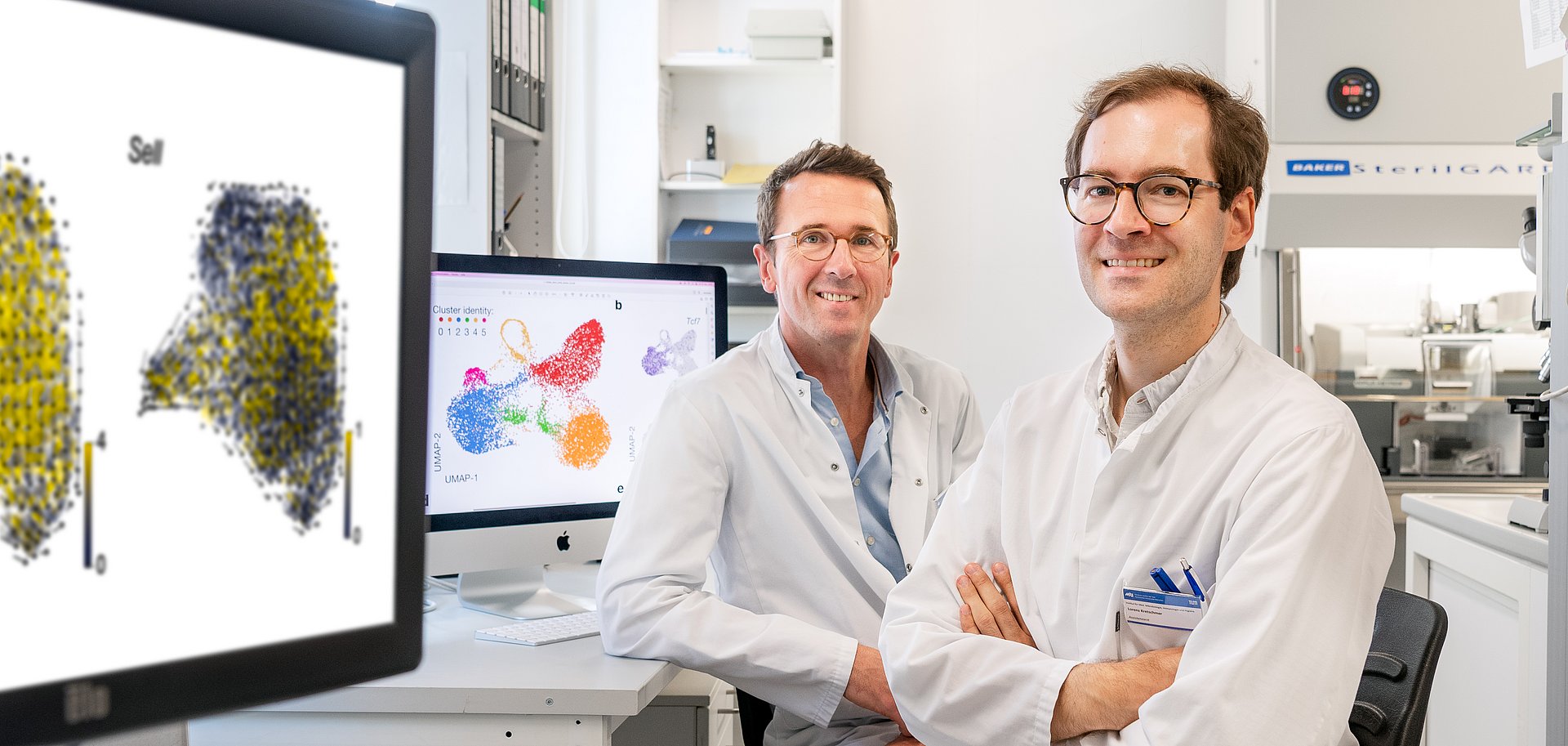 It has long been known that severe diseases can damage our immune system. Known as immune exhaustion, it is a phenomenon often seen in cancer patients or patients living with chronic viral infections such as HIV or hepatitis that mainly affects an immune cell population called cytotoxic T cells, which play a critical role by killing cancer cells or cells infected by a virus.
Now, a novel cell population that is critical in overcoming exhaustion and maintaining long-term T cell responses during chronic viral infection was identified by researchers, led by Dr. Veit Buchholz, a group leader at the Technical University of Munich's Institute for Medical Microbiology, Immunology and Hygiene, and Prof. Axel Kallies, Laboratory Head at the Peter Doherty Institute for Infection and Immunity and the University of Melbourne.
C. Tsui, L. Kretschmer, S. Rapelius, S. S. Gabriel, D.Chisanga, K. Knöpper, D. T. Utzschneider, S. Nüssing, Y. Liao, T. Mason, S. Valle Torres, S. A. Wilcox, K. Kanev, S. Jarosch, J. Leube, S. L. Nutt, D. Zehn, I. Parish, W. Kastenmüller, W. Shi, V. R. Buchholz, A. Kallies. MYB orchestrates T cell exhaustion and response to checkpoint inhibition. Nature (2022). DOI: 10.1038/s41586-022-05105-1.
Previous works:
Grassmann, S., Mihatsch, L., Buchholz, V. et al. Early emergence of T central memory precursors programs clonal dominance during chronic viral infection. Nature Immunology (2020). DOI: 10.1038/s41590-020-00807-y
Kretschmer, L., Flossdorf, M., Mir, J. et al. Differential expansion of T central memory precursor and effector subsets is regulated by division speed. Nat Commun 11, 113 (2020). DOI: 10.1038/s41467-019-13788-w
Utzschneider, D.T., Gabriel, S.S., Chisanga, D. et al. Early precursor T cells establish and propagate T cell exhaustion in chronic infection. Nat Immunol 21, 1256–1266 (2020). DOI: 10.1038/s41590-020-0760-z
S.S. Gabriel, C. Tsui, D. Chisanga, F. Weber, M. Llano-León, P. M. Gubser, L. Bartholin, F. Souza-Fonseca-Guimaraes, N. D. Huntington, W. Shi, D. T. Utzschneider, A. Kallies, Transforming growth factor-β-regulated mTOR activity preserves cellular metabolism to maintain long-term T cell responses in chronic infection, Immunity (2021). DOI: 10.1016/j.immuni.2021.06.007.
Further information and links
The study was funded by the National Health and Medical Research Council, the European Research Council, the German Research Foundation, the Else-Kröner Fresenius Foundation and the German Cancer Aid.
Technical University of Munich
Corporate Communications Center
Contacts to this article: