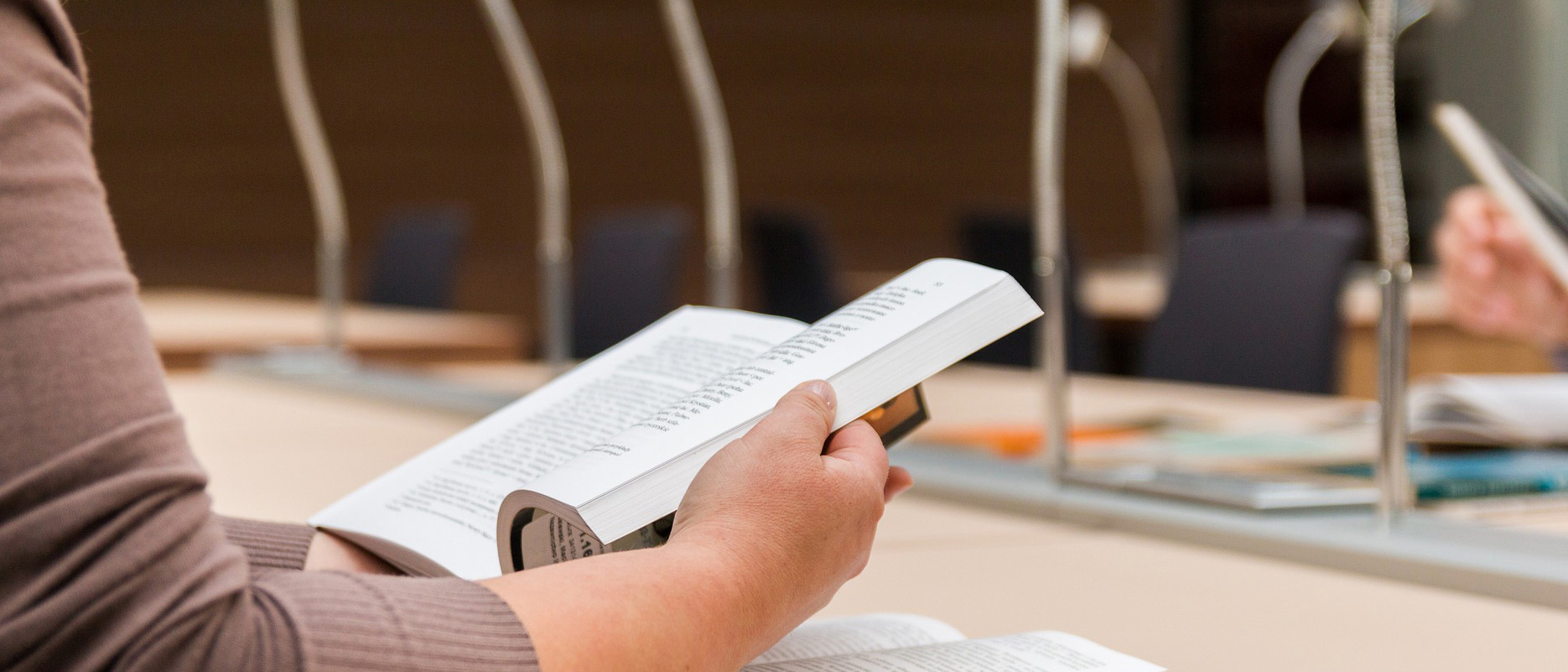 Other scholarships, prizes and competitions
Numerous institutions award scholarships and prizes or hold competitions for students. Here you can find current announcements.
Master's students and graduates of bachelor's programs who would like to study at a U.S. university for one to two semesters as a graduate student in the 2023/24 academic year can apply for a Fulbright Study Scholarship. The scholarship supports studies in the U.S. with up to $34,500.
Applicants must be German citizens, be able to convincingly demonstrate their motivation for studying and cultural exchange in the U.S., be actively involved socially, culturally or politically, and have good to very good academic records as well as a good command of English.
Applications are accepted until Aug. 21, 2022.
For more information on the fellowship and how to apply, please visit www.fulbright.de/programs-for-germans/studierende-und-graduierte/studienstipendien-alle-disziplinen.
The German University Foundation is awarding the Tandem Scholarship for educational advancers.
Students who will begin their studies in the winter semester of 2022/23 and are the first in their family to study, have a Abitur with at least the grade "good" and are engaged in volunteer work can apply for the scholarship. They will be provided with 1:1 mentoring by a university lecturer who is close to their subject and place of study, and two workshops on key skills per year, personal one-on-one coaching sessions with professional coaches during the study period, networking events, specialist events and a study-related drawdown budget, as well as a digital package, will support their study and career success.
Applications are open until September 1, 2022.
All information about the scholarship and the application can be found at www.deutsche-universitaetsstiftung.de/stipendienprogramme/tandem/.
The Antje Lode Scholarship for a female Ukrainian student of STEM subjects who has fled to Germany in the amount of € 4,000 will be awarded once by the Zonta Club Berlin 1989 e.V.
Applications are open to women who have fled to Germany from the Ukrainian war and will begin or continue their studies in science, technology, engineering or mathematics (STEM) subjects at a German university in October 2022 and continue until at least the end of the summer semester 2023.
Applications are open until September 12, 2022.
Details about the call and application can be found here (PDF, 149 KB) (German).
In the winter semester 2022/23, three scholarships will be awarded in the areas of water and environment by the Roland Mall Foundation at the Technical University of Munich.
The foundation aims to promote talented students who have already achieved or for whom outstanding achievements are expected due to their previous commitments and career experiences. Social and personal circumstances are also taken into account.
Master students in Civil Engineering and Environmental Engineering will be given preference. Applicants should be enrolled in the first semester of the Master's Program.
The professional suitability and personal qualifications of the applicants are decisive for award of the scholarships. A prerequisite is also that the applicants are in need of financial support.

The scholarship awardee will be supported as follows:
The scholarship amount is €500 per month.
The maximum duration of the scholarship corresponds to the regular study time needed to complete the Master's Degree.
The start of the scholarship will be at the time of the official scholarship award.
The funding is also subject to the following conditions:
The student is not receiving any other talent- or performance-dependent material sponsorship, i.e. does not receive any other scholarship.
Self-declaration as to need, i.e. proof of having received BAföG during Bachelor studies
Submission of the Bachelor's thesis and Bachelor's Degree Certificate with Transcript
Letter of motivation
Curriculum vitae; if applicable also proof of special awards, as well as societal and social engagement; proof of German language proficiency with foreign applicants
Master study schedule (whole study)
Willingness to choose a topic for the master thesis covering the spectrum of the company MALL Environmental Systems
If he or she is shortlisted, the student will be evaluated on the basis of a 15-minute talk to be given as part of the application process. The subject should have a professional relation to the respective master course.
The relevant documents are to be submitted digitally (Application documents as one complete pdf-document + Bachelor's thesis (pdf) extra) to the chairman of the selection committee (Prof. Dr. Brigitte Helmreich, Chair of Urban Water Systems Engineering, Technical University of Munich, Email: b.helmreich(at)tum.de) by 31.10.2022 at the latest.
The Bavarian Ministry of Finance supports dedicated bachelor students in the field of IT with the Study Grant for IT Talents.
Applicants should already have studied two semesters in an IT degree program with above-average performance and want to continue with it in a goal- and graduation-oriented manner, and should be interested in gaining practical experience in a state IT agency while still studying.
Funded students receive a monthly study grant of 415 euros for the remainder of their studies, as well as practical insights into the state IT infrastructure and hands-on experience in one of the major state IT agencies.
For more information on the program and how to apply, visit www.stmfh.bayern.de/oeffentlicher_dienst/studienfoerderung_it/default.aspx.
The application deadline for the 2023 summer semester is 15.11.2022.
The Heinrich Böll Foundation supports around 1400 students and doctoral candidates of all disciplines and nationalities each year, both in universities and universities of applied sciences in Germany.
Scholarship holders are expected to demonstrate outstanding academic or scientific achievements, social commitment and political interest, as well as an active engagement with the Foundation's core values of ecology and sustainability, democracy and human rights, self-determination and justice.
Applications are generally open March 1 and September 1 of each year.
All information can be found at www.boell.de/en/scholarships.
TUM Asia provides successful applicants with a one-time grant of up to 50% of the tuition fees for one of the following Master's programs: Aerospace Engineering, Green Electronics, Industrial Chemistry, Integrated Circuit Design, and Rail, Transport and Logistics.
Applicants must email TUM Asia Admissions Advisors (events(at)tum-asia.edu.sg) and include this e-flyer, which also provides more detailed information about the TUM Asia Scholarship, to receive a special code. With this code, they can fill out an online application on this website. In doing so, they must also submit an essay of no more than 500 words in which applicants justify why they should receive the TUM Asia Scholarship.
Applications are accepted annually between October 1 and March 31.
The Stahlmann Foundation offers a housing scholarship to students who are younger than 25, have a good command of written and spoken German, have a clear idea of their educational goal, are striving to achieve this goal at a German educational institution, are in some form of need, and are willing to make a commitment to the Foundation.
The scholarship covers the rent for a shared apartment and the guarantee for the rent deposit for the current semester in each case; it is possible to extend the scholarship to a maximum of six semesters in total if studies proceed successfully.
For the application a curriculum vitae in German, a letter of motivation in German, the last certificate of the highest educational qualification, two independent confidential recommendations in German or English with contact information from the home country (in case of Ukrainian applicants also from another country) as well as the admission of a German educational institution are required.
Here you will find further information (German).
In view of the coronavirus pandemic, the Hildegardis Association is launching an emergency aid program for female students who belong to a Christian denomination. The applications for the interest-free loans that the association has been granting since its foundation in 1907 are now being examined and approved in an expedited procedure. The simplified procedure includes a grant of up to €3000.
Applications can be submitted continuously.
With "Böckler-Aktion Bildung", the Hans Böckler Foundation awards scholarships to young people who could not afford to study otherwise. Students who are on their way to obtaining their high school diploma (Abitur) or entrance qualification for university of applied sciences (Fachhochschulreife) can apply. Applications are also open to those who have only recently qualified for university entrance.
Applications can be submitted up to three months before the end of the standard period of study.
With its graduation grant, the E.W.-Kuhlmann-Stiftung supports students who are about to graduate and are dependent on financial support. They can receive an interest-free loan of up to €2000.
Applications can be submitted continuously.
Insights technology provider SUPRA is supporting scholarship recipients by funding a survey panel with 1,000 participants worth 3,500 euros.
Students of economics, marketing, market research, business information systems, psychology, social sciences or other similar subjects are eligible to apply.
To enter, applicants must submit an essay of 1,000 to 1,500 words on one of the categories (1) new pricing strategies for consumer products, (2) leveraging tech for better pricing, (3) innovative insights and research to find better pricing, (4) the future of pricing psychology or (5) AI methods in pricing.
Applications are accepted annually until August 30.
For more information, visit https://supra.tools/scholarship.