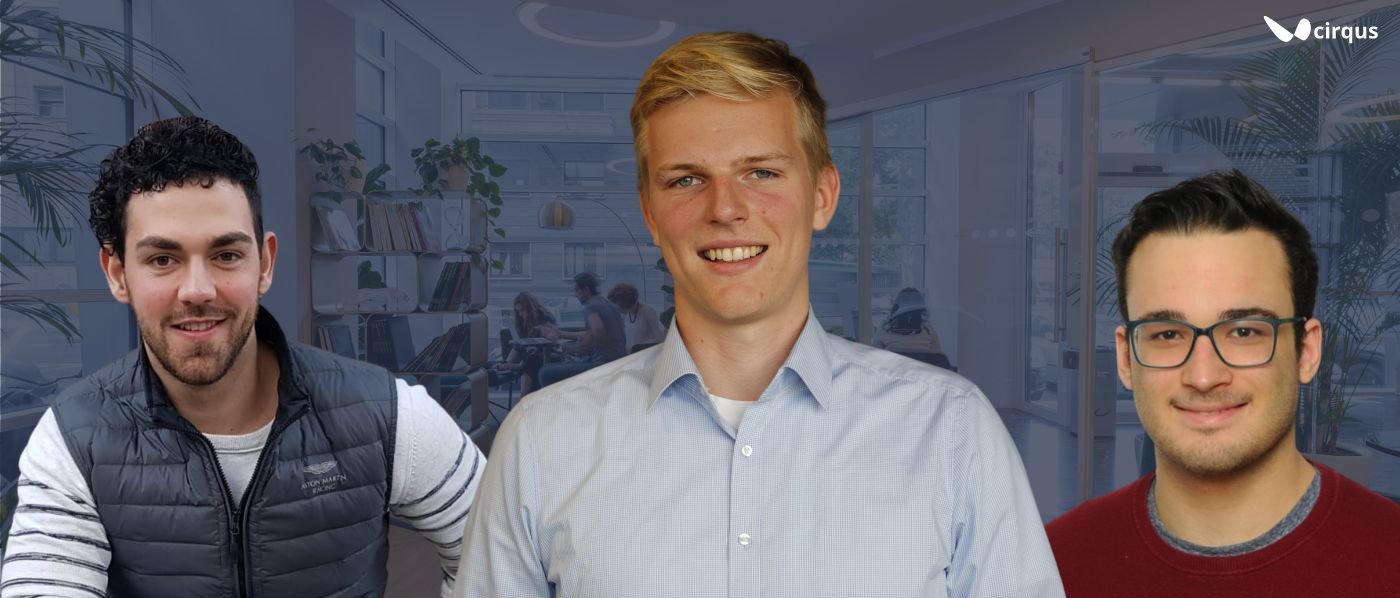 TUM Founder's Talk: cirqus
What problem do you solve with your product?
Due to the pandemic, most incubators and accelerators programs for startu-ps have gone online in recent years. After an initial settling-in period, many programs have remained digital because they can scale more easily and meet the needs of their founders in a much more customized way. The only catch: there simply weren't any specialized solutions on the market that could comprehensively map such programs digitally. Many of our first customers had a large patchwork of different tools, where it was easy to lose track of everything. That's why we created cirqus. Here, incubators and accelerators have the opportunity to digitally map their entrepreneurship programs on a central platform and easily scale them.
What is the technology behind the product?
cirqus is a software-as-a-service solution that is highly customizable. By adding and removing features and customizing the user interface, we can optimally map the processes of incubators and accelerators. By being able to integrate almost all currently used tools, we create a central interface for the start-ups. In addition, with our single sign-on, we enable the use of one account for all accelerators that use cirqus.
How did you come together as a team? How do you know each other and have you worked together on projects before?
During his time in the TUM Entrepreneurial Masterclass, Enrico worked on a concept for a then new TUM Venture Lab. A central element of the work was the question of how to map entrepreneurship education in a comprehensive and scalable way. In an exchange with his "Manage and More" fellow Jonas, the two quickly realized that there was no good solution for this on the market. This is how the idea for cirqus came about. In order to be able to implement the whole thing technically, it quickly became clear that the two still needed a real "techie". Jonas had previously worked together with Simon on their bachelor thesis on the TUM's own learning management system Artemis. Therefore, Simon was the perfect candidate and the last missing piece of the puzzle.
What personal skills does the team contribute to the development of the product?
Through the "Manage and More" program, first own start-up projects and the work as a start-up coach, Enrico and Jonas have learned a lot about the entrepreneurship market and starting a company. In addition, Enrico has intensively studied what makes good accelerator programs in both his bachelor's and master's thesis. This network and knowledge now helps us to tailor our software ideally to the needs of our customers. On the other hand, Simon and Jonas learned the technical foundation for highly scalable learning software through their bachelor's and master's theses, respectively, on TUM's own learning management system Artemis.
Who in the team takes on which tasks? Do you all work together on different topics, or does everyone work in a specific area?
Enrico takes care of operational tasks and sales. He looks after our current customers, takes care of our external appearance and takes care of all networking activities. Simon is our "techie" and takes care that our software runs reliably and scales with our customers, with our customers' needs. He also takes care of the integration of external tools and develops new functionalities. Jonas jumps between the two worlds. On one side he helps with the development of the software and is mainly responsible for the user interface. On the other hand, he supports Enrico in technical sales and in translating customer requirements into technical solutions. Otherwise, he is in charge of the further development of our vision and a corresponding strategy.
Which target group do you serve and what are their needs?
We currently specialize in incubators and accelerators. We support them in digitizing their programs and making them scalable in the process. In particular, we provide them with a central platform where they can integrate all their current tools and thus provide a coherent learning environment for their startups. In addition, we can automate many of the program managers' repetitive tasks, enabling them to better support their start-ups.
What makes your idea unique?
cirqus is the only platform on which incubators and accelerators can map all partial aspects of their programs. This includes specific solutions from start-up sourcing and applicant management to program implementation and alumni management. We have also gained extensive experience in the digitization of entrepreneurship programs, which we naturally also make available to our customers.
What are the next steps, where do you see your start-up in one year?
Currently, our focus is on the further development of our solution together with our customers. The most important functions are already tested and in use, but still have potential for optimization. In order to better cover the entire value chain of our customers in the future, we have planned some new functionalities such as an alumni management solution for this year. Next year, we mainly want to grow further and connect more functionalities like a start-up sourcing solution.
What is your business model and how do you want to generate revenue with your product?
Currently, we pay a one-time setup fee and then a standard SaaS monthly fee. In the future, we also want to set up a marketplace model in which learning content or even entire programs can be sold through us on a commission basis.
What are the most important experiences you have had in the founding process? What were the biggest challenges and obstacles?
One of the first things we learned was that many processes take much longer than most people imagine. So plan a little more time for everything and start tasks that are important early! The second big insight is that a functioning network or community is really worth its weight in gold. And it's not about the sheer size of your network, but how well it actually works. Our tip is to become part of an entrepreneurship community as soon as possible. Here you will not only find like-minded people, but also the skills and network you need for a successful startup. Also, talk to as many people as you can and cultivate your contacts, even if they are not part of your core business!