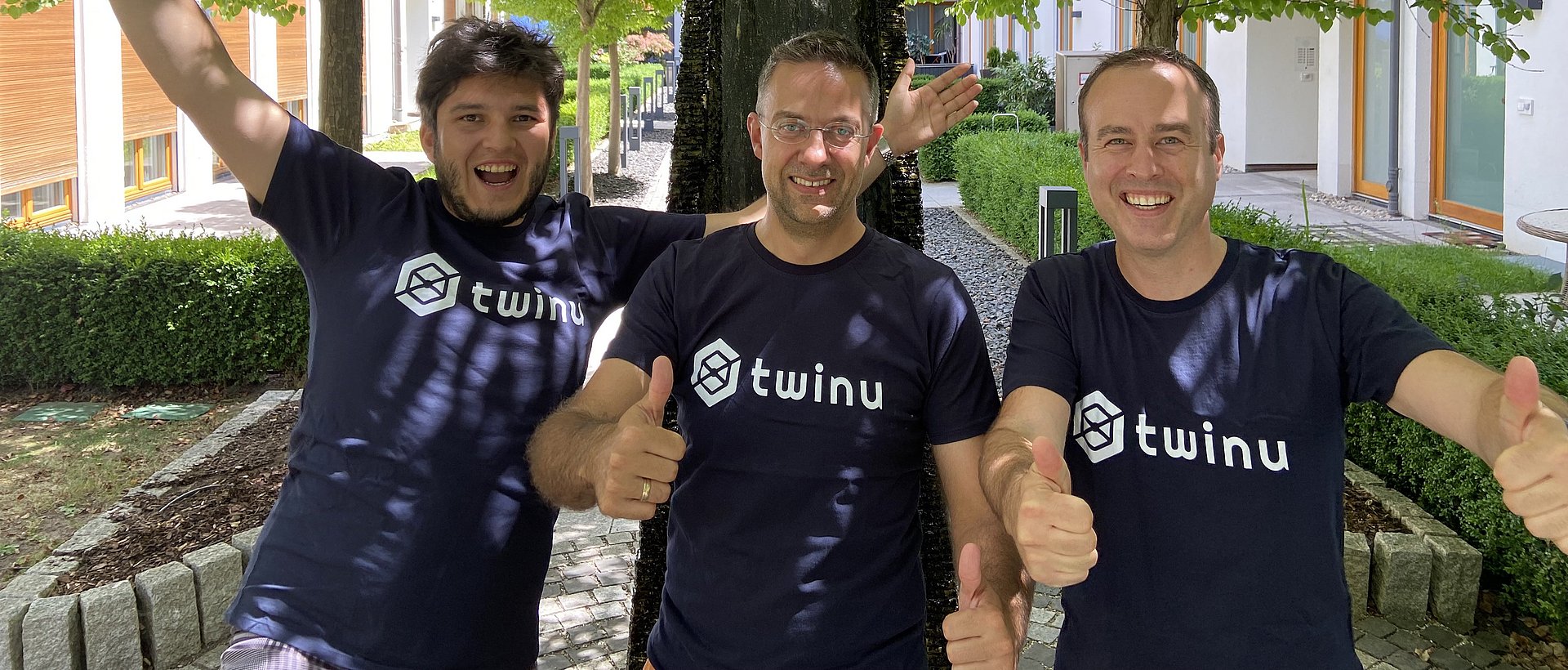 TUM Founder's Talk: twinu
What problem do you solve with your product/idea?
Twinu connects customers to their products and their brands via digital product twins. Companies usually don't sell their own products directly to end customers (D2C), which often means there is no customer connection. These companies spend a lot of money on ineffective marketing because they don't know where and with whom their products are. Customers, in turn, must trust the seller without a verifiable connection of products and brands. This is a big problem on the used market. Twinu makes it possible for the first time to make products digitally recordable and auditable along their entire product lifecycle (from manufacturing to recycling). In addition, our digital twins improve the product experience with new functions.
What is the technology behind the product?
We use Web3 technologies, specifically blockchain with non-fungible tokens (NFTs), to make our digital product twins unique. This is important for proving authenticity or ownership. In addition, we are working with technologies from the "Semantic Web" field that make our twins "smart" and processable with AI algorithms. This can be used, for example, to ask an AI assistant when you bought something, at what price, and how much it is still worth today.
What personal skills does the team bring to the development of the product? (Work experience and/or industry knowledge in the target market, startup experience, etc.)?
We are all digital experts with technical and business backgrounds (including TUM, CDTM) and some work experience in the technology environment. From Digital Twins, to Blockchain, to AI and complete digital transformations, we have done it all multiple times. We know how to identify and implement industry-specific use cases and sustain change.
What target group do you serve and what are their needs?
We help companies and their customers take their first steps into the web3/blockchain world without having to deal with cryptocurrencies.
This is particularly relevant for brands that have not yet connected with their customers, either because they sell through intermediaries or because the product has no digital components. Car manufacturers, for example, get a direct connection to the customer at the latest via the customer's registration in the app for the car. But for many other products, apps don't make sense. Here, Twinu offers a simple and effective solution. In addition, our digital product twins protect manufacturers and customers from frequently counterfeit products by enabling simple validation of authenticity.
What is the market volume or growth potential of your target market?
According to a BCG publication, the virtual asset market is expected to grow from $90B in 2021 to up to $300B in 2025. At the same time, the number of actively used blockchain wallets (similar to users) is expected to increase fivefold in the next 8 years. So we are talking about a market that is growing at about 25% annually.
What approaches are there to remain competitive in the future?
Web3 is still in its infancy, much like the Internet was in the late 90s. However, this time the growth will be much more sudden as it doesn't require physical infrastructure like computers, cables and connections for new users, it's all there. Once there are useful blockchain use cases like Twinu, market adoption can be very fast. Because basically, any user can set up a blockchain wallet within minutes and use Web3 applications. But there is little incentive to do so so far. We want to change that! For companies, by the way, this means: in order to remain competitive as a brand, you have to prepare for Web3 now. If you only start now, as soon as a larger market acceptance is visible, you are acting too late!
How did you come up with the idea and how has the product developed? How does the current product differ from the initial idea?
All of the founders had previously worked on projects with digital twins. From airplane engines to books to sneakers. Therefore, we were all aware of the potential behind the digitization of physical objects. We also knew early on the innovative use cases we wanted to implement. What was difficult, however, was the concrete technical realization and how to build a business model around it. What followed was extensive research with many prototypes and tests to make digital twins a mass phenomenon. Ultimately, the breakthrough of NFT technology last year helped us to identify a technical standard for product twins.
How long have you been working on the development of your technology and how does it contribute to the realization of your project?
In total, three years of research & development have gone into our products and services. On top of that, there is all the experience and expertise we have gathered from our studies and professions. Without this basis, we probably wouldn't have the courage and confidence to tackle such a far-reaching vision. In our opinion, too many startups in Germany deal with ideas that are too obvious: Topics that are very likely to succeed because they are either only an incremental improvement or have already been successfully implemented by others (e.g. in the USA) and then copied from there. Here, also due to our deep and long-standing expertise in digitization, we wanted to take different, bolder paths.
What funding options are you already taking advantage of, or do you plan to take advantage of in the future?
Last year, we successfully applied for the EXIST funding program with the help of the TUM start-up consultancy and were subsequently also able to collect an initial angel investment. Theoretically, we could finance Twinu from customer projects and grow through that, but in order to develop our product even faster, we are planning a (VC) financing round early next year. We are already open for approaches! ;-)
What skills should you have if you want to found a start-up and what are the biggest challenges you have to face as a founder?
You definitely have to bring an "Unfair Advantage", something with market value that you can do much better than others or the average. This can be a technology, but also a "social skill" or a special passion for a topic. But if you don't have an answer to the question "Why will I be more successful with my idea than other teams in the market", then you haven't found your sweet spot yet.
Additionally, it takes some ability to perform and suffer. Great achievements or inventions are usually the result of hard work. Ideas don't count for much; many people have them at the same time. Making, testing, adapting, the focused and goal-oriented implementation makes the difference.