aCar project wins the 2016 Bavarian State Prize for Electromobility
Electromobility award for an all-rounder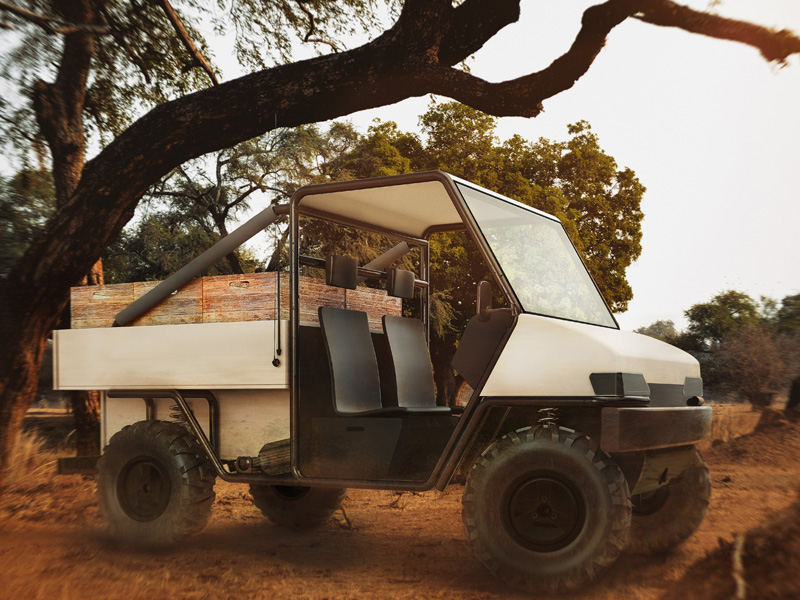 For many, the term "electric vehicle" evokes images of expensive e-cars cruising down well-kept streets in the major cities of industrialized nations. Scientists at TUM, however, are working on electric cars meant to drive in completely different areas of the world. The "aCar" was developed with an eye to the mobility problems of rural populations in remote regions with weak infrastructures, in particular in sub-Saharan African countries. The defined goal of the interdisciplinary team is to provide a mobility concept that helps stem the flood of migration from the countryside to cities and to strengthen the autonomy of rural areas.
At the heart of the concept is a vehicle with various possible uses. The "aCar" is off-road capable, can be charged with solar power and – most importantly - features a modular design. Depending on the parts used, it can transport people as well as cargo. Additional modules make it possible to use the car as a utility vehicle for farming purposes or as a source of energy for other devices. The modular body also makes it possible to offer the basic vehicle at a comparatively low price. Owners may purchase or rent additional functional modules to suit their needs.
Adapted to local circumstances
The researchers emphasized adaptability to possible uses, while designing production processes to accommodate local circumstances. The "aCar" is to be manufactured on location and will thus support local and independent value creation processes. The TUM Chairs of Automotive Technology, Metal Forming and Casting, Industrial Design, and the Chair of Strategy and Organization are working together in close partnership to master the project's various challenges. The vehicle concept was developed jointly with scientific partners in Nigeria, Ghana, Kenya and Tanzania. An initial prototype of the vehicle was presented in the spring; various components are currently undergoing testing. The interdisciplinary team intends to build a second prototype in the spring of 2017 based on the results. The project will be presented to the general public in September 2017 at the IAA international automobile exhibition in Frankfurt.

The innovative concept has now been honored with the Bavarian State Prize for Electromobility in the Sustainable Product & Mobility Concepts category. State Minister Ilse Aigner presented the award, which each year recognizes companies and organizations that perform seminal work in the area of electromobility. Approximately 70 candidates from throughout Germany and other countries competed for this year's award.
About the project:
aCar mobility is a research project of the Technical University of Munich, in cooperation with two scientific partner institutes and six industrial partners. It is funded by the Bavarian Research Foundation.
Contact
Alexa Wawra, M.A.
Technical University of Munich
Chair of Automotive Technology
Tel. +49 89 289 15350
infospam prevention@acar.tum.de

Dipl.-Ing. Martin Soltes
Technical University of Munich
Chair of Automotive Technology
Tel. +49 89 289 10343
infospam prevention@acar.tum.de
Additional Information
"aCar" project website with further information and images
Chair of of Automotive Technology
Chair of Metal Forming and Casting
Chair of Strategy and Organization
High-Resolution images
Technical University of Munich
Corporate Communications Center