UNICARagil: BMBF project puts automated electric vehicle on the road
Automated electric vehicles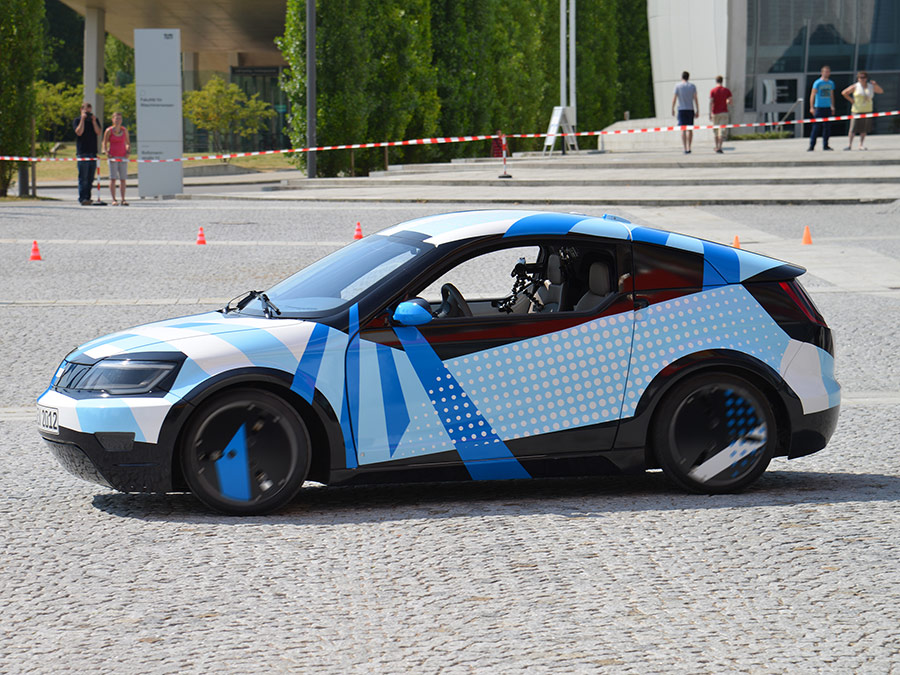 Autonomous electric vehicles will be an essential component of future mobility: they will form the basis for sustainable and intelligent road transport, novel mobility and transportation concepts, improvements in traffic safety and a boost in the quality of life in urban environments.
However, requisite vehicle concepts require a significantly more centralized and efficient data processing and transmission in motor vehicles and, consequently, a departure from established architectures and processes.
The UNICARagil project builds on the latest results of research into electromobility, as well as automated and connected driving to develop autonomous electric vehicles for myriad future application scenarios. The project utilizes methodologies common in the IT industry with its fast development cycles and updating mechanisms.
This approach bases on a modular and scalable vehicle design, comprising payload and drive units that can be flexibly adapted to a variety of applications in logistics and passenger transport. A further focus lies on the development of a readily extensible and updatable software and hardware architecture.
Autonomous and remote-controlled driving
The project includes the development of a control room by the Chair of Automotive Technology at the Technical University of Munich (TUM). The control room represents the security and control center of UNICARagil. It can assume control of a vehicle when conditions are not suitable for driving autonomously, thereby expanding the range of autonomous driving applications.
The Chair of Ergonomics and the Chair of Automotive Technology of the TUM are collaborating in the development of the AUTOtaxi concept. In addition to regular public transport, passengers will be able to use the AUTOtaxi for personal rides in urban areas.
The vehicles can be booked, ordered or opened and used where they are parked using a smartphone. The test arena for the AUTOtaxi prototype and its interaction with the control room is located on the TUM campus in Garching and vicinity.
More information:
The project was initiated in February 2018 and has a term of 4 years. It is funded by the German Federal Ministry of Education and Research (BMBF) within the framework of the funding priority "Disruptive Vehicle Concepts for Autonomous Electric Mobility" (Auto-Dis). The project volume is slated at 23.3 million euro (of which 94% are subsidized by the BMBF). Consortium members include: RWTH Aachen, TU Braunschweig, TU Darmstadt, Karlsruhe Institute of Technology, TU Munich, University of Stuttgart and University of Ulm, as well as the industrial partners ATLATEC GmbH, FlyXdrive GmbH, iMAR Navigation GmbH, IPG Automotive GmbH, Schaeffler Technologies AG & Co KG and VIRES Simulation Technology GmbH.
Technical University of Munich
Corporate Communications Center