Students develop ideas for the city of the future
Car-free day in Arcisstraße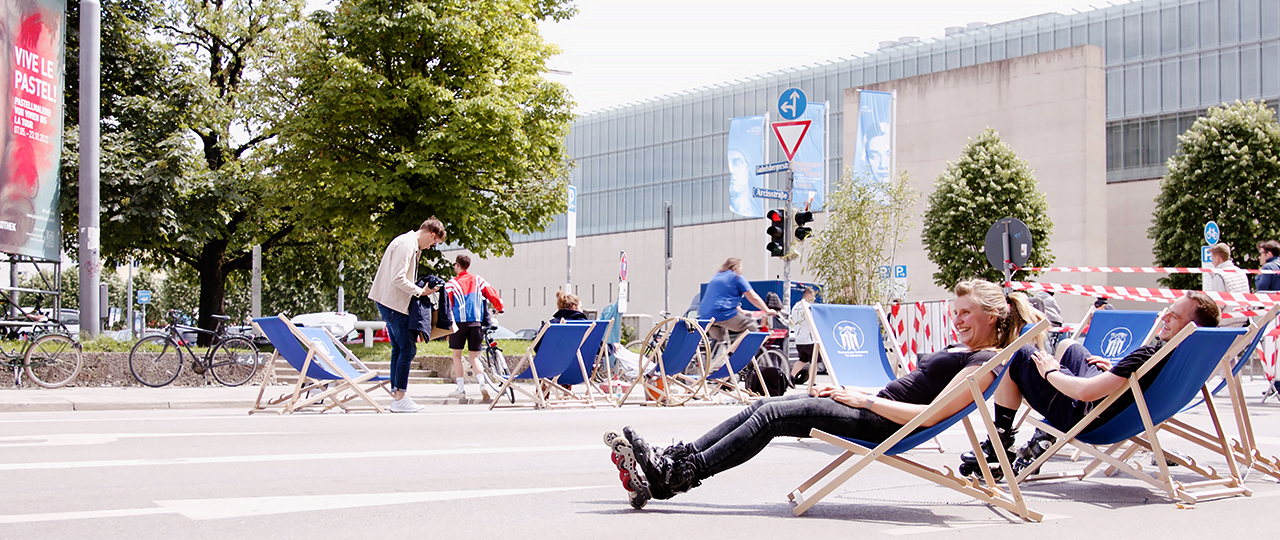 How can we make public space accessible to all? How do we balance different uses against each other? How does the city become sustainable? The students of the TUM Department of Architecture devote themselves to questions like these every day – questions whose significance extends far beyond the university. At the Professorship for Urban Design, teachers and students have therefore developed a project that takes this into account: With the "Intervention Arcisstraße" they go out of the university and carry these questions straight to the population and into the public space.
For an entire day, the section of the street in front of the main TUM building in the center of Munich was closed to car traffic. This created a lot of space for culture, sports and encounters: musicians played, a skate course was set up and yoga sessions were offered. In addition, different actors of the city community presented their concepts for a more sustainable urban design for discussion.
Ideas for the future of the city
Students, residents and passers-by were able to use the street freely to play sports, relax and talk to each other about how urban mobility can be designed, how street space can be transformed and what the city of the future should look like. The ideas range from a greener city center and more space for meeting places to better infrastructure for everyone on foot or by bike.
"I think that it is important to start with small examples of what cities could look like in the future. "— a participant of the "Intervention Arcisstraße"
Funded by TUM's Sustainability Office and in cooperation with the City of Munich, a real laboratory was thus made possible, from which ideas can emerge to sustainably shape the face of the city.
Further information and links