Student team "Soteria": Creative in the COVID-19 pandemic
A printable ventilation mask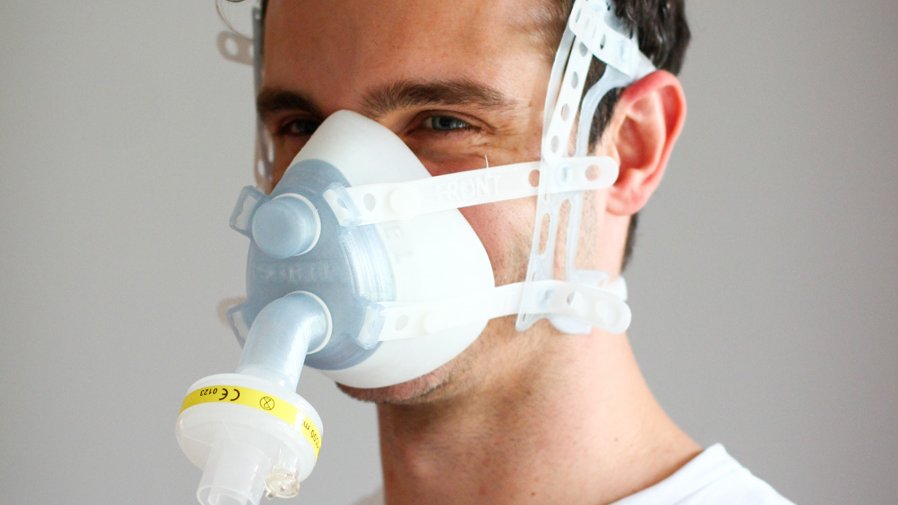 The mask is designed for patients suffering from COVID-19 who need to be provided with oxygen-enriched air, but still non-invasively. All that is needed to make the mask is a 3D printer and filament material made of PLA and TPU. The STL files for the individual parts are available for free download at Soteria-Facemask.com. The design is open source accessible.
According to Lukas Peschel of the "Soteria" team, a 3D printer is an affordable piece of equipment these days. Still, the team had to purchase one first, the medical technology student reports: "During the initial lockdown, our only option was to buy one for around 200 Euro on a classifieds portal." Meanwhile, they have four devices. They were able to procure them in the scope of the "Give a Breath Challenge", an international competition organized by Munich Re and the Fraunhofer Gesellschaft.
Flexible on-site production
In addition to Peschel, the team consists of Georg Lubins, Louis Krause, Mira Mahavadi, Moe Koeppenkastrop-Lueker, Robert Roth, and Thomas Wegele. The idea was born back in early 2020, when supply chain shortages of masks first occurred. The question was how to give people in remote areas access to such masks. This led to the development of the 3D-printed mask, which can be manufactured completely decentrally.
It can be produced flexibly and quickly on site anywhere in the world – independent of supply chains, which are sometimes long and prone to failures. Ventilation masks are usually produced by injection molding. Another advantage of 3D-printed masks is that further technical improvements can be implemented simply and quickly by updating the respective STL file.
Honeycomb structure for any face shape
In tests, Soteria's mask withstood an air pressure of at least 20 millibars, and it is compatible with a wide variety of ventilators. But does it fit every face? Lukas Peschel: "In order to find the best possible fit, we used numerous face scans we created ourselves to constantly adapt and optimize the mask."
Not every face shape is the same. That's why different versions with different shapes and sizes were created. The part of the mask that is slipped over the mouth and nose is made of flexible TPU for the purpose of force distribution, and the interior is designed along the lines of a so-called "Schwarz P minimal surface structure", allowing it to fit just about any face shape while at the same time saving material.
Test phase in South Africa
A test series is currently taking place in cooperation with Stellenbosch University in South Africa. Medical professionals are conducting usability tests at various clinics. Does the mask fit the face? Does the assembly process work out well based on the video instructions? The team members did everything themselves, right down to shooting the video with the assembly instructions.
Helping instead of trying to make a profit
…and where does the name "Soteria" come from? According to Lukas Peschel, the ancient Greek term translates to "wellbeing, preservation, or salvation", and – read backwards – the name also resembles the words "air" and "ethos". "For us, that just sums it up: We aren't trying to make a profit. We want to help in these difficult times, to try and make a small but, at best, valuable contribution."
Contact: Team Soteria, supportspam prevention@soteria-facemask.com
More information:
soteria-facemask.com
www.munichre.com/giveabreath