Interview with Senior Vice President for Talent Management and Diversity Prof. Claudia Peus
"Learning − the path to future opportunity"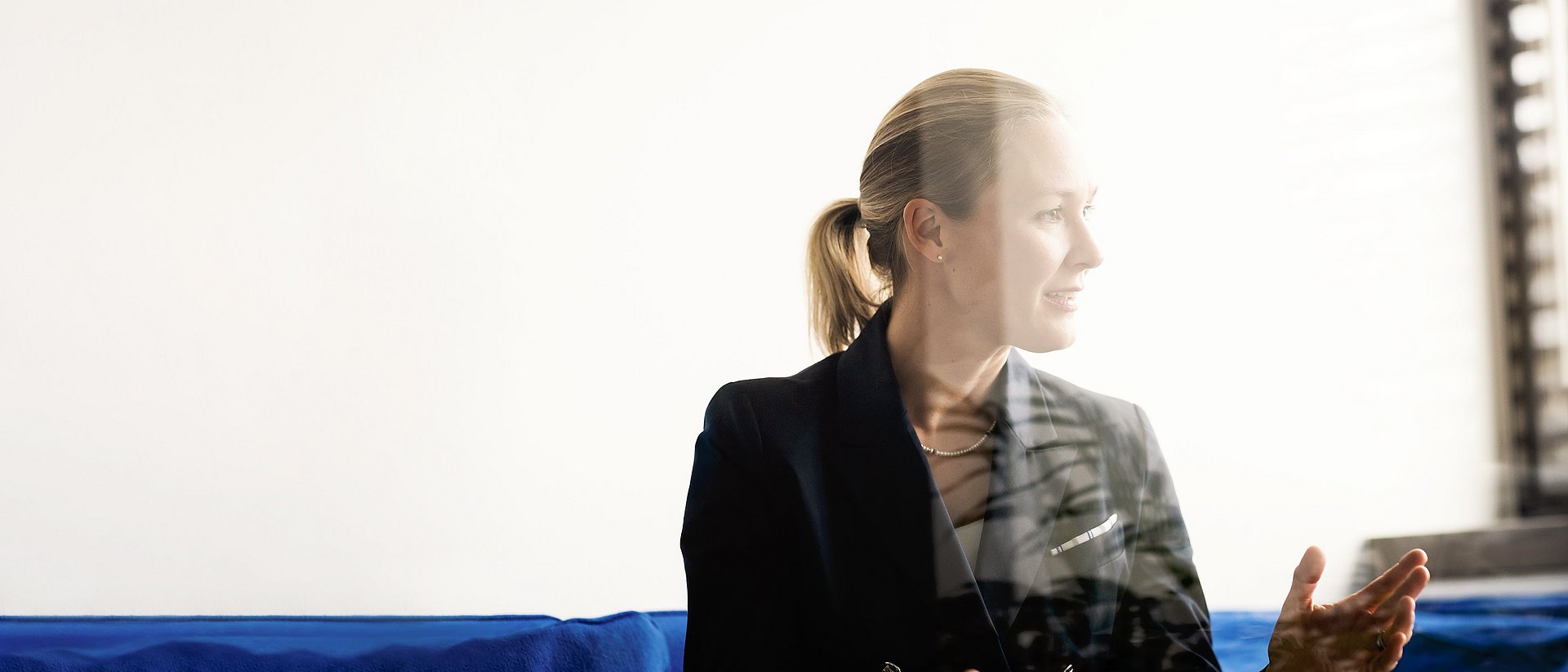 Professor Peus, how should we envision lifelong learning?
What we learn today is often outdated tomorrow. This is partly due to the rapid advances in natural sciences and technology: Especially through digitalization, so many new things, new technologies and new possibilities have been created. As a result, the things a person learned at university 10, 20 or 30 years ago might no longer be entirely valid. Or they are no longer adequate. Consequently, we all need to keep learning throughout our lives. As a university, we see it as our responsibility to be a place to go to for lifelong learning. We don't just want to provide one-time educational input with our bachelor's and master's programs. We want to give people the opportunity to return to TUM after graduating to update their knowledge. At our TUM Institute for LifeLong Learning, skilled specialists and leaders from different areas of society will find many continuing education options – reflecting state-of-the-art research, but also geared to real-world applications.
What exactly has changed to bring about this need for continuing education?
In its Future Skills Report, the Stifterverband für die Deutsche Wissenschaft stated that Germany has a particular need for digital skills – in other words, the ability to work with digital technologies and understand digital information. In 2018 the Stifterverband wrote: For two-thirds of the workforce to have the necessary digital learning skills five years from now, 3.8 million people will have to be trained within that time. That is a lot of people. According to a survey by the Massachusetts Institute of Technology and Deloitte, almost half of 4500 managers who responded to the questionnaire stated that they need to continually expand their skills. More than 90 percent reported that they need an update at least once a year. These figures predate the pandemic and I believe that there has been a dramatic increase in continuing education requirements in the meantime. For example, who would have said a year and a half ago that they were conducting job interviews online or that they were managing their team or even an entire organization from home? That forced all of us to learn to work with digital technologies – practically overnight. Many organizations now have to adapt their management style in line with these changes. And in general, in recent years we have seen how much technological trends are changing how we communicate, travel and work.
Do you have an example of these changes in the working world?
Take the car industry and the transition from the combustion engine to e-mobility. Many automotive companies employ thousands of specialists who are in fact highly qualified, but who now have to rapidly adapt their knowledge and skills. Today it is IT skills that are in demand – less so the ability to build a combustion engine. And in these companies I often hear how concerned they are about how to make this transition with their employees. With the TUM Institute for LifeLong Learning we can support the people and companies in Germany in positioning themselves to be ready for the challenges that lie ahead and acquiring the knowledge and skills that will be crucial in the future. It's fantastic that we can make an important contribution towards Germany's economic and scientific competitiveness.
Is that the goal of the TUM Institute for LifeLong Learning?
Yes. In broader terms, we want to be the place to go for experts and managers from the widest possible range of backgrounds, industries and nationalities in the German-speaking world – and, looking ahead, across Europe. It is our goal to support skilled specialists and leaders from the private sector, the world of research, and society at large in effectively and responsibly addressing the challenges of the 21st century.
"It is our goal to support skilled specialists and leaders from the private sector, the world of research, and society at large in effectively and responsibly addressing the challenges of the 21st century."— Prof. Claudia Peus
How will TUM achieve it?
TUM is ideally positioned: We're one of the best universities in Europe. In fact, according to last year's QS Rankings, we're actually the best in the EU. And in the Impact Ranking just released by Times Higher Education we are number one worldwide in the category of innovation. Moreover, we already have extensive experience in continuing education for managers: In our TUM School of Management we have built up highly successful executive and professional education programs for managers in different industries over the past 15 years and have established internationally accredited degree courses and certification programs. As a result, we're one of the few universities in Germany already succeeding in this very competitive international market. At the same time, TUM experts are already engaged in cutting-edge research in such advanced fields as robotics, machine learning, bioengineering, digital medicine, additive manufacturing, quantum technology, or sustainability. That sets us apart from such other continuing education providers as consulting firms, publishers and even most business schools: We have the experts in technological development, natural sciences and medicine right here. We are shapers – not recipients – of technological developments and we know what will be possible in the future. Not only can we tell our students about the latest technologies from first-hand experience. They can also see them for themselves in our labs and workshops. At the same time, TUM can build on its outstanding expertise in educational sciences and in digital teaching and learning technologies and utilize them in its continuing education activities. In addition, we have outstanding contacts to companies and thus to real-world experts. And we can benefit from the strong industrial base and vibrant start-up scene in and around Munich. We also use our outstanding network in the development of our course programs – worldwide. I think that we're unique in that regard.
How can TUM employees benefit from the Institute for LifeLong Learning?
Continuing education for external experts and managers is just one pillar of the TUM Institute for LifeLong Learning. The second is continuing education for all TUM staff. At TUM we have developed interesting continuing education opportunities for our employees over the years. These have been distributed over various units, however, such as ProLehre | Media and Didactics, TUM horizons and our offerings for professors. All of these programs are now combined under one roof at the TUM Institute for LifeLong Learning. This has made courses much easier to find. We are also gradually integrating the IT and registration systems. As a result, we can save resources, which are then available to develop new programs while expanding and improving existing ones. The area of 'future skills' plays a key role in our programs, along with digital leadership and diversity.
Do we also have entirely new offerings for employees?
Yes we do. We have just launched our new CareerDesign@TUM program, a structured qualification program for mid-level teaching and research staff. It will enable these people to specialize and receive systematic continuing education in the areas of research, teaching and continuing education, science management, entrepreneurship advising and technical expertise. The program is the first of its kind in Germany. Mid-level teaching and research staff and scientific management comprise a central pillar of universities in this country, but have received too little attention in the past with regard to continuing education and career prospects.
TUM President Prof. Thomas F. Hofmann has often referred to TUM as a "global hub of knowledge exchange" that thrives above all on personal communications. What does it mean for the TUM Institute for LifeLong Learning that it got started during the coronavirus pandemic, which has made direct and personal communications difficult?
Naturally the pandemic has been and still remains a special challenge for us. Like so many other organizations, we had to adapt our planned in-person programs from one day to the next and make them accessible via digital channels. But this also gave us a chance to use entirely new didactic methods: For example, we offered online strategy games and online coaching. In addition, we set up a speaker series entitled TUMex Summer Sundays, with high-calibre guest speakers talking about current issues. At one event, a former general who had commanded troops in Afghanistan spoke about leadership in times of crisis. In addition, we developed the TUM Knowledge Base, a curated collection of materials and information on virtual leadership and virtual cooperation. As you say, personal communication is a very important element of programs of this kind. We have tried to make this possible in the digital world, too, for example by starting an exciting podcast series in which we discuss the question of how our work and research can help to improve the world with various guests. Although we have received a lot of positive feedback on our digital events, we have also learned over the past year that personal encounters are still very important.
"I'm impressed by all that we have here at TUM, the forward-looking topics people are working on."— Prof. Claudia Peus
What is the most exciting thing about the establishment of the TUM Institute for LifeLong Learning for you?
At the moment I'm walking around TUM – virtually in this case – and introducing our basic concept. I'm finding out what our professors and staff are researching and what they think is especially important for practical applications. And I'm impressed by all that we have here at TUM, the forward-looking topics people are working on, and the passion and wealth of ideas with which colleagues are pursuing their research and identifying practical implications. That is truly inspiring – and I learn something new every day.
Further information and links
Claudia Peus has been Professor of Research and Science Management at TUM since May 2011, Senior Vice President for Talent Management and Diversity since October 2017 and, since December 2019, the founding director of the TUM Institute for LifeLong Learning (TUM IL³). After completing her doctorate at LMU Munich, she worked as a visiting scholar at the Sloan School of Management, Massachusetts Institute of Technology and as a post-doctoral fellow at Harvard University. In her research, Prof. Peus focuses on leadership and leadership development in the digital age, the management of research organizations and diversity in organizations.
The TUM Institute for LifeLong Learning is funded by the Federal Ministry of Education and Research (BMBF) and the Free State of Bavaria under the Excellence Strategy of the Federal Government and the Länder. www.exzellenz.tum.de/en
Technical University of Munich
Corporate Communications Center