Computer model shows neuronal activation patterns in the inner ear
Research towards improved cochlear implants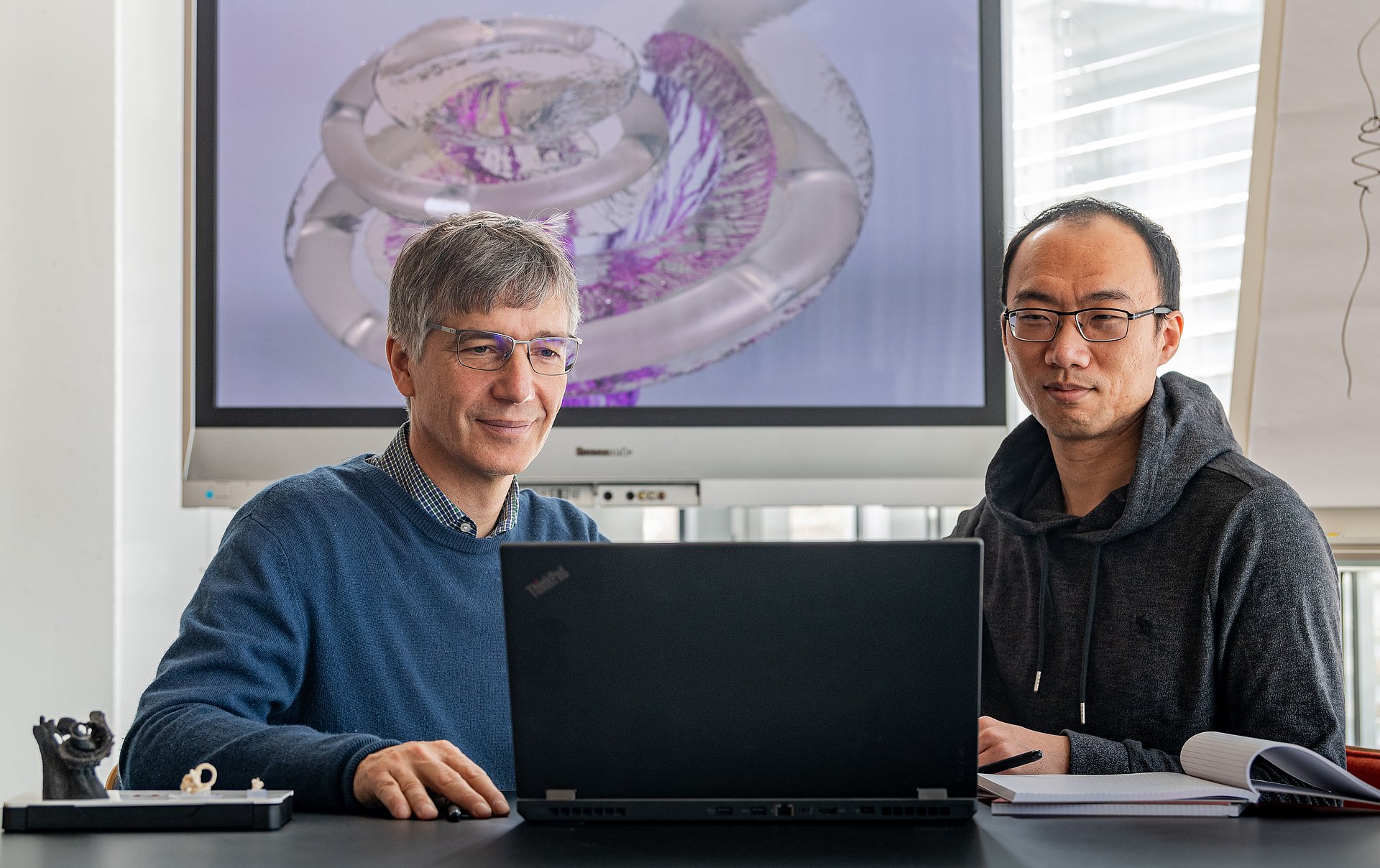 People with normal hearing perceive sound by means of hair cells located in the cochlea, the fluid-filled hollow part of the inner ear. These hair cells convert sonic vibrations into auditory nerve impulses which are then passed on to the brain where they cause hearing sensations.
For several decades it has now been possible to restore hearing in people with deafness or severe hearing loss at an amazingly high level with the help of cochlear implants. The implants use an external microphone to capture sound information from the air and transfer it to implanted electrodes. These electrodes directly stimulate the auditory nerve fibers in the inner ear with electric impulses, so that the patient can perceive sound once again.
Electrical Stimulation in the Human Cochlea: A Computational Study Based on High-Resolution Micro-CT Scans
Siwei Bai, Jörg Encke, Miguel Obando-Leitón, Robin Weiß, Friederike Schäfer, Jakob Eberharter, Frank Böhnke and Werner Hemmert
Frontiers in Neuroscience, 05. Dezember 2019, DOI: 10.3389/fnins.2019.01312
Comparison of Multi-Compartment Cable Models of Human Auditory Nerve Fibers
Richard Bachmaier, Jörg Encke, Miguel Obando-Leitón, Werner Hemmert and Siwei Bai
Frontiers in Neuroscience, 05. November 2019 DOI: 10.3389/fnins.2019.01173
Further information and links
Prof. Werner Hemmert and Dr. Siwei Bai work at the Munich School of BioEngineering. This interdisciplinary TUM research center is Europe's most multi-disciplinary university institution focused on the interface between medicine, engineering and natural sciences.
Werner Hemmert is also member of the Bernstein Center for Computational Neuroscience (BCCN), the German Society for Audiology (DGA) and the Association for Research in Otolaryngology (ARO).
This project and the authors were supported by the European Union's Horizon 2020 research and innovation program under the Marie Skłodowska-Curie grant agreement No. 702030, and the German Research Foundation (DFG) under the D-A-CH programme (HE 6713/2-1).
Video on cochlea implant research of Prof. Hemmert's group (YouTube)
Technical University of Munich
Corporate Communications Center
Contacts to this article: