KATRIN experiment limits neutrino mass with world record precision
Neutrinos are lighter than 0.8 electron volts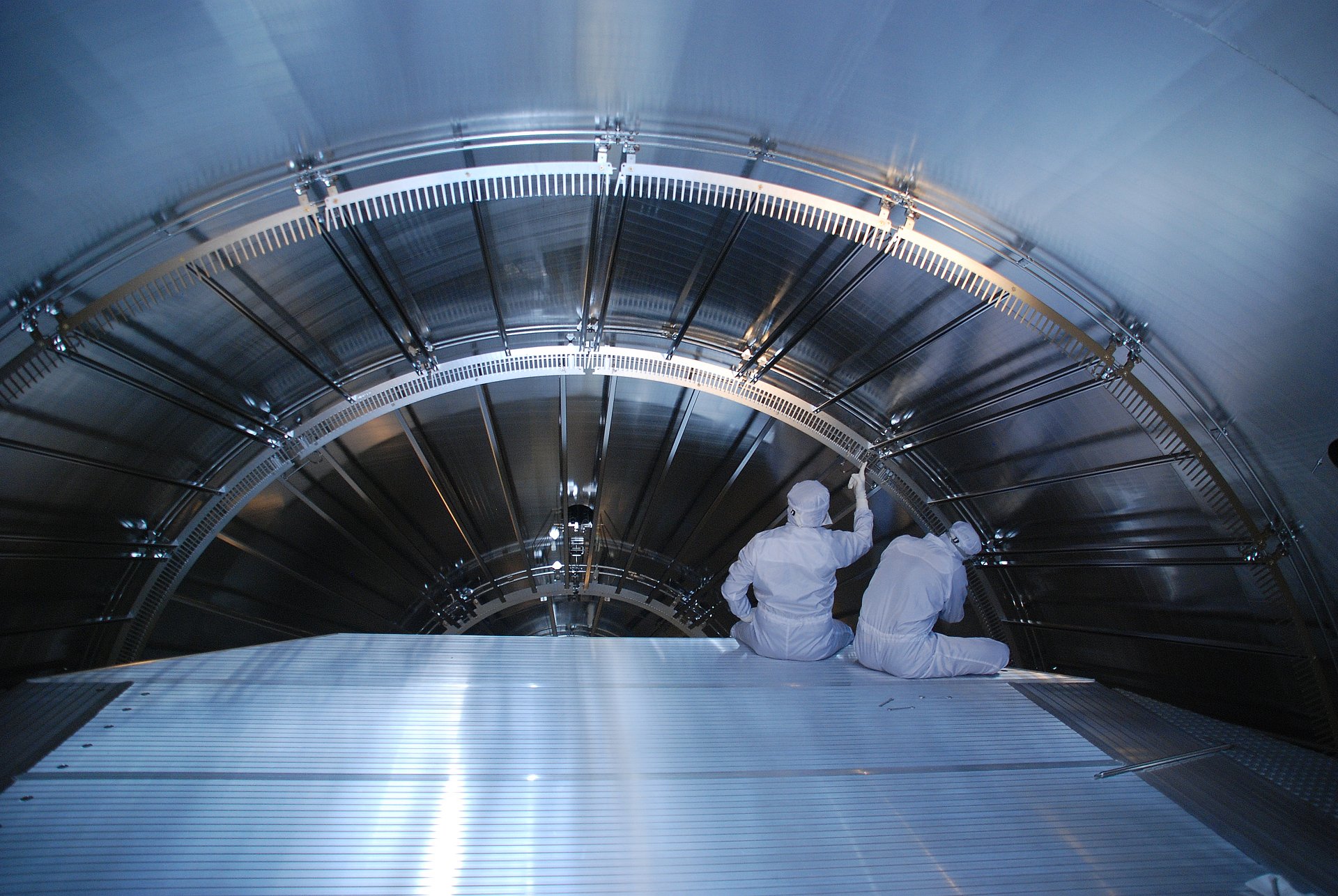 Neutrinos are arguably the most fascinating elementary particle in our universe. In cosmology they play an important role in the formation of large-scale structures, while in particle physics their tiny but non-zero mass sets them apart, pointing to new physics phenomena beyond our current theories. Without a measurement of the mass scale of neutrinos our understanding of the universe will remain incomplete.
This is the challenge the international KATRIN experiment at the Karlsruhe Institute of Technology (KIT) with partners from six countries, including the Technical University of Munich (TUM), has taken up as the world´s most sensitive scale for neutrinos. It makes use of the beta decay of tritium, an unstable hydrogen isotope, to determine the mass of the neutrino via the energy distribution of electrons released in the decay process.
This necessitates a major technological effort: the 70 meter long experiment houses the world´s most intense tritium source as well as a giant spectrometer to measure the energy of decay electrons with unprecedented precision.
Further information and links
This work was funded by the European Research Council (ERC) under the European Union Horizon 2020 research and innovation program, the German Ministry for Education and Research (BMBF), the Deutsche Forschungsgemeinschaft (DFG), the Helmholtz Association (HGF), the Helmholtz Alliance for Astroparticle Physics (HAP), the doctoral school KSETA at KIT, and the Helmholtz Young Investigator Group as well as the Max Planck Research Group (Max-Planck@TUM) in Germany, the US Department of Energy and the Federal Prime Agreement in the United States, the Ministry of Science and Higher Education of the Russian Federation, and the Ministry of Education, Youth and Sport of the Czech Republic.
Computing time has provided by the Institute for Astroparticle Physics at the Karlsruhe Institute of Technology, the Max Planck Computing and Data Facility (MPCDF), and the National Energy Research Scientific Computing Center (NERSC) at the Lawrence Berkeley National Laboratory.
* According to Albert Einstein's formula, E=mc2, 0.8 eV corresponds to a mass of 1.4*10-36 kg.
Technical University of Munich
Corporate Communications Center
Contacts to this article: