Five mid-sized companies honored with "IKOM Awards"
Premiere of the first student-nominated employer awards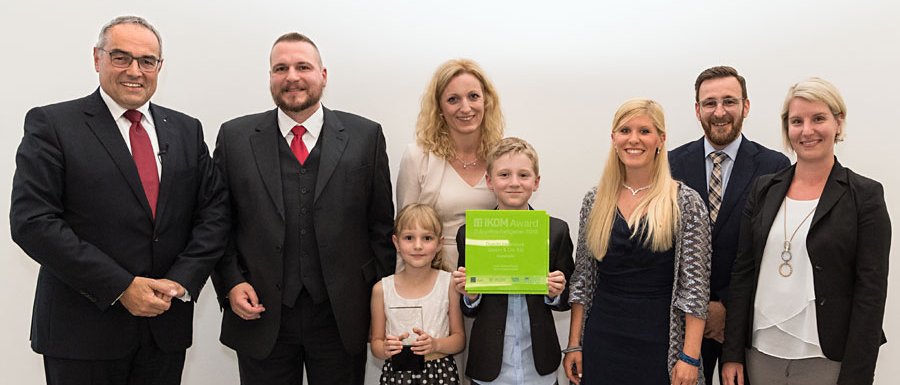 When looking at potential employers, students are increasingly interested in business ethics and sustainability. But in many cases, companies with a strong sense of corporate responsibility – especially small and medium sized enterprises – go almost unnoticed. To remedy this situation, IKOM, a not-for-profit student initiative to promote contacts between students and companies, established the award. The jury, made up of representatives from the student body, the world of science and research, the business community and the media, applies the following criteria: A focus on values and sustainability, a commitment to Germany as a place for doing business, entrepreneurial continuity and good opportunities for recent graduates to start their careers and move up the ladder.

At the inaugural awards ceremony yesterday evening, with 200 guests in attendance – half students, and the other half business people, scientists, politicians and members of society at large – IKOM, vbw and TUM honored five mid-sized companies:
Duschl Ingenieure GmbH & Co. KG, Rosenheim
Category "Companies with up to 250 employees"

The jury praised Duschl, a consulting firm for engineering equipment and energy technology, as "a family company through and through": "open, honest, decent – pragmatic, goal-driven, reliable". The employees have plenty of scope to take initiative and the employer is willing to accommodate individual living situations. Duschl works with customers and suppliers in a spirit of open and honest partnership.
sonnen GmbH, Wildpoldsried
Category "Companies with 250–500 employees"

The products and services of sonnen GmbH address one of the most important challenges of our time: an ecologically sound and sustainable energy supply. The one-time start-up is now regarded as a global market leader in energy storage systems and as the operator of the world's largest power sharing platform. And at the same time, as the jury noted, "In a highly competitive market environment, sonnen GmbH succeeds in manufacturing its products at its head office in the Allgäu region". The company provides employment to 400 people there.
DELO Industrieklebstoffe GmbH & Co. KGaA, Windach
Category "Companies with 500–1500 employees"

Established in 1961, DELO has expanded over the past 20 years from less than 70 to more than 600 employees, with most of them working at the Windach site. "Despite the rapid growth, DELO has retained its family-like corporate culture, characterized by respect, trust, and team spirit," said the jury. The owner-managed company is a global market leader for special adhesives used in countless products, from credit cards to mobile telephones.
BMZ Group, Karlstein am Main
Category "Companies with over 1,500 employees"

BMZ is regarded as the European leader for lithium-ion batteries, a key technology for electromobility and thus for sustainable energy use. "Despite global growth at multiple locations, this owner-managed mid-sized company makes massive investments in its home town in Lower Franconia. Creating and securing jobs remains a personal priority of the founder and managing director, who is also strongly committed to creating opportunities for weaker members of society," said the jury.
Alberdingk Boley Gmbh, Krefeld
Special Environmental Award

For more than 190 years, this mid-sized, family-owned manufacturer of environmentally friendly, water-based binding agents and plant oils has successfully competed against major corporations and gained market share with sustainable products. The jury singled out Alberdingk Boley's strong sense of responsibility, reflected in "a structured but pragmatic/individualized approach with its own employees as well as a financial commitment in the region in India that produces the raw materials for the oils".
"Responsible entrepreneurship as a competitive advantage"

"We need responsible entrepreneurship now more than ever before. That made it even more important for us as students to create the first-ever award that honors employers who live up to that standard," said Niclas-Alexander Mauß, who headed IKOM last year and was the co-initiator of the IKOM Award with his fellow student Marius Beller. "Today's award winners can serve as a role model for many others – and an inspiration to us to ask ourselves, as we start out on our careers, where it is worthwhile to make our own contribution."

In the view of the Bavarian economic affairs minister Franz Josef Pschierer, corporate social responsibility is now "a competitive advantage in the increasingly challenging search for skilled people. The IKOM Award for Employers of the Future not only rewards employers for sustainable business operations. It also offers a good starting point for job seekers. In Bavaria, especially mid-sized, family-operated companies often show a strong sense of responsibility for employees and a commitment to their home regions. If we can raise awareness of this type of entrepreneurship, that will also help to preserve value and foster a harmonious relationship between employees and employers in our state."
"Students make strong statement for sustainable business"
"The Bavarian economy needs qualified young talent, especially in the MINT fields (mathematics, informatics, natural sciences and technology). High-profile initiatives such as the IKOM Award offer companies the opportunity to present themselves to potential applicants as attractive employers – an increasingly important consideration in times where skilled specialists are in short supply. Employers can win over the young talent with their commitment in areas such as sustainability, corporate values and loyalty to their regional roots. That is why we are pleased to stand behind the IKOM Award as a sponsor," said Bertram Brossardt, the managing director of vbw, at the awards ceremony.

Albert Berger, the Chancellor of TUM, also had praise for the students' commitment: "TUM is a leading international university that believes that it is here to serve society. We are proud of the broad support for this philosophy among our students. Alongside their studies, the IKOM team members make enormous investments of time and energy and now, with this initiative – unique in Germany – they are making a strong statement for sustainable business operations."
IKOM:
In IKOM, approximately 130 students at TUM work on a voluntary basis to organize career forums, seminars, excursions and other events. With more than 300 exhibitors, the event bearing the same name is Germany's biggest career fair supported entirely by students. IKOM has been fostering the transfer of knowledge and experience from generation to generation since 1989.

The next IKOM event is scheduled for June 18–21, and the IKOM Start-up fair will take place on the Garching campus on June 19.
Technical University of Munich
Corporate Communications Center