President Emeritus Wolfgang A. Herrmann
Innovative chemist and far-sighted academic policy maker: Wolfgang A. Herrmann was at the helm of TUM for 24 years.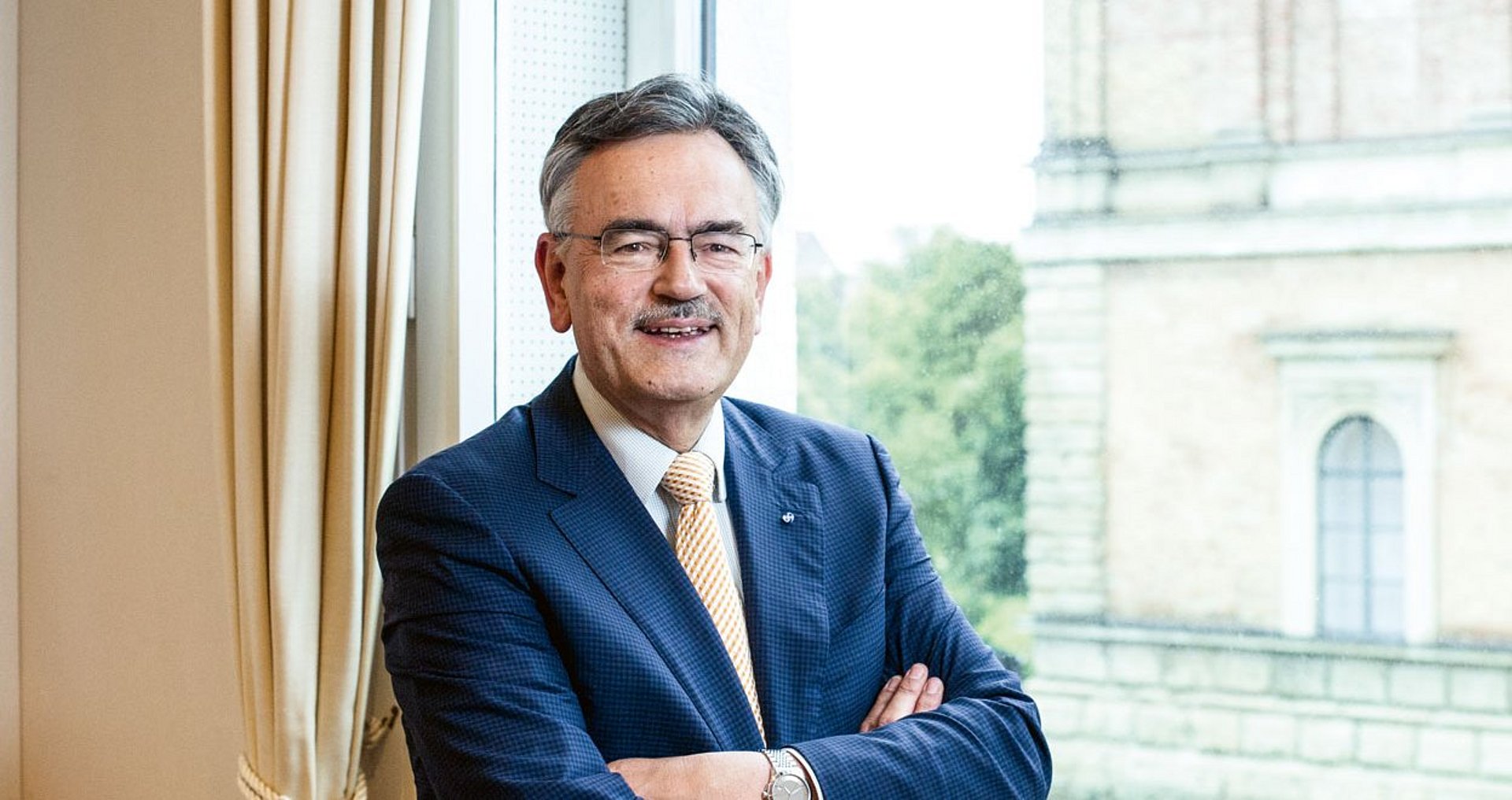 During his tenure as President from 1995 to 2019, Wolfgang A. Herrmann transformed TUM into a modern, open-minded university of international renown. He pursued a rigorous reform and revitalization policy, always challenging habitual thought patterns. This progressive outlook and willingness to embrace change has now become embedded into the entire university culture. TUM has become an entrepreneurial university dedicated to driving scientific progress in fields of study with the potential to bring sustainable improvements to people's lives and societies.
Modell of success: The Entrepreneurial University
Herrmann gave TUM greater autonomy and room to maneuver by introducing far-reaching university governance reforms. These were made possible by an "experimentation clause" in the new Bavarian Higher Education Act (Bayerisches Hochschulgesetz) of 1998, and they have proved ground-breaking for academia right across Germany. Today, TUM is regarded as one of the leading research universities in Europe and it has qualified as a University of Excellence continuously since 2006.
During his 24-year term of office, Herrmann decided to personally look after the appointment of new professors with the specific aim of attracting top academic talent to raise the university's profile. In total, he appointed nearly 500 new professors. By systematically expanding the university's international reach, he connected TUM with the world and made it increasingly appealing to overseas students and researchers. Important milestones included the establishment of the TUM Institute for Advanced Study and a campus in Singapore (the private limited company TUM Asia Pte. Ltd. as subsidiary of TUM), the TUM Campus Straubing, as well as the TUM Campus Heilbronn and TUM International GmbH.
TUM was the first German university to introduce a true tenure track appointment system based on the international model. It broke new ground in the training of doctoral candidates and the career paths of postdocs. By strengthening the role of social sciences (Munich Center for Technology in Society, 2012) and integrating the Bavarian School of Public Policy (HfP) into TUM in 2014, the university succeeded in building a bridge between science and engineering on the one hand, and the big questions currently facing society on the other. This interface forms the basis for its "human-centered engineering" and "future design" concepts for the Excellence Strategy 2019 .
During his term as President, the TUM locations of Singapore, Straubing, Heilbronn, Raitenhaslach and Berchtesgaden were opened and over 2.5 billion euro was invested in new buildings in Garching and Freising-Weihenstephan. In Burghausen, the TUM Science & Study Center Raitenhaslach was created in a former Cistercian abbey.
Continued commitment as President Emeritus
In his role as President Emeritus, Herrmann will use his national and international network for the benefit of TUM. As a board member of the non-profit TUM University Foundation, which he founded in 2010, he will help to promote academic talent and win TUM Partners of Excellence to support the university's fundraising efforts. In his role as non-executive chairman, he will support the development of TUM Asia Pte. Ltd. in Singapore (founded in 2001). As deputy chairman of the Skolkovo Foundation's board of directors (Moscow), he used his experience to strengthen economic and academic ties between Germany and Russia. Public trusts, businesses as well as political decision makers rely on his experience in educational and university policy.
Festive publication on the occasion of the hand-over of the office of President to Thomas F. Hofmann on October 1, 2019:
Thomas F. Hofmann: "Wolfgang A. Herrmann – Die Gewohnheiten des Denkens überwinden" (München: TUM.University Press, 2019) – in German.
Prof. Dr. Robert Schlögl: Digitalisierung der Katalyse [Digitalization of catalysis] (foreword by Prof. Dr. Richard W. Fischer)
Prof. Dr. Thomas F. Hofmann: Die Gewohnheiten des Denkens überwinden! [Rethinking habitual thought patterns!]
Dr. Edmund Stoiber: Herrmanns Gespür für Politik [Herrmann's flair for politics]
Dr. Otto Wiesheu: Katalysator im Münchner Ökosystem [A catalyst in Munich's ecosystem]
Prof. Dr. Helmut Schwarz: In aller Welt sichtbar [Visible on the global stage]
Prof. Dr. Arnulf Melzer: Die hohe Kunst des Fundraisings [The fine art of fundraising]
and
Résumé and impressions
Interview on taking office, from the university magazine "TUM-Mitteilungen" in summer 1995
2019–2022
Deputy Chairman, Board of Directors, Skolkovo Foundation (Moscow)
1995–2019
President of the Technical University of Munich
1988 / 1993
Offers of chair positions from ETH Zurich; not accepted
1991
Offer to join the Hoechst AG as head of corporate research; not accepted
1985
Chair of Inorganic Chemistry at TUM in succession Prof. Dr. Dr. h.c. mult. E.O. Fischer
1982
Chair of Inorganic Chemistry, J. W. Goethe-University Frankfurt am Main
1979
Associate Professor for Chemistry at the University of Regensburg
1978
Postdoctoral teaching qualifiation (Habilitation) from the University of Regensburg ("Organometallic Syntheses with Diazoalkanes")
1975–1976
Research Fellow of the German Research Foundation (DFG) in the laboratory of Prof. P. S. Skell (Humboldt Fellow, Pennsylvania State University/USA)
1973
Doctorate (Dr. rer. nat.) at the University of Regensburg, supervised by Prof. Henri Brunner ("Optically Active Transition Metal Complexes with Square-Pyramidal Geometry")
1970–1971
Diploma thesis supervised by Prof. Ernst Otto Fischer, TUM (PH3-complexes of transition metals)
1967–1970
Study of Chemistry at TUM, fellow of the scholarship body of the German Catholic Episcopate (Cusanuswerk)
1967
High-school graduation (Abitur) from Donau-Gymnasium Kelheim/Bavaria
2021
DTU Gold Medal (Technical University of Denmark, Copenhagen)
2019
Commandeur de l'Ordre national de la Légion d'honneur of the French Republic
Dr. Karl Wamsler Innovation Award, Clariant AG
"Pro meritis scientiae et litterarum" awarded by the Bavarian Ministry for Science and Arts
Christoph Mendel von Steinfels-Medal, Honorary Chair of Universität Bayern e.V.
Georg Maurer Medal in Gold of the Klinikum rechts der Isar, TUM University Hospital
2018
Golden Ring of Honor from the Administrative District of Altötting
Graf Maximilian Montgelas Prize
2017
Honorary Citizen of Straubing
Medal for the Protection of Historical Monuments, Bavarian State Office for the Preservation of Historical Monuments
2016
Honorary Citizen of Burghausen
1990–2015
13 Honorary Doctorates
Memberships in academies of sciences in Mainz, Halle (Leopoldina), Munich (acatech) and Stockholm
2015
Gold Medal for Services to the University Town of Garching near Munich
2014
Gold Medal of Honor of the Administrative District of Berchtesgadener Land
2012
Bavarian Maximilian Order for Science and Art
President of the Year 2012 (Deutscher Hochschulverband/ German Association of University Professors and Lecturers)
2010
"Goldene Bürgermedaille" of the University Town of Freising (Outstanding Citizen Award, gold medal)
2009
University Manager of the Year 2009 (Financial Times Deutschland, Centrum für Hochschulentwicklung)
2007
Bayerischer Verdienstorden (Bavarian Order of Merit)
2005
Bayerische Verfassungsmedaille (Bavarian Order of the Constitution)
Charles M. Knight-Lectureship (University of Akron)
2004
ACS Award in Organometallic Chemistry (American Chemical Society)
2000
Officier de l'Ordre national de la Légion d'honneur of the French Republik
1997
Bundesverdienstkreuz am Bande (Federal Cross of Merit on Ribbon)
1995
Wilhelm Klemm Prize of the German Chemical Society
1993
Glenn T. Seaborg Lecture, University of California at Berkeley/ USA
1992
Rolf Sammet Visiting Professorship (Hoechst AG)
1991
Max Planck Research Award
1990
Otto Bayer Award (Chemistry), Leverkusen
1987
Gottfried Wilhelm Leibniz Prize of the German Research Foundation
1982
Klung Wilhelmy Science Award for Chemistry, Berlin
1979
Chemistry Award of the Göttingen Academy of Sciences and Humanities
Lecturer scholarship of the "Fonds der chemischen Industrie" (FCI) and the Aventis Foundation
Since 2021
Chair of the Founding Advisory Board of the Deutsche Zentrum Mobilität der Zukunft (DZM)
Chair of the Perspektivkommission for the foundation of two large research centers in Saxony (Lausitz and Mitteldeutsches Revier)
Since 2020
Honorary President of the Kutaisi International University, Georgia
Since 2019
University council of the Technische Hochschule Ingolstadt (Chair since 2020)
Chair of the "Innovationsbeirat" of the Free State of Saxony
Council of the Foundation for the Promotion of Education, Science and Research of the Archdiocese of Cologne
Honorary Chair of Universität Bayern e.V.
Since 2017
Senate of the Max Planck Society
2016–2020
Board of Trustees of the Bertelsmann Stiftung
2015–2019
Chairman of the Global Alliance of Technological Universities (GlobalTech)
2015–2019
Advisory Board of the Catholic University of Eichstätt-Ingolstadt
Since 2014
Board of Trustees of the TÜV SÜD Foundation (chair since 2018)
2014–2020
Chair of the "Zukunftsrat" (Future Council of the Bavarian industry association, vbw), together with Alfred Gaffal
2013–2018
Board of Trustees of the American Academy in Berlin
2011–2019
Advisory Board of the University of Music and Performing Arts Munich
2010–2012
"Zukunftsrat" (Future Councillor) of the Bavarian State government
Since 2010
Board of the TUM University Foundation (Chairman 2010-2019)
German-Russian Ressources Forum (Steering committee, chair: Dr. Edmund Stoiber)
Since 2008
Executive Board of the Economic Advisory Council of Bavaria
2008–2014
Governing Board of the European Institute of Innovation and Technology (EIT) of the European Union
2007–2015
International Advisory Council of the King Abdullah University of Science and Technology (KAUST), Saudi Arabia
2002–2005
Chairman of the "Bayerische Rektorenkonferenz" (Bavarian University Rectors Conference) and Founding Chairman of the "Universität Bayern e.V."
1998–2014
Chairman of the Supervisory Board of the Deutsches Museum Munich
Wolfgang A. Herrmann is one of the most-highly cited researchers in chemistry (ISI) with more than 800 scientific publications and around 80 patents; Hirsch index of 102 (1 May 2020). His research in inorganic and organometallic chemistry was aimed at the chemical synthesis of efficient, molecularly-defined catalysts, for industrial processes in particular, in order to achieve an understanding of their mechanisms and support their technical implementation. That he introduced N-heterocyclic carbenes to heterogeneous catalysis as highly efficient steering ligands, for example for industrial applications of olefin metathesis, is considered a methodical breakthrough.
He was awarded the highest honours in German academia, such as the Leibniz Prize of the German Research Foundation DFG, the Max Planck Research Prize or the Bavarian Maximilian Order for Science and Art. Many of his 180-plus students, whose doctorates or postdoctoral teaching qualification (Habilitation) he supervised, went on to become professors and board members of chemicals companies in Germany and abroad.
Herrmann studied chemistry at TUM (graduated in 1971). In 1985, his alma mater appointed him as successor to his former teacher, Nobel Prize winner Ernst Otto Fischer, at the Chair of Inorganic Chemistry.