First German university campus abroad celebrates two decades
German Federal President Steinmeier praises 20 years of TUM Asia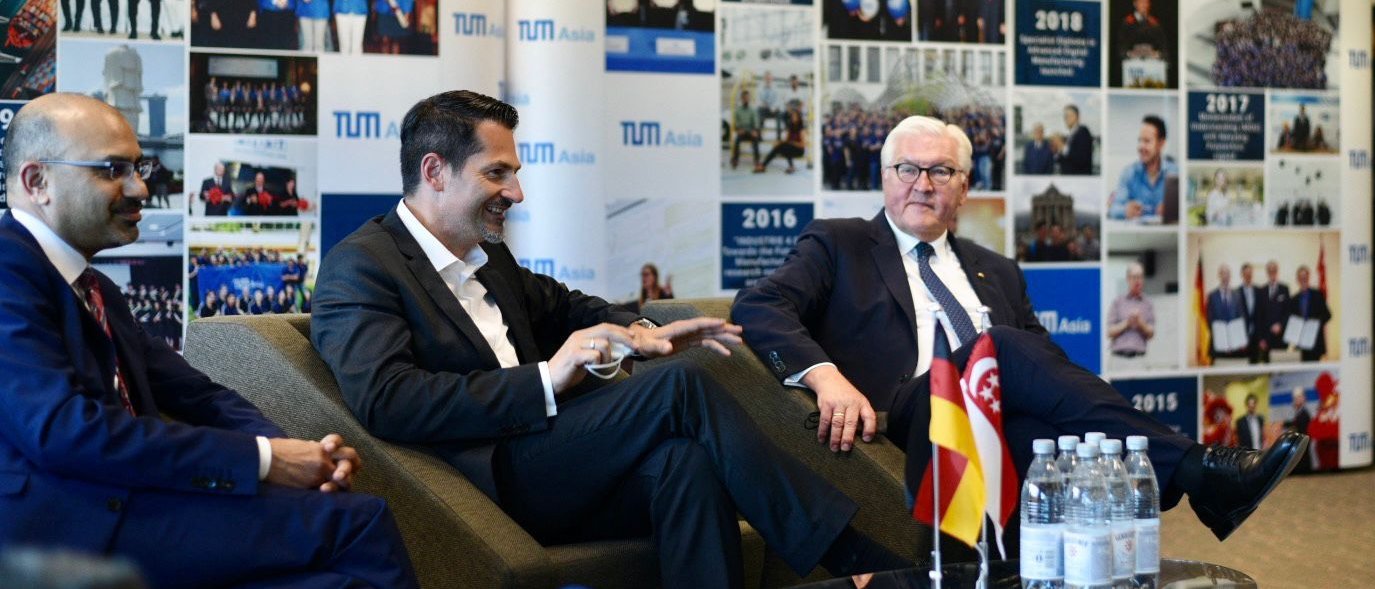 German Federal President Frank-Walter Steinmeier said: "I am glad to have the opportunity to recognize the first foreign campus of any German university with a visit to the Technical University of Munich's Asia Campus on the occasion of its 20th anniversary. The TUM Asia Campus is an outstanding example of the German university-policy commitment to Southeast Asia. Today TUM Asia offers seven engineering sciences Master's and Bachelor's degree programs, some in collaboration with larger Singaporean universities. Since 2010, TUM CREATE has functioned a research arm of TUM Asia, focusing its activities on electro-mobility and modern traffic concepts."

TUM President Prof. Thomas F. Hofmann thanked German President Steinmeier for his visit to the Campus in Singapore: "We are very pleased by this honor. TUM Asia is a wonderful success story. Here we're connecting German engineering, entrepreneurial spirit and cross-cultural sensitivities with the requirements of the Asian scientific and economic landscape. Working together with local scientific institutions in Singapore, we want to educate the thinkers, doers and reformers of the future who will shape our lives and our societal co-existence as leading personalities in an increasingly connected world."

On the occasion of the anniversary, Bavarian Minister of Science and the Arts Markus Blume said: "My sincere congratulations on a 'perfect match'! 20 years of TUM Asia are a great example of how the exchange between science and business works. TUM is Bavaria's ideal ambassador to Singapore, our technological-academic flagship for the world."
Students from over 35 countries
The TUM Singapore campus currently offers five different Master's programs and two Bachelor's degree programs. This is complemented with continuing education opportunities for experts and executives from the corporate sector. Students acquire not only the necessary technical knowledge and entrepreneurial skills they'll need to meet the requirements of the business world, but also gain socio-political insights and cross-cultural sensitivities.

German Institute of Science & Technology – TUM Asia was founded in 2002 under TUM's then-President Prof. Wolfgang A. Herrmann, with the support of the Bavarian State government, the German federal government, the German Academic Exchange Service (DAAD) and the government of Singapore. In the meantime over 2000 graduates have earned their degrees at TUM Asia and have embarked on successful careers in science and business. The students come from more than 35 countries in Asia, Europe, the Middle East and Africa.

Since 2010, TUM CREATE has conducted research in Singapore. maintaining a close reciprocal relationship with teaching and continuing education at TUM Asia. TUM CREATE's topics include electro-mobility, autonomous transportation systems and the recently added field of alternative production methods for food protein sources in metropolitan regions.
TUM Asia's local academic collaboration partners:
National University of Singapore (NUS)
Nanyang Technological University (NTU)
Singapore Institute of Technology (SIT)
Degree programs at TUM Asia:
Bachelor of Engineering in Chemical Engineering
Bachelor of Engineering in Electronics and Data Engineering
MSc in Industrial Chemistry
MSc in Integrated Circuit Design
MSc in Green Electronics
MSc in Aerospace Engineering
MSc in Rail, Transport and Logistics
Further information and links
Technical University of Munich
Corporate Communications Center