Project e-MOBILie: Residents test research building for one year
Energy research with a family connection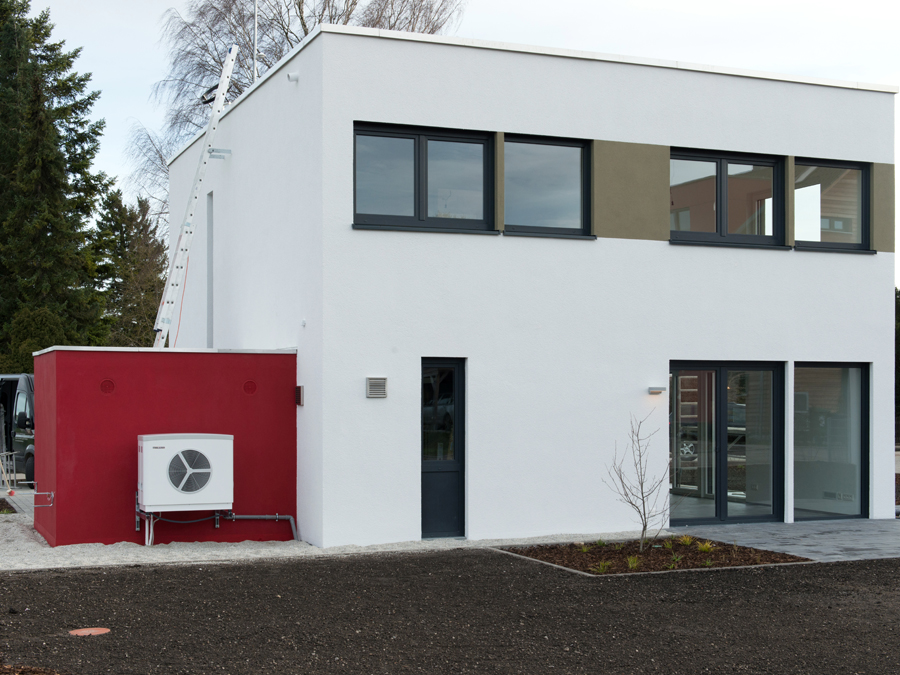 Prof. Franz Hagn grasps the tablet. Here he can inspect and adjust the settings of the home's energy management system: At 8 a.m. the next day the battery of the BMW ActiveE will be charged to at least 80 percent, so that he can drive to work without any problems. In the time slot between 12 a.m. and 8 p.m. the washing machine will start – the dishwasher runs at night.
Hagn, his wife Christina and their two small children live in the energy-storage-plus-house in Halbergmoos since January 2015. The home and the electric BMW ActiveE electric car are part of the "E-MOBILie"-project that has now officially started with an opening ceremony. In collaboration with project partners, scientists at the Technische Universität München (TUM) are researching how to optimize the link between electric mobility and local electricity production.
A roof-mounted photovoltaic system generates solar energy. Power that is not consumed directly is used to charge a battery. A heat pump uses solar power to generate thermal energy, which can also be stored or used for heating.
Over 130 measurement values
The home inhabitants can define a time slot in which the energy management system should start specific appliances. The intelligent system recognizes the times during which electricity can be used cost effectively. "That means, for example, that a washing machine can run either when the photovoltaic system is generating maximum energy or when power can be drawn from the previously charged battery," explains the engineer Michael Huith. Of course, appliances can also be started anytime manually on demand if required.
To determine how well the system is accepted by the inhabitants, the level of living comfort and where there is room for improvement, the TUM researchers collect over 130 measurement values. These include electrical and physical units in the household, like temperature and humidity, power generation from the roof and power consumption by the electric vehicle. In addition, the home dwellers are queried regarding their experience with the system.
So far the results are positive: "We have developed an ambition to keep the consumption rates as low as possible," explains Hagn. "For example, I bought LED bulbs to save electricity. In addition, you try to set the operating time slots so that power generated by the photovoltaic system is used."
The energy-storage-plus-house in Halbergmoos is part of the research project "e-MOBILie – Energy Autonomous Electromobility in the Smart Micro-Grid", a collaboration with the Home builder Dynahaus, BMW AG and SMA AG. The project is part of the focus program TUM.Energy, the cross-department research initiative of the Munich School of Engineering (MSE).
Contact:
Michael Huith
Faculty of Civil, Geo and Environmental Engineering
Tel.: +49 89 289 23955
Email: michael.huithspam prevention@tum.de
Internet: www.enpb.bv.tum.de
Technical University of Munich
Corporate Communications Center