TUM scientists present integrated head-up display concept
What's my car trying to tell me?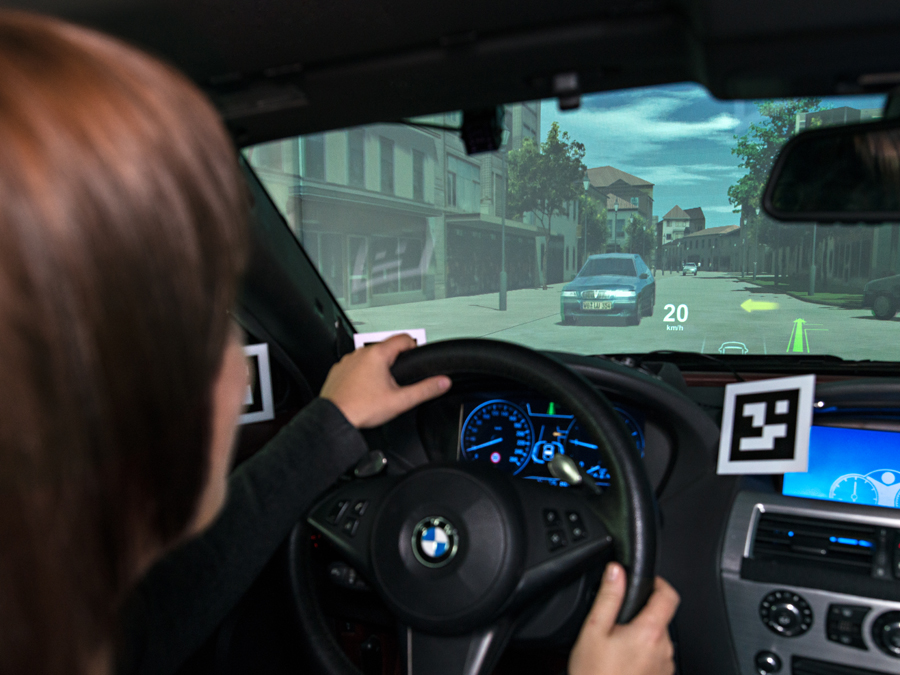 Cars, buses, trucks, streetcars and motorbikes plus cyclists and pedestrians – urban areas serve a multitude of road users. Drivers have to keep an eye of all of them, as well as paying attention to signs, lights and traffic routing. Advanced driver assistance systems (ADAS) are being developed to warn of upcoming hazards and display important information as we move forward.
Yet it is important not to overwhelm drivers with alerts, explains Prof. Klaus Bengler, Chair of TUM's Institute of Ergonomics. An obstruction alert coming in at the same time as an instruction from the sat nav can be more of a hindrance than a help. "Data must be clearly presented and not every system needs to make itself heard. Information that is not required can also be filtered out," says Bengler.
Research institutes and companies from several different sectors have joined forces in the UR:BAN cooperative project to develop ADAS and traffic management systems for urban areas. As part of this endeavor, TUM researchers devised an information concept consisting of three elements:
Head-up display
Active gas pedal
Instrument cluster
The head-up display projects information onto the windshield using a projector unit. This creates an image that appears to hover in front of the vehicle, with the advantage that the driver only has to look away from the street very briefly. It also avoids the eyes having to refocus between near and distance vision. "This results in significantly shorter reaction times and less distraction in traffic," confirms Martin Götze, a researcher with the Institute of Ergonomics.
The researchers divided the display into three clusters. On the left, dynamic data such as speed or information about traffic signs is shown. The central area displays ADAS information, including from a "green wave" assistant designed to optimize the use of green traffic light phases. And the right-hand side is dedicated to navigation.
"Safety warnings always have priority," emphasizes Götze. Other information is hidden. In general, notifications are designed to be visible for a limited time. A traffic sign might be displayed for five seconds, for instance, to avoid too much information appearing at once.
The concept also incorporates the instrument cluster – a digital display for information such as the fuel indicator and engine temperature. This also presents additional information related to the head-up display. Meanwhile, the third component – an active gas pedal – can attract the driver's attention through vibration or resistance without any visual distraction.
Technical University of Munich
Corporate Communications Center