Networked traffic: TUM researchers develop pedestrian simulator
The virtual pedestrian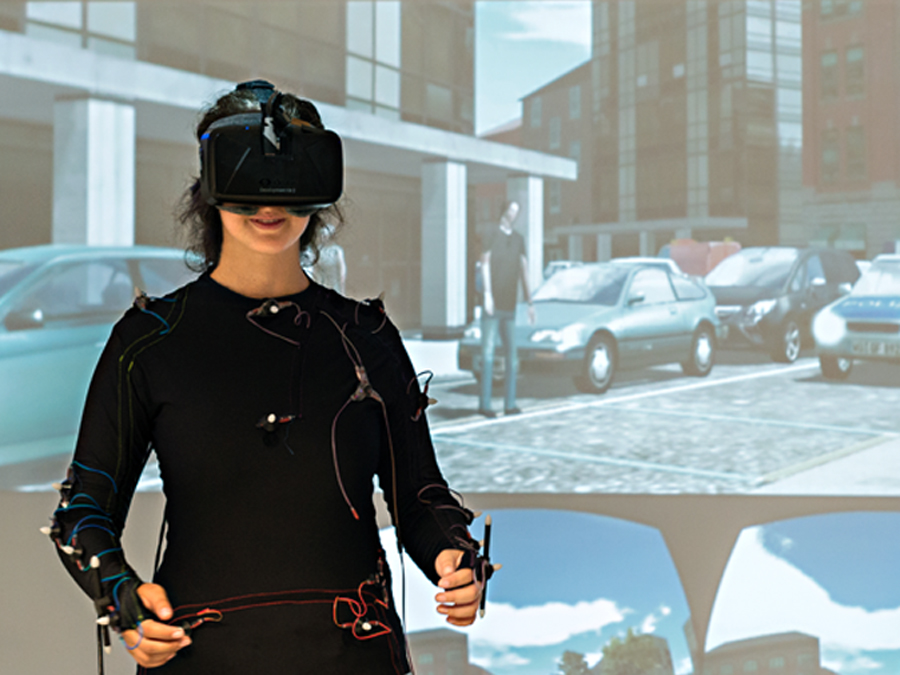 Ten infrared cameras are set up in a darkened room. At the center stands a woman in a black suit made of highly elastic material, specifically designed for motion capture. She also wears a head-mounted display, which is fitted with a screen showing a virtual world.
While this might sound like a computer game, it is in fact a research project at TUM's Institute of Ergonomics. Using their specially developed pedestrian simulator, the researchers are investigating the interaction between pedestrians and road users in vehicles – without putting their subjects in any danger. The simulator was developed as part of research efforts within the UR:BAN cooperative project.
How do pedestrians react to semi-automated vehicles?
"Simulators give us a risk-free way of generating highly standardized and reproducible data on human behavior in traffic," explains Prof. Klaus Bengler, Chair of TUM's Institute of Ergonomics. "For example, if a pedestrian is on the curb, it is interesting to see how drivers interact with them. What behavior on the part of a pedestrian motivates a driver to let them cross the street, for instance?" In this case, eye contact could be a factor, or the pedestrian's body language. And driver behavior has a part to play too – the pedestrian could interpret a driver slowing down as an invitation to cross.
Among other uses, these tests play an important role in the development of smart assistance systems for urban driving. These systems must be able to interpret the actions of other road users to identify – and ideally defuse – potentially hazardous situations. In the future, the aim is to investigate other issues too, such as pedestrian reactions to semi- or highly automated vehicles.
Immersive virtual world for participants
Part of the technology behind the simulator comes from the gaming industry. Markers applied to the subject's suit are recognized by the cameras, allowing the computer program to map the virtual person. This avatar then moves through the virtual traffic environment.
Currently, researchers André Dietrich, Ilja Feldstein and Christian Lehsing are working to optimize both the technology and the testing methods. "The simulation should be as close to reality as required," Feldstein explains. The subject must be able to move around in the virtual world without encountering real-world obstacles, for instance. A type of looped walkway might provide the solution to this. And sensory feedback or traffic noises could make the virtual environment even more immersive for participants.
Another feature that makes the simulated experience more realistic is that the virtual world can be expanded. "We can connect the pedestrian simulator with a car and truck simulator," reveals Lehsing. So real people then encounter one another in the guise of different road users – albeit in a virtual world.
Download highresolution pictures
Contact:
Ilja Feldstein
Technical University of Munich
Institute of Ergonomics
ilja.feldsteinspam prevention@tum.de
+49 (89) 289 - 15370
Christian Lehsing
Technical University of Munich
Institute of Ergonomics
lehsingspam prevention@lfe.mw.tum.de
+49 89 289-15368
http://www.lfe.mw.tum.de/en/
Technical University of Munich
Corporate Communications Center