"TUM Speakers Series": Bill Gates and Federal Minister Gerd Müller on development policy
"Experience Africa at first hand"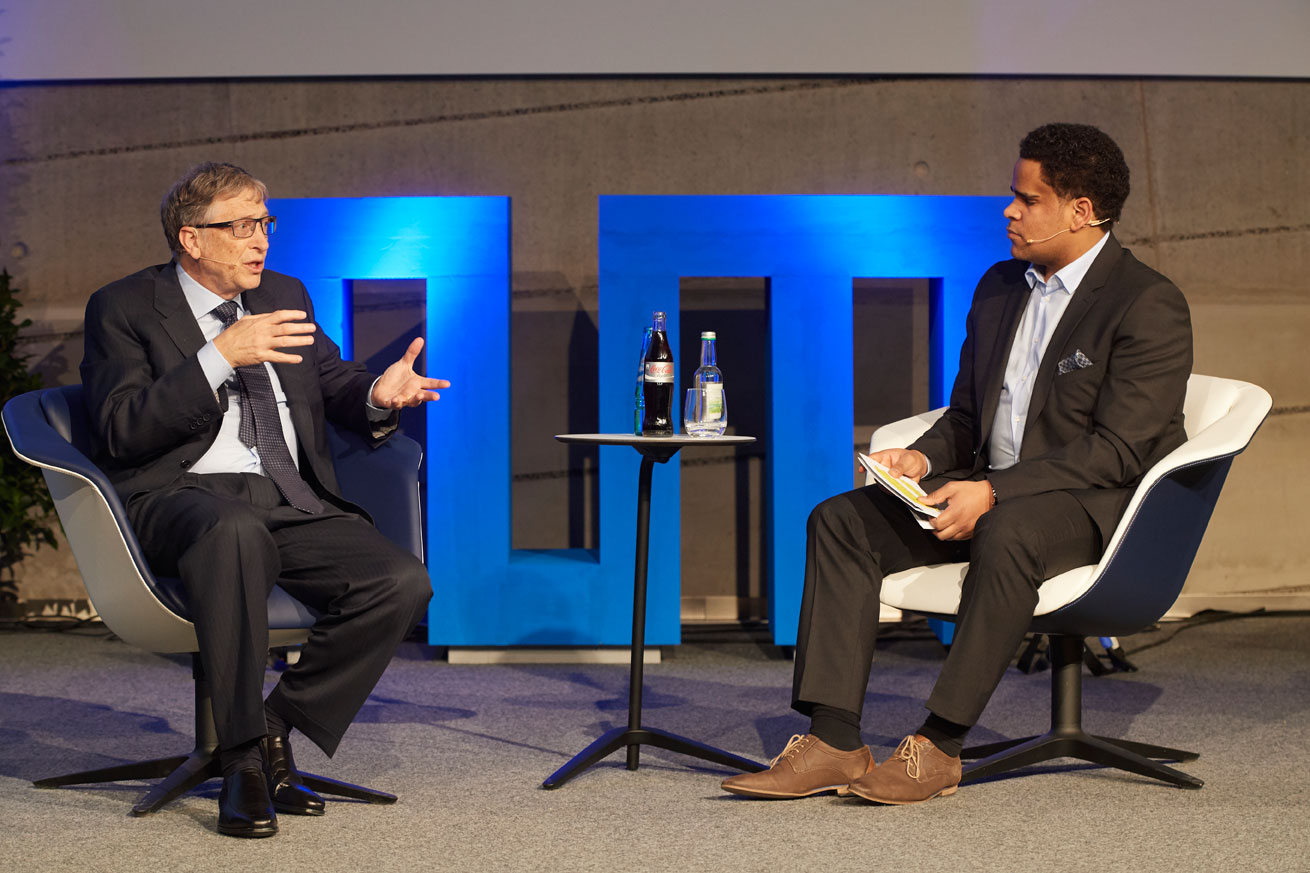 The "TUM Speakers Series" is organized by students for students. After more than 10,000 requests came in for tickets to hear Bill Gates and Gerd Müller, the limited seating in the Audimax auditorium had to be raffled off. Nicki Weber, who is studying political science at the Bavarian School of Public Policy at TUM, asked Bill Gates and Gerd Müller questions submitted by students (click here to see the YouTube video).
Bill Gates emphasized that, for Africa to continue moving ahead, improvements are needed above all in healthcare and agriculture. He added that vaccines used in rich countries need to be made available in Africa, too, in order to reduce infant mortality, and that farmers need training and better seeds.
"Your creativity can produce the answers"
The former head of Microsoft called on the students to gather their own experiences in Africa. "Experiencing at first hand what is going on in those countries is absolutely critical. That's how true engagement comes about." He said that the coming decades have a major impact on the world's future. "Your inventiveness, your understanding of science, business and policy can provide the answers."
Gates is basically optimistic about African development: "War, pestilence, and climate change are the only three things I see, that could interrupt this very positive trend, that most people aren´t aware of, in a significant way."
Digitalization opens access to European universities
Development minister Gerd Müller also stressed the role of science. Noting that digitalization is opening up new opportunities for people in Africa to gain access to European universities, he said that, rather than keeping their knowledge to themselves, Europeans should be sharing it in a spirit of partnership.
The minister added that it is important for more of the early stages of the value chain to remain in developing countries: "We need to leave an extra dollar of the profits from a pair of jeans in Bangladesh. Then we can pay the seamstresses a living wage." Companies need to meet minimum ecological and social standards.
An electric car for Africa
Before the event, Gerd Müller saw researchers demonstrate a prototype of the "aCar", an electric car developed by TUM for rural areas in Africa with partners in industry and research. It has a solar-powered electric motor and can be manufactured cheaply with materials available in Africa. Because of its modular design, it can transport people as well as cargo. With these characteristics, it is hoped that the "aCar" will provide mobility to people with low incomes living in isolated areas of Africa to give them easier access to healthcare, education and trade.
Many other scientists at TUM are involved in research with African partners on issues vital to the future such as the energy supply, environmental protection and health. They are working on projects concerning sustainable water management, resource-saving construction methods, and neurological illnesses, for example. An important aspect is always the conversion of research results into real-world applications. More and more students are traveling to Africa for their own projects, either as part of their degree programs or as volunteers. Moreover, TUM cooperates with African universities in teaching initiatives in which lecturers develop new courses.
More Information:
Technical University of Munich
Corporate Communications Center