Marking a half century of world-class informatics research and education in top European ICT hub
TUM celebrates 50 years of Informatics in Munich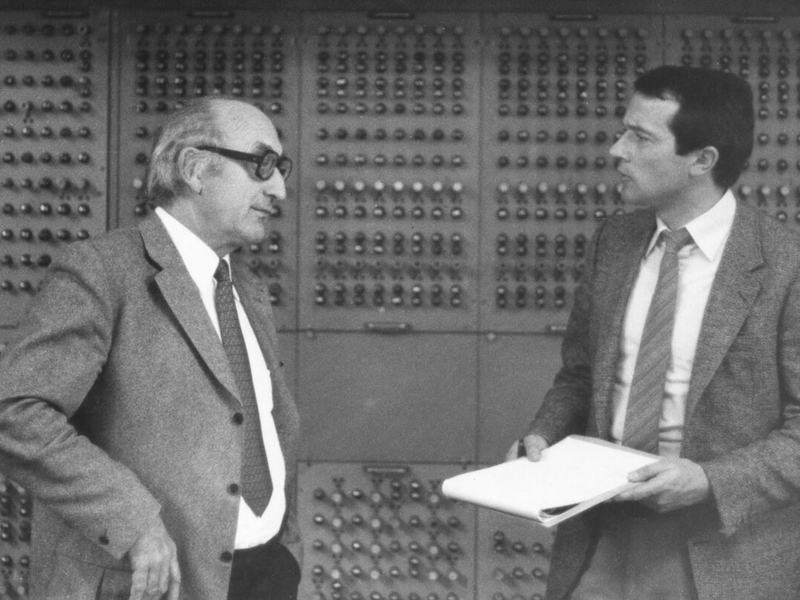 Winter semester 1967/68: What is today the Technical University of Munich (TUM) offered the very first degree program in "Information Processing" to students in Munich. When Prof. Friedrich Ludwig Bauer, the man behind the new program, gave the first lecture of the two-semester series, the fields of informatics and computer sciences were in their infancy.
Over the past half century, informatics degree programs have become an established part of the curricula at three Munich universities: TUM, Ludwig-Maximilians-Universität München (LMU) and the Universität der Bundeswehr München. The three schools are credited with driving the Bavarian capital's transformation into an economic and technology powerhouse in Germany and Europe – in 2014, the European Commission named Munich Europe's top ICT tech hub, and the city and region consistently earn top rankings as an international hotspot for IT, innovation, startups and high-tech.
International Partnerships
"In recent decades, Munich has transformed into an increasingly attractive location for big tech firms and start-ups," notes TUM President, Prof. Wolfgang A. Herrmann. "Today, alongside tech hubs like Silicon Valley and Tel Aviv, Munich counts among one of the most important tech locations on the globe. A key factor in this growth is access to the large pool of top talent graduating from Munich's universities," Herrmann adds. "Our graduates bring both the informatics skills and the entrepreneurial mindset that industry is looking for."

According to Prof. Hans-Joachim Bungartz, Dean of the TUM Department of Informatics, "Our faculty and students are producing some of the most exciting research and technologies of our day." Just named one of Reuters' Top 5 European universities for innovation, TUM has focused its strategy on both academic and entrepreneurial excellence, with the goal of moving fundamental research into advanced applications for industry and society at large.
Bungartz thinks "it's through the strength of our international alliances and interdisciplinary approach to R&D that our university is recognized today as an innovation leader." That includes groundbreaking fundamental research and the development of new applications in key areas such as software engineering, computer vision and data analysis and Big Data.
Interdisciplinary projects in areas from bioinformatics to business informatics are also gaining in importance, and the department is a key partner in larger international projects including the European Union's "Human Brain Project," which is working to accelerate advancements in the fields of neuroscience, computing and brain-related medicine.
More than 4,700 Students
Today, the TUM Department of Informatics has 24 academic chairs and 39 professors, five of whom are recipients of the Gottfried Wilhelm Leibniz Prize, the most prestigious award for scientists and scholars at German research institutions, and two of whom have the Alexander von Humboldt Professorship, which is Germany's largest international research award. The department currently has a student body of more than 4,700, making it one of the largest in Germany.
TUM is recognized as one of the best universities for informatics and computer sciences in Germany, Europe and globally. According to the World University Rankings 2016-2017 by subject, the TUM Department of Informatics is Number 9 worldwide in computer sciences, again making it Germany's top informatics department in 2016/17.

Dr. Ludwig Spaenle, Bavaria's Minister for Education, Cultural Affairs, Science and the Arts, notes that
"In teaching and research, the Technical University of Munich (TUM) is at the forefront, both in Germany and worldwide. The Department of Informatics is a key contributor to that success. The first official lecture in this area 50 years ago marked the start of the exemplary development of this field of study at TUM. Informatics is a driver of innovation for our economy, and continues to ensure that this country is ready for the future."

Looking ahead, Bungartz says the focus will be on continuing excellence in research, teaching and entrepreneurship. "The role of informatics as an 'enabler' – for other scientific disciplines, industry and society – will only continue to grow in importance." He adds: "Whether we're talking about cybersecurity, the Internet of Things or Industry 4.0, we're all affected by the rapidly increasing influence of new technologies on all our lives."
images:
https://mediatum.ub.tum.de/1360373
Contact:
Prof. Hans-Joachim Bungartz,
Technical University of Munich
Dean, Department of Informatics
+49-89-289-18604/ -18606 / -18607
bungartz@in.tum.de
http://www5.in.tum.de/
Further information:
Technical University of Munich
Corporate Communications Center