Law on the establishment of TUM Campus Straubing passed unanimously
State Parliament makes Straubing a university town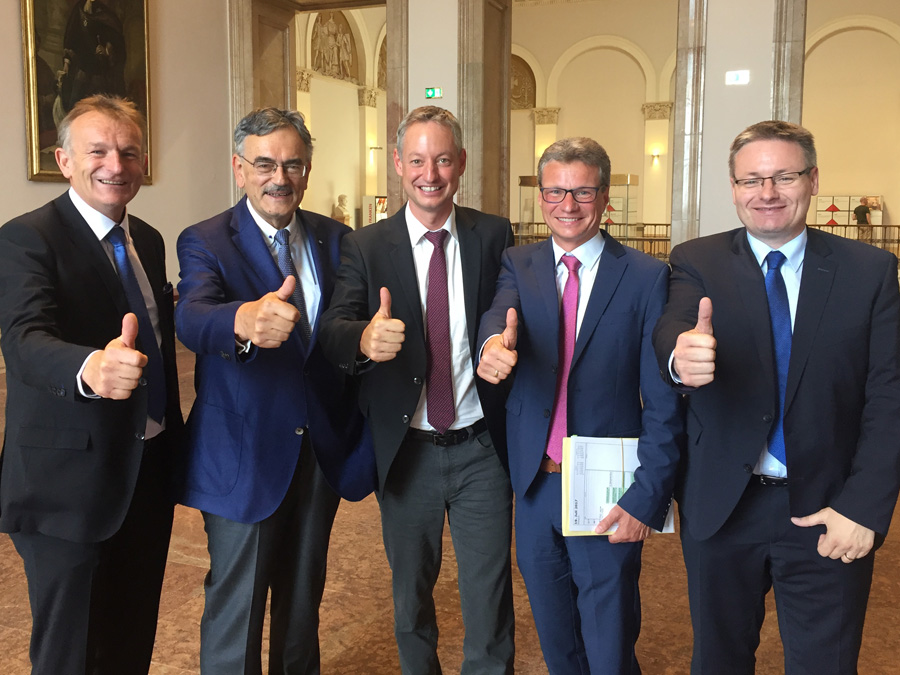 nAfter construction recently began on the new lab and lecture hall building for Sustainable Chemistry, this decision by the state parliament is the next and perhaps biggest milestone on the way to turning Straubing in Lower Bavaria into a university town. The Technical University of Munich (TUM), which first drafted the proposal in 2001, will be solely responsible for teaching and research activities. Weihenstephan-Triesdorf University of Applied Sciences is cooperatively involved in the study programs at the new campus.
Numerous new appointments are now required to realize the concept for TUM's fourth location. The site's previous focus on renewable materials will now be extended to include biotechnology and bioeconomy – an attractive unique selling point in research and teaching terms.
40 million euros invested in the new building
In May, construction began on a building encompassing roughly 1,200 square meters of state-of-the-art research labs for Microbiology, Organic Chemistry, Microreaction Technology, Composites and Process Technology as well as 940 square meters of office space. For students, the new build will also feature a 300-seat divisible lecture hall, seminar rooms for a total of 200 participants, and working facilities to accommodate up to 100 internships. The Bavarian state is investing some 40.5 million euros in the new 8,000 square meter structure.
Full integration into TUM
President Wolfgang A. Herrmann welcomes the State Parliament's resolution: "Straubing has been exemplary in fostering links between science and industry for over 15 years. Now it's rightfully becoming a fully-fledged university town which can work its way up into the higher echelons of scientific academia thanks to its unique profile, innovative focuses, new professors and modern buildings. The topics of biotechnology and sustainability encompass issues and methods from a myriad of different fields including the life sciences, natural sciences and engineering as well as business and social studies. As a result, a great deal of the work done here will be interdisciplinary – an approach that will become the operating principle of the TUM Campus Straubing."
President Herrmann thanks the State Government and Parliament for providing a clear decision on the future of Straubing with its recent resolution. The town's campus will now be fully integrated into the Technical University as an Integrative Research Center entitled to award TUM doctorates. The campus administration will also be part of the TUM organization.
Unique new degree programs

There are several new degree programs launching in Straubing from winter semester 2017/18. These include the Bachelor's degree programs (BSc.) Chemical Biotechnology, Management and Technology, as well as the Master's degree program Biomass Technology in cooperation with the University of Natural Resources and Life Sciences in Vienna. Degree programs in Bioeconomy are due to launch in time for the winter semester 2018/19, and the university is currently working hard to design the course as well as appoint the right team of professors and academic staff. Students will also still have the option of studying the existing Bachelor's and Master's degree programs in Renewable Materials ("NaWaRo" for short).
Further Information
Technical University of Munich
Corporate Communications Center