Wolfgang A. Herrmann honored for Bavarian-French cooperation
Montgelas Prize for TUM President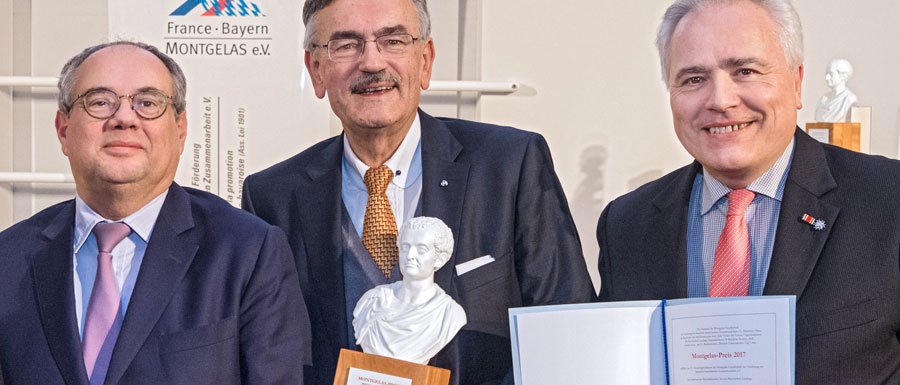 Each year, the Mongelas Society honors two distinguished personalities, one from Bavaria and one from France, who have rendered outstanding service to the intellectual heritage of the "architect of the modern Bavarian state" and to the Bavarian-French exchange. This year the prize goes to Prof. Wolfgang A. Herrmann and Valérie Pécresse, President of the region Ile de France and former French Minister of Higher Education and Research. Numerous personalities from politics, science, business and society attended in the award ceremony.

In his laudatory speech at yesterday's award ceremony on German-French Day in the Maximilianeum, Consul General Pierre Lanapats emphasized Herrmann's commitment to the establishment of the Bavarian-French University Center 20 years ago. Herrmann is not only the spiritual father of the center. He made the institution possible in the first place by taking it under TUM mentorship and housing it there. Since its inception, the center has been promoting student exchanges, cross-border research projects and university partnerships.

The Mongelas Prize aims to intensify the exchange of ideas between Bavaria and France and to preserve a living historical awareness. He alludes to Maximillian Joseph Count von Mongelas (1759 – 1838), whose family came from Savoy. As foreign, finance and interior minister, he laid the foundations for the modern state of Bavaria at the beginning of the 18th century in the spirit of enlightenment with profound reforms of administration, jurisdiction and finance.
"Deeply impressed by reconciliation policy"
In his acceptance speech, the award winner Prof. Herrmann expressed his own emotional connection to German-French friendship: "The reconciliation policy of Charles de Gaulle and Konrad Adenauer deeply impressed me as an adolescent, ignited my love for the emerging new Europe and shaped my political socialization. That is why, as a scientist and president, the cooperation with France has always been so important to me as a personal contribution to the European peace framework. The Bavarian-French University Center located at TUM is an example of this cooperation. I feel especially honored that the ingenious statesman Montgelas is the eponym for the award, because it was his work that, under the most difficult contemporary historical circumstances, set the modern Bavarian state on its way in one of the 'most successful revolutions from the top,' as Benno Hubensteiner rightly noted."

Herrmann explained that, even today, Montgelas should be viewed as an encouraging, self-critical example of the institutional capacity for reform: "There is no doubt that mistakes snuck into the work of the government, but what administration would have been free of them?" (Montgelas: Denkwürdigkeiten II, 426). However, administrations are not great, according to Herrmann, when they avoid potential errors through the sheer fear of renewal. Today, this applies equally to universities and the education system as a whole.